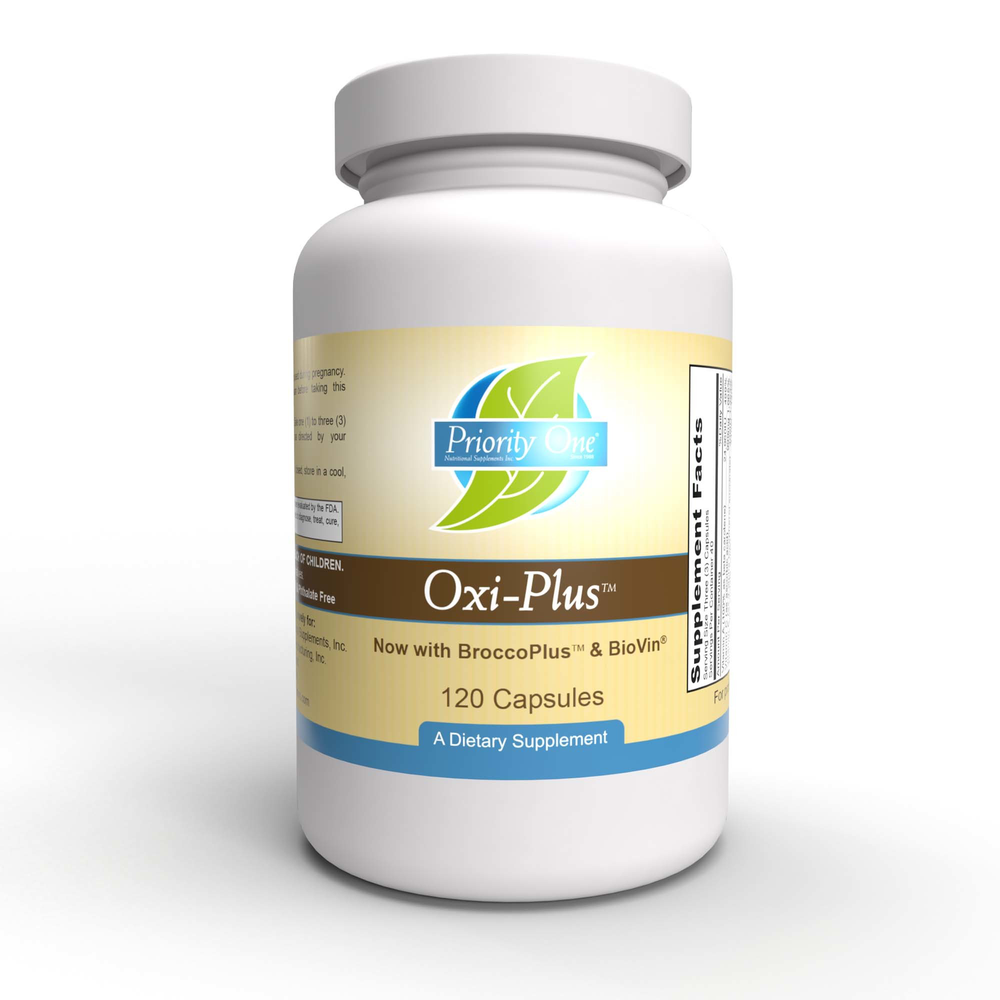 SKU: PR7-1164
Oxi Plus contains a broad spectrum of anitoxidants along with herbs, minerals, and vitamins. We have specifically added the following branded ingredients to enhance the beneficial effects of Oxi Plus: BroccoPlus: a broccoli sprout concentrate with active components sulforphane and 6% glucosinolates. Each serving of BroccoPlus equals up to one pound of cooked broccoli. BioVin® is a fulls spectrum grape extract rich in the natural antioxidants proanthocyandins (OPC); anthocyanins, and resveratrol. ChromeMate® brand chromium polynicotinate may help increase the effectiveness of chromium, an essential trace mineral that may help support blood sugar levels already within normal range. Curcumin C3 Complex® 95% is a high potency extract that promotes a healthy inflammatory response due to strenuous exercise. Oxi Plus provides essential cofactors for healthy cell function.
Take one (1) to three (3) capsules daily, or as directed by your physician.
Serving Size: Three (3) Capsules

Amount Per Serving
Vitamin A (100% as beta carotene) ... 24,960IU
Vitamin C (as ascorbic acid) ... 999mg
Vitamin E (as d-alpha tocopherol succinate) ... 406IU
Zinc (as zinc orotate oxide) ... 21mg
Selenium (as sodium selenite rice/soy chelate) ... 70mcg
Copper (as copper aspartate rice chelate carbonate) ... 2mg
Chromium (as chromium polynicotinate) (chromemate®) ... 25mcg
Astragalus (root) (70% polysaccharides) (Astragalus membranaceus) ... 51mg
Bitter Orange (fruit) (25% Bioflavonoids) ... 150mg
Superoxide Dismutase (8,000 units/g) ... 99mg
Rosemary (leaf) (Rosmarinus officinalis) ... 51mg
Milk Thistle (seed) (extract 80% silymarin) (Silybum marianum) ... 51mg
BroccoPlus™ (sulforaphane and 6% glucosinolates) (Broccoli (sprout, floret), Mustard (seed)) ... 99mg
Grape (fruit) BioVin® (full spectrum grape extract) ... 51mg
Co-Enzyme Q10 ... 12mg
L-Glutathione ... 12mg
L-Cysteine ... 99mg
Reishi (mushroom)(extract 4:1) ... 51mg
Turmeric (root)(Curcuma longa)(standardized extract)(Curcumin C3 Complex 95%®) ... 51mg

Other Ingredients: Rice chelate, silicon dioxide, maltodextrin, citric acid, hypromellose, di and tri calcium phosphate, gum arabic, sucrose, starch, tapioca, capsule (hypromellose, purified water).
KEEP CONTAINER TIGHTLY CLOSED. STORE IN A COOL, DRY TEMPERATURE.
KEEP OUT OF REACH OF CHILDREN.
If you are pregnant or breast feeding, consult your physician before using this product.