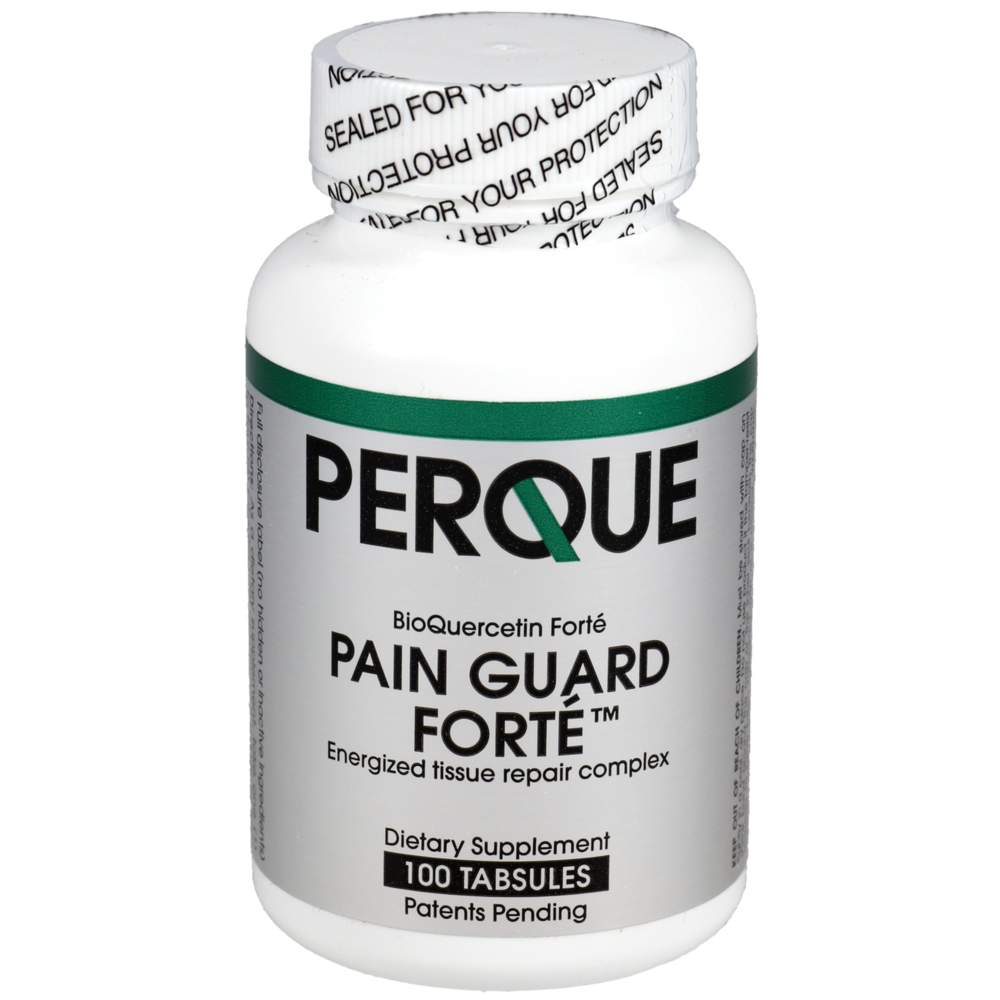 SKU: PER-134
Benefits: Reduces oxidative stress and improves comfort, naturally
PERQUE Pain Guard Forté, a remarkable natural formula, is your best nutritional solution for treating pain and inflammation.*
Inflammation means repair is blocked or incomplete. Pain Guard Forté effectively enhances the bodys innate ability to repair itself.*Often, nonsteroidal anti-inflammatory drugs (NSAIDS), such as aspirin or ibuprofen, are used to treat inflammation and pain. However, NSAIDS stop and block the bodys efforts to repair itself. Potential NSAID side effects include dizziness, constipation, ringing in the ears, and peptic ulcers. Pain Guard Forté achieves these benefits in safer and more effective, natural ways.*
As a dietary supplement, take one (1) to four (4) tablets with or without food up to four (4) times a day or as directed by your health professional.
Healthy maintenance ............1-4/day
Repair deficit (chronic) ..........2-8/day
Inflammation/acute pain .......4-16/day
Serving Size: One Tablet
Amount Per Serving
Quercetin Dihydrate ... 500mg
(water-soluble bioflavonoid)
OPC ... 5mg
(soluble LMW Activin 1294™)
Magnesium ... 7mg
(as C16 and C18 alkyls)
(from whole, untreated palm fruit and leaf)
Vegetable fiber ... 35mg
(organic croscarmellose)
This product does not contain
citrus
MSG
wheat
gluten
corn
starch
sugar
wax
soy
yeast
zein
sulfate
phosphates (other than coenzymes)
preservatives
casein
other milk derivatives
GMOs
WARNING
Pregnant and nursing mothers need to check with their health professional before taking supplements.
KEEP OUT OF REACH OF CHILDREN
Must be stored with cap on tightly in a cool, dry place. Do not use product if the tamper-resist shrink band aroung the cap or inner seal beneath the cap appears to have been tampered with or is missing.