Zinc and Throat Guard Lozenges
Perque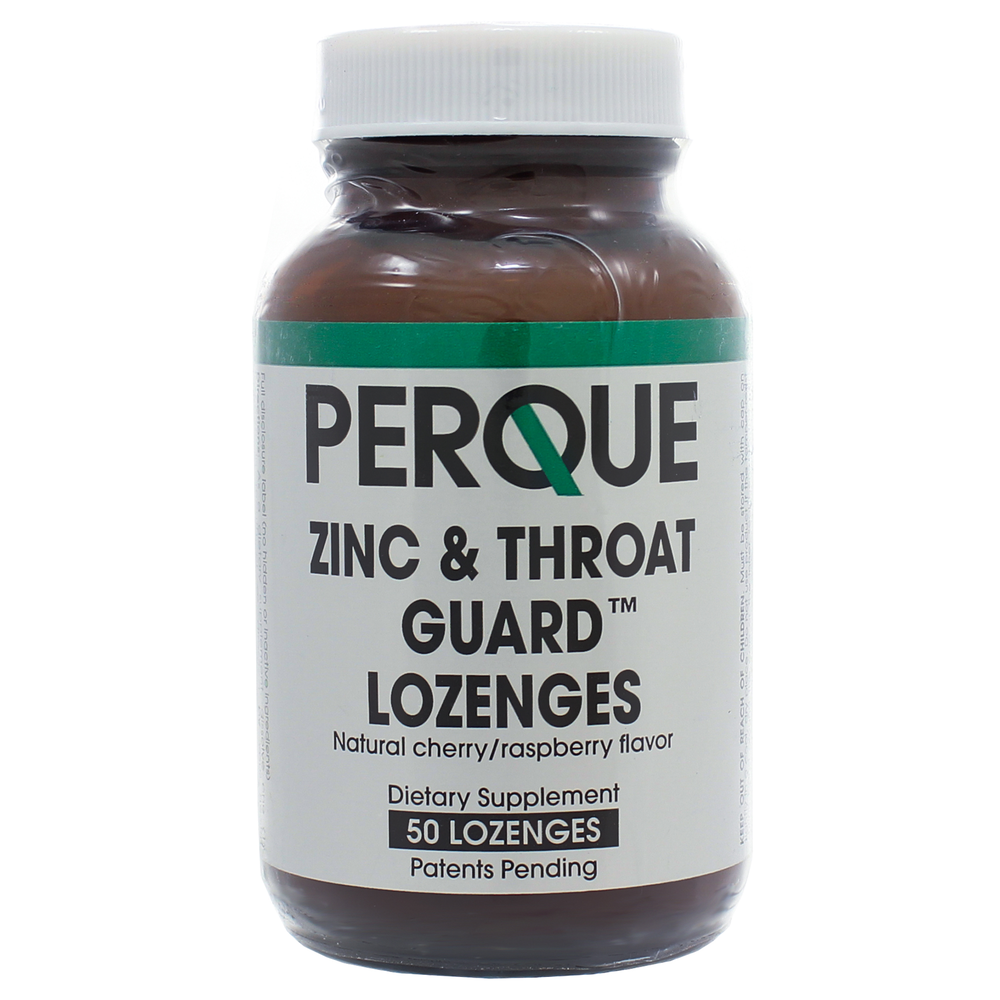 SKU: PER-300
Benefit: Reduces incidences of cold symptoms and sooths throats.
BOTTOM LINE FOR IMMUNE SUPPORT
Due to poor diet, soil depletion, food processing, aging, and stress, zinc deficiency is widespread. Statistics indicate average intake ranges from 47% to 57% of Recommended Daily Allowance (RDA) not enough to prevent outright deficiency.
PERQUE Zinc Lozenges and Double Zinc Guard tablets provide a special blend of fully soluble, energized zinc and synergistic nutrients for maximum immune support for people of all ages.*
As a dietary supplement, dissolve one (1) lozenge in mouth or as directed by your health professional.
Serving Size: One Lozenge
Amount Per Serving
Zinc ... 15mg
(as citrate, aspartate, and glycinate)
Vitamin C ... 60mg
(100% l-ascorbate, fully reduced, corn free)
Echinacea ... 10mg
(Purpurea 4:1)
Slippery elm ... 25mg
OPC ... 5mg
(LMW ActiVin®)
Sucanat® honey ... 236mg
Mannitol ... 200mg
100% Whole raspberry fruit extract ... 45mg
100% Whole cherry fruit extract ... 7mg
Vegetable fiber ... 25mg
(organic croscarmellose)
Magnesium ... 6mg
(as C16 and C18 alkyls)
(from whole, untreated palm fruit and leaf)
This product does not contain
citrus
MSG
wheat
gluten
corn
starch
wax
soy
yeast
zein
sulfate
phosphates (other than coenzymes)
preservatives
casein
other milk derivatives
GMOs
WARNING
Pregnant and nursing mothers need to check with their health professional before taking supplements.
KEEP OUT OF REACH OF CHILDREN
Must be stored with cap on tightly in a cool, dry place. Do not use product if the tamper-resist shrink band aroung the cap or inner seal beneath the cap appears to have been tampered with or is missing.