Activated B-12 Guard 2000mcg
Perque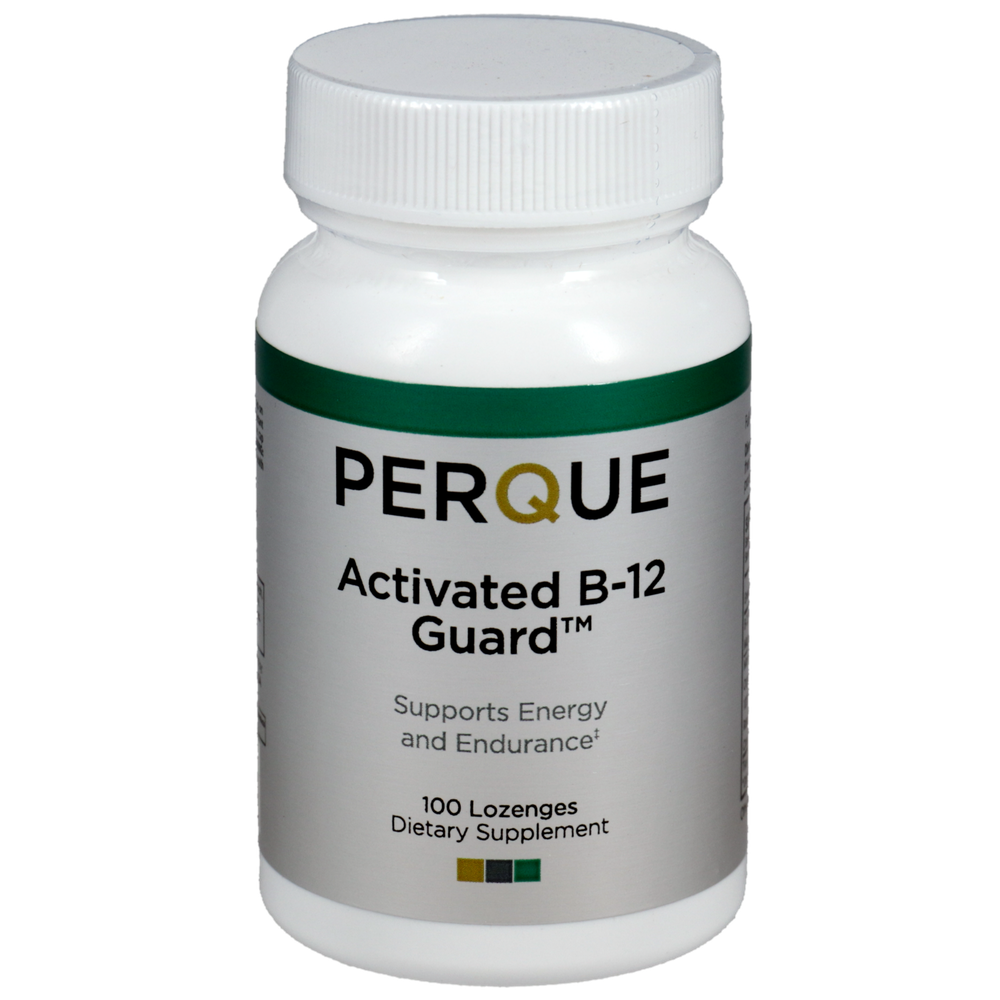 SKU: PER-280
PERQUE Activated B-12 Guard is in lozenge form for maximum uptake and optimal delivery to the brain. Studies on PERQUE Activated B-12 Guard lozenge formulation show nearly the
same B-12 uptake as from injection. Patients notice that they feel better more quickly.*
Vitamin B-12 in our food supply is estimated to be 78% less than in the 1960s. Diet alone is hard pressed to provide the necessary levels of this important nutrient. In
addition, stress and reduced hydrochloric acid (HCl) and intrinsic factor production in
the stomach impair absorption. The most commonly used forms of B-12 require activation in the body, making uptake quite lowrarely more than 50%.*
PERQUE delivers vitamin B-12 in its superior, activated hydroxocobalamin form. Although it is more expensive and difficult to obtain, hydroxocobalamin lasts longer and raises B-12 blood concentrations higher than other forms. For this reason, it is the only form PERQUE uses. Hydroxocobalamin requires no intrinsic factor and is taken up directly by
mucous membranes regardless of digestive competence.* Hydroxocobalamin is easily converted to active but short-lived methylcobalamin and adenosylcobalamin as needed in the body. Hydroxocobalamin, the parent to other B-12 forms, provides better, long-lived
B-12 action in the body.
Unique Features:
Significantly improves energy, endurance and beats fatigue.
Pure, hypoallergenic components
Bioavailable for use by cells
Organic base
Biochemically formulated
Includes cofactors that are usable in generating high-energy compounds
Made from 100% vegetable sources
Vitamins, minerals, synergistic cofactors
Suggested Use:
As a dietary supplement, take one (1) lozenge daily or as directed by your health professional. Place lozenge under tongue and let dissolve.
Serving Size: 1 Lozenge
Amount Per Serving
B-12 ... 2,000mcg
(as hydroxocobalamin)
Mannitol ... 295mg
Organic, whole cane juice ... 1mg
100% Whole cherry fruit extract ... 3.5mg
Raspberry flavor ... 8.5mg
Vegetable fiber ... 25mg
(Croscarmellose)
C16 and C18 alkyls ... 3.5mg


This product does not contain
citrus
MSG
wheat
gluten
corn
starch
sugar
wax
soy
yeast
zein
sulfate
phosphates (other than coenzymes)
preservatives
casein
other milk derivatives
GMOs
WARNING
Pregnant and nursing mothers need to check with their health professional before taking supplements.
KEEP OUT OF REACH OF CHILDREN
Must be stored with cap on tightly in a cool, dry place. Do not use product if the tamper-resist shrink band aroung the cap or inner seal beneath the cap appears to have been tampered with or is missing.