Potassium Magn (Cit)
Pure Encapsulations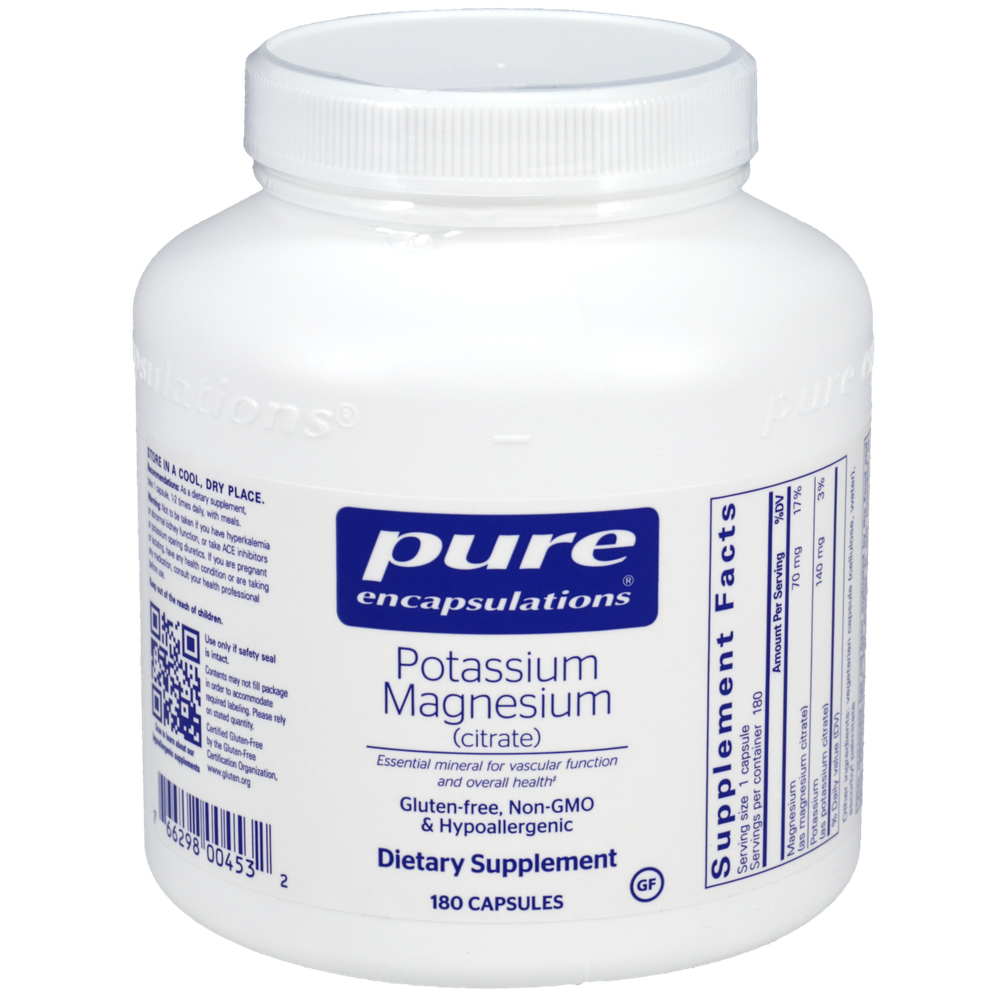 SKU: PUR-PMC1
Potassium Magnesium offers a wide range of nutritional support for healthy functioning of many organs in the body. Potassium Magnesium specifically supports healthy nerve impulse function, muscle contraction, and cardiovascular function. Potassium Magnesium helps facilitate potassium utilization to provide optimal support.*
Supports heart, muscular and nerve health*
Promotes acid/alkaline balance and nutrient metabolism*
Made with hypoallergenic, vegan ingredients
Potassium and magnesium are essential for healthy nerve impulse function, muscle contraction, cardiovascular function, acid/alkaline balance and carbohydrate and nutrient metabolism. Magnesium also plays an important role in facilitating potassium utilization, helping to provide optimal support from this important combination.*
Take 2 capsules daily, in divided doses, with meals.
Serving Size: One Vegetarian Capsule
Amount Per Serving
Potassium ... 140mg
(as potassium citrate)
Magnesium ... 70mg
(as magnesium citrate)
Other Ingredients: ascorbyl palmitate, vegetarian capsule (cellulose, water)
If pregnant or lactating, consult your physician before taking this product. Magnesium can cause loose stools. Potassium can cause GI upset, nausea, diarrhea or vomiting in sensitive individuals. Consult your physician for more information.
Magnesium should be taken separately from bisphosphonate medications. Individuals taking ACE inhibitors, angiotensin receptor blockers or potassium sparing diuretics may require monitoring of potassium levels. Magnesium may also be contraindicated with certain antibiotics. Consult your physician for more information.