Pro Bono - California Only
Ortho Molecular Products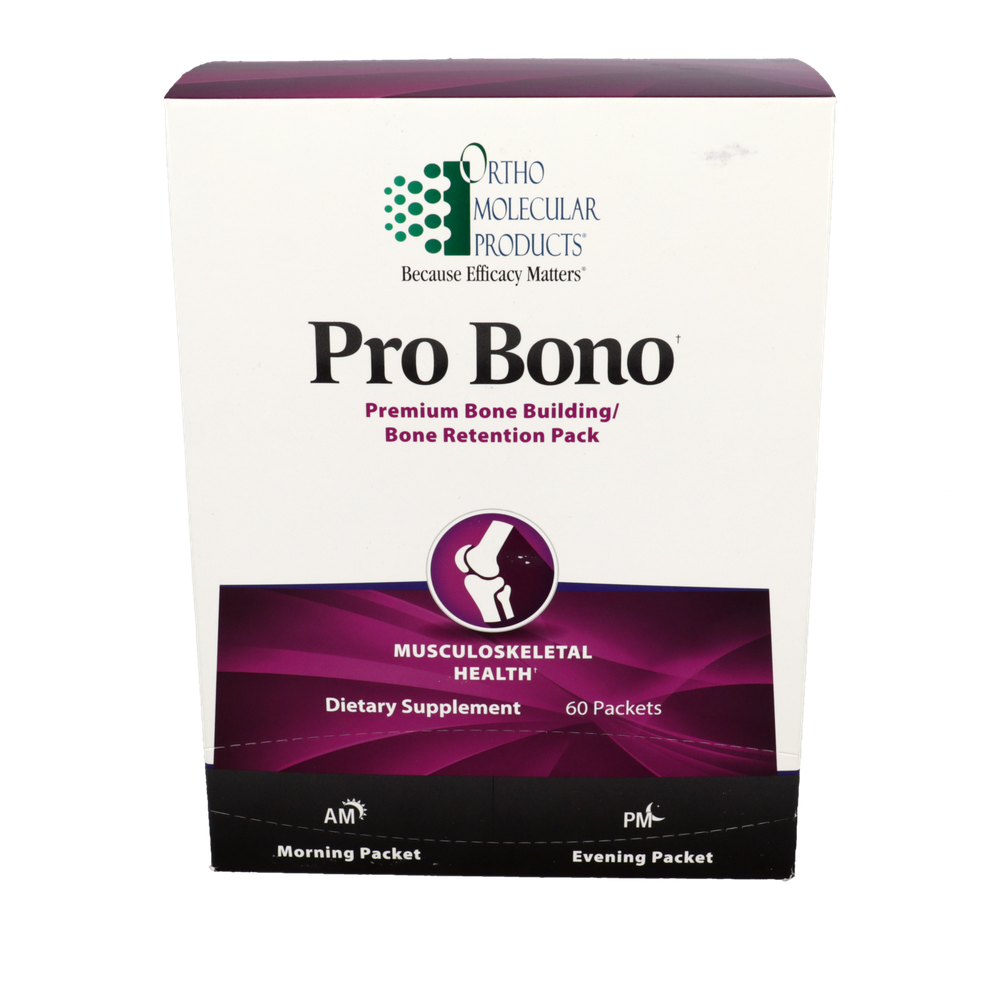 SKU: OHM-350060C
Pro Bono provides the nutritional support needed to maintain healthy bone formation. The single-serving AM and PM packets make Pro Bono convenient, while separating the calcium and strontium servings for better absorption.
Bone mineral density is a major determinant of bone mass and is the most commonly measured quality of bone. A number of factors contribute to bone mineral density including lifestyle factors (regular physical activity, not smoking, minimizing stress levels) and maintaining hormonal balance. Consuming a healthy diet and ensuring optimal levels of bone-building vitamins and minerals are a key therapeutic consideration for preserving bone strength.
Pro Bono is a targeted bone building protocol specifically designed to increase skeletal strength and help maintain healthy bone density. It provides therapeutic doses of clinically-proven, bone-stimulating nutrients in convenient, easy-to-take packets to enhance bone formation. The foundation of Pro Bono is 1,000 mg of strontium, one of the most well-researched, bone-supporting minerals proven to strengthen the bone matrix and support skeletal density. Each serving provides the most bioavailable sources of strontium, calcium, magnesium, vitamin D3, vitamin K2, boron and other trace minerals to support bone health and maintenance. In addition, Pro Bono includes a full complement of micronutrients, making an additional multivitamin unnecessary.
Convenient, Multi-faceted Bone Building Protocol
Increases Skeletal Strength
Promotes Healthy Bone Density
Improves Bone Remodeling
Provides a Comprehensive Blend of Foundational Micronutrients
Suggested Use:
Take 2 packets per day, one AM packet in the morning and one PM packet in the evening or as recommended by your health care professional
Maintenance: 1 packet per day alternating one AM packet on odd days and one PM packet on even days or as recommended by your health care professional.
Serving Size: 2 Packets
Amount Per Serving
Vitamin A … 1200mcg
(as Natural Beta Carotene, Palmitate)
Vitamin C … 500mg
(as Ascorbic Acid USP)
Vitamin D … 1000IU
(D3 as Cholecalciferol)
Vitamin E … 33.6mg
(as d-Alpha Tocopherol Succinate USP)
Thiamin …. 50mg
(Vitamin B1) (from Thiamine Hydrochloride USP)
Riboflavin … 30mg
(Vitamin B2 USP)
Niacin … 30mg
(as Niacin USP, Niacinamide USP)
Vitamin B6 … 50mg
(as Pyridoxine Hydrochloride USP)
Folate … 1360mcg DFE
(400mcg Quatrefolic® (6S)-5-Methyltetrahydrofolic acid glucosamine salt)
Vitamin B12 … 500mcg
(as Methylcobalamin)
Biotin … 300mcg
Pantothenic Acid … 50mg
(as d-Calcium Pantothenate USP)
Calcium … 1000mg
(as Calcium Hydroxyapatite DimaCal® Dicalcium Malate)
Phosphorus … 360mg
(as Calcium Hydroxyapatite)
Iodine … 150mcg
(from Kelp)
Magnesium … 400mg
(as DiMagnesium Malate, Magnesium Citrate USP, TRAACS® Magnesium Lysinate Glycinate Chelate)
Zinc … 15mg
(as TRAACS® Zinc Bisglycinate Chelate)
Selenium … 200mcg
(as Selenium Glycinate Complex)
Copper … 1mg
(as TRAACS® Copper Bisglycinate Chelate)
Manganese … 5mg
(as TRAACS® Manganese Bisglycinate Chelate)
Chromium … 200mcg
(as O-polynicotinate)‡
Molybdenum … 150mcg
(as TRAACS® Molybdenum Glycinate Chelate)
Strontium Citrate … 1g
Boron … 5mg
(as Bororganic™ Glycine)
Other Ingredients: Natural Vegetable Capsules, Microcrystalline Cellulose, Magnesium Stearate, and Silicon Dioxide.
Does Not Contain:
Gluten, yeast, artificial colors, flavors or preservatives.
Caution:
Do not consume this product if you are pregnant or nursing. Consult your physician for further information.