Bone Builder® Active
Metagenics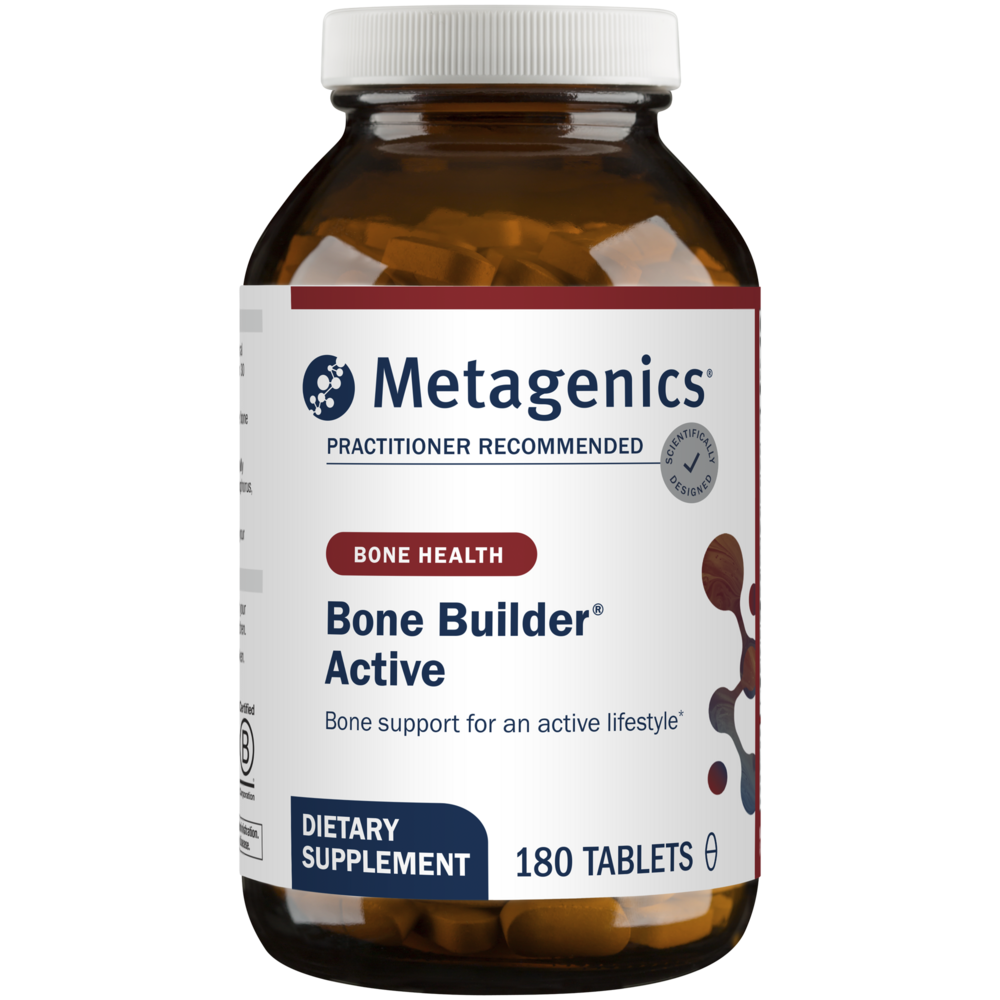 SKU: MET-CA004
Bone Builder® Active
Bone Builder® Active provides bone health support with microcrystalline hydroxyapatite concentrate (MCHC), a highly absorbable crystalline compound that provides naturally occurring components of bone and is backed by more than 30 years of research. MCHC contains naturally occurring calcium, phosphorus, trace amounts of other minerals, bone growth factors, and collagen and other vital bone proteins. This well-rounded formula is designed to support bone mineral density, and also features vitamin D, additional minerals, glucosamine, and vitamin C for enhanced bone and joint health support.*
Suggested Use:
Take three tablets once daily or as directed by your healthcare practitioner.
Serving Size: 3 Tablets

Amount Per Serving
Total Carbohydrate ... <1 g <1%*
 Dietary Fiber ... <1 g 3%*
Vitamin C ... 249 mg 277%
(as Ultra Potent-C®)
Vitamin D ... 5 mcg (201 IU) 25%
(as cholecalciferol)
Niacin ... 18 mg 113%
Calcium ... 610 mg 47%
(as MCHC and dicalcium phosphate)
Phosphorus ... 350 mg 28%
(as MCHC and dicalcium phosphate)
Magnesium ... 110 mg 26%
(as magnesium bis-glycinate)
Zinc ... 7.5 mg 68%
(as zinc citrate)
Copper ... 0.99 mg 110%
(as copper lysinate HCl)
Manganese ... 0.48 mg 21%
(as manganese citrate)
Chromium ... 120 mcg 343%
(as chromium citrate)
Microcrystalline Hydroxyapatite Concentrate (MCHC) ... 1.34g**
D-Glucosamine Sulfate ... 249 mg **
(as D-glucosamine sulfate KCI)
Horsetail 4:1 Aerial Parts Extract ... 75mg**
(Equisetum arvense)
Boron ... 195 mcg**
(as boric acid)
Ingredients: Microcrystalline hydroxyapatite concentrate, dicalcium phosphate, magnesium bis-glycinate, microcrystalline cellulose, Ultra Potent-C® [calcium ascorbate, niacinamide ascorbate, ascorbic acid, sodium ascorbate, magnesium ascorbate, L-lysine HCl, ascorbyl palmitate, potassium ascorbate, citrus bioflavonoid complex, tetrasodium pyrophosphate, alpha D-ribofuranose, L-cysteine HCI, xylitol, and L-glutathione], glucosamine sulfate potassium chloride [crustacean shellfish (crab shells, shrimp)], croscarmellose sodium, magnesium stearate (vegetable), horsetail extract, silica, zinc citrate, copper lysinate HCl, chromium citrate, cholecalciferol, critric acid, manganese citrate, boric acid, niacinamide, and coating (hypromellose, medium-chain triglycerides, and hydroxypropylcellulose). Contains: Crustacean shellfish (crab shells, shrimp)
This product is non-GMO and gluten-free.
*Percent Daily Values are based on a 2,000 calorie diet.
**Daily Value not established.
Caution: If pregnant, nursing, or taking medication, consult your healthcare practitioner before use. Keep out of reach of children.
Tamper Evident: Do not use if safety seal is missing or broken.
Storage: Keep tightly closed in a cool, dry place.