Bone Guard Forte 20
Perque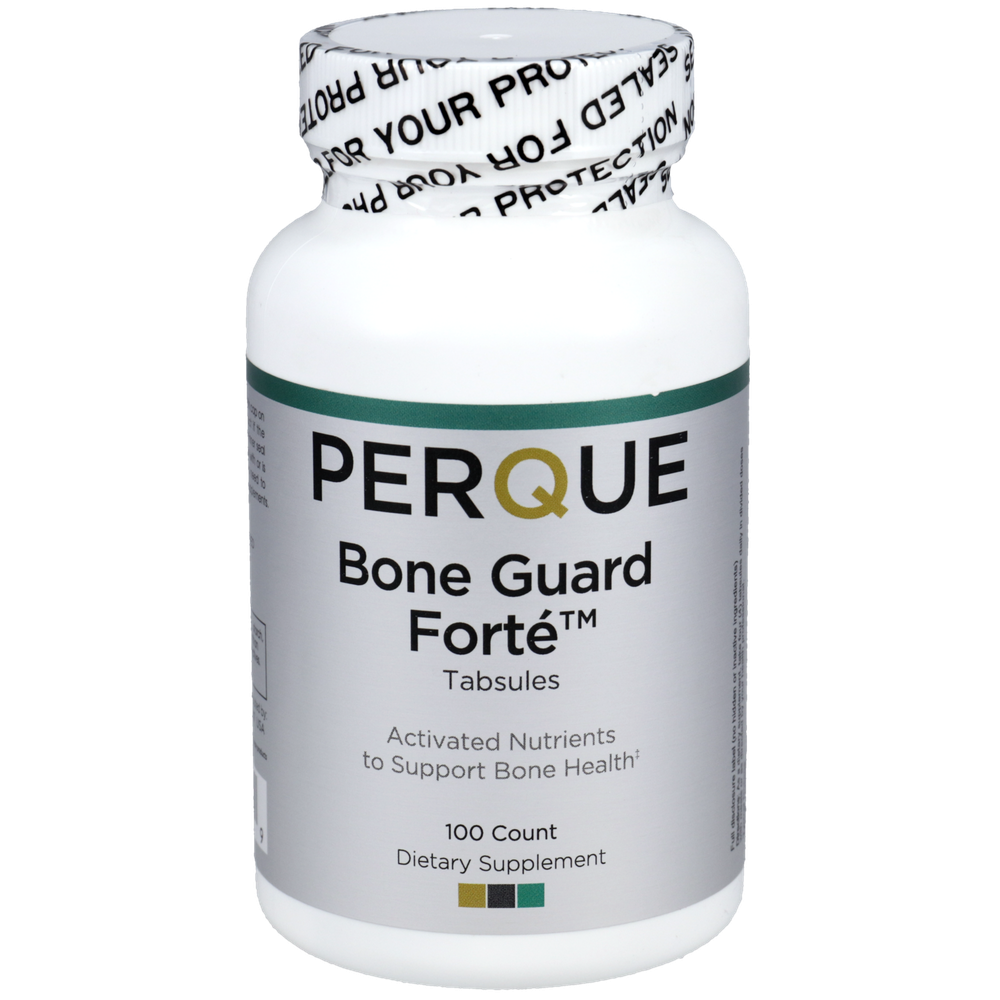 SKU: PER-218
PERQUE Bone Guard Fort 20, an exclusive nutritional formula, provides 20 uniquely balanced, energized, and alkalinizing bone builders.* It is also your most complete, fully active, comprehensive mineral supplement.*
As a dietary supplement, take four (4) tablets daily in divided doses with meals or as directed by your health professional.
Healthy bone maintenance .................2-4 tablets/daily
Family or personal osteoporosis risk .....4-6 tablets/daily
Repair or known osteoporosis .............6-8 tablets/daily
Serving Size: Four Tablets
Amount Per Serving
Vitamin C ... 200mg
(100% l-ascorbate, fully reduced, corn free)
Vitamin D-3 ... 400IU
(as cholecalciferol)
Vitamin K-1 ... 750mcg
(as phylloquinone)
Vitamin K-2 ... 250mcg
Biotin ... 250mcg
Calcium ... 500mg
(as acetate, glycinate, succinate, malate, fumarate, and citrate)
Magnesium ... 500mg
(as acetate, glycinate, succinate, malate, fumarate, and citrate)
Boron ... 6mg
(as citrate)
Germanium sesquioxide ... 4mg
Zinc ... 10mg
(as citrate)
Manganese ... 15mg
(as citrate)
Chromium ... 250mcg
(as citrate)
Vanadium ... 250mcg
(as ascorbate)
Selenium ... 250mcg
(as 100% l-selenomethionine)
Copper ... 1mg
(as sebecate)
Silica ... 10mg
(from magnesium trisilicate from horse tail/equisetum)
Iodine ... 3mg
Iodide ... 150mcg
(as potassium iodide)
Strontium ... 50mg
(as gluconate)
Vegetable fiber ... 400mg
(organic croscarmellose)
This product does not contain


citrus
MSG
wheat
gluten
corn
starch
sugar
wax
soy
yeast
zein
sulfate
phosphates (other than coenzymes)
preservatives
casein
other milk derivatives
GMOs
**All forms of the above minerals and nutrients are used in clinical bone studies with proven results.
WARNING
Pregnant and nursing mothers need to check with their health professional before taking supplements.
KEEP OUT OF REACH OF CHILDREN
Must be stored with cap on tightly in a cool, dry place. Do not use product if the tamper-resist shrink band aroung the cap or inner seal beneath the cap appears to have been tampered with or is missing.