Hair, Skin and Nails Guard
Perque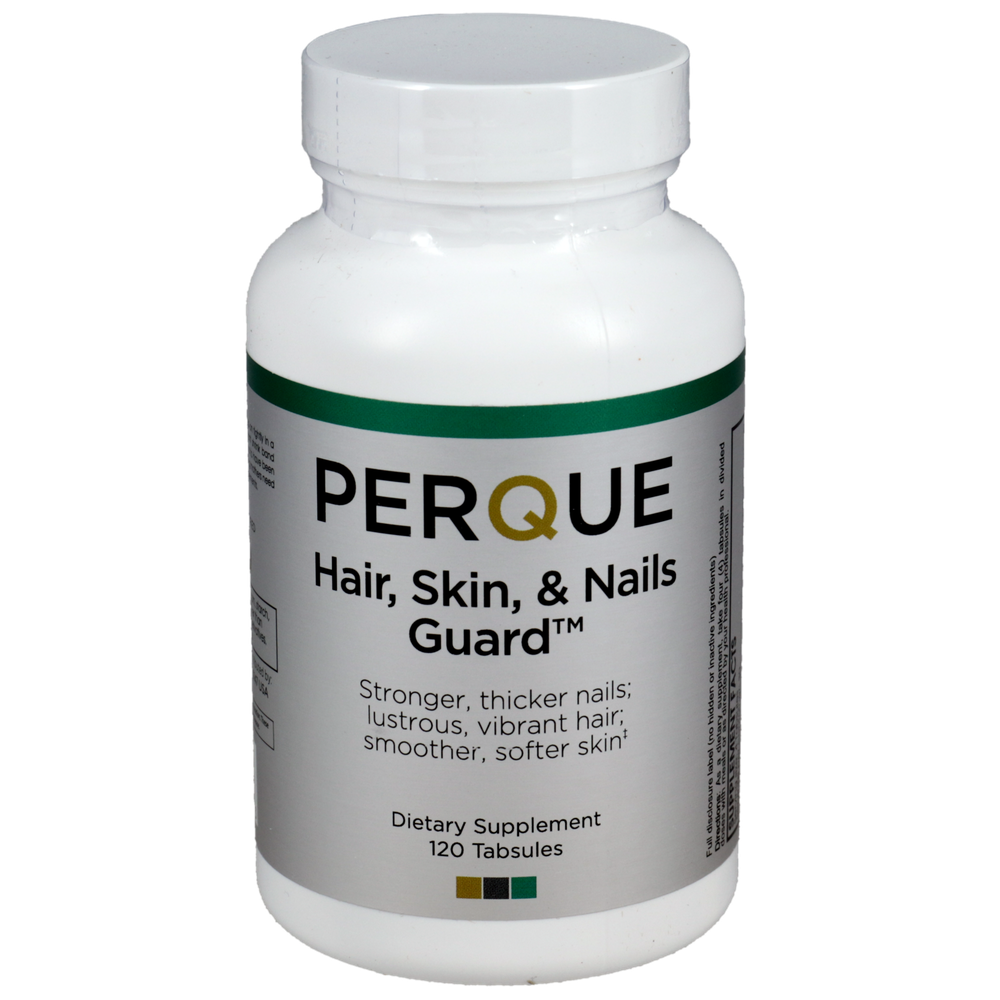 SKU: PER-214
Result: Stronger, thicker nails; lustrous, vibrant hair; smoother, softer skin.
Benefit: Meets individual nutrient needs so hair, skin and nails reflect a more resilient you, because outer beauty requires inner health.
Fact: Unique combination of more potent nutrients correct deficits and more effectively create protein to repair and renew inside and out.
As a dietary supplement, take four (4) tablets in divided doses with meals or as directed by your health professional.
Serving Size: Four Tablets
Amount Per Serving
Vitamin C ... 200mg
(100% l-ascorbate, fully reduced, corn free)
Vitamin D-3 ... 400IU
(as cholecalciferol)
Vitamin K-1 ... 750mcg
(as phylloquinone)
Vitamin K-2 ... 250mcg
Biotin ... 2.5mg
Calcium ... 250mg
(as acetate, glycinate, succinate, malate, fumarate and citrate)
Magnesium ... 500mg
(as acetate, glycinate, succinate, malate, fumarate and citrate)
Zinc ... 10mg
(as citrate)
Manganese ... 11mg
(as citrate)
Chromium ... 50mcg
(as citrate)
Selenium ... 250mcg
(as l-selenomethionine)
Copper ... 1mg
(as sebecate)
Iodine ... 100mcg
Iodide ... 150mcg
(as potassium iodide)
Strontium ... 50mg
(as gluconate)
Boron ... 6mg
(as citrate)
Vanadium ... 50mcg
(as ascorbate)
Silica ... 10mg
(from Magnesium trisilicate from horse tail/Equisetum)
L-lysine ... 200mg
Magnesium ... 360mg
(as C16 C18 alkyls†)
Croscarmellose ... 200mg
Other Ingredients: None
†from whole untreated palm fruit and leaf
WARNING
Pregnant and nursing mothers need to check with their health professional before taking supplements.
KEEP OUT OF REACH OF CHILDREN
Must be stored with cap on tightly in a cool, dry place. Do not use product if the tamper-resist shrink band aroung the cap or inner seal beneath the cap appears to have been tampered with or is missing.