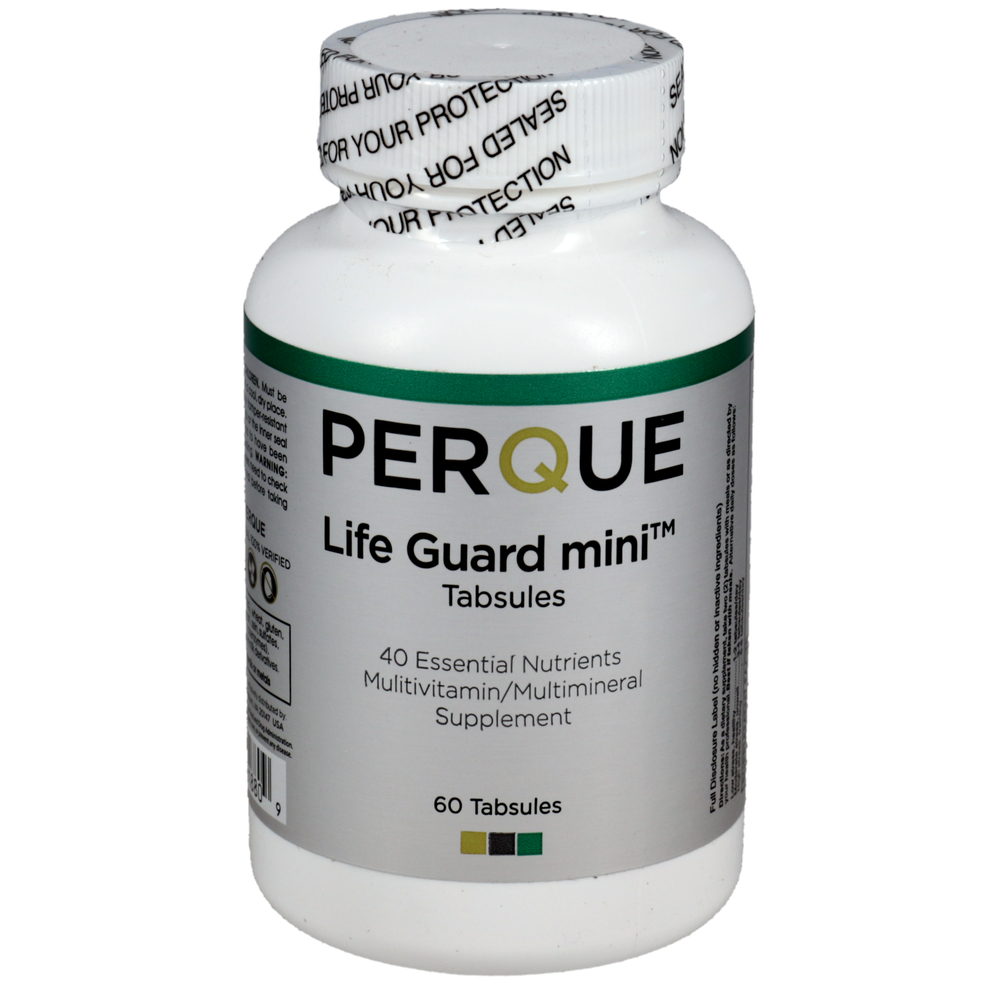 SKU: PER-188
PERQUE Life Guard Mini tabsules have all the same proven benefits of original PERQUE Life Guard tabsules, but now in a smaller, easier-to-swallow tabsule for increased dosage control and patient satisfaction.
Same advanced, 100% active ingredient formula proven in placebo-controlled study. Half the dose, half the size, easier to take.
Key Benefits:
Improves nutrient deficits
Supplements essential nutrients and minerals that aren't acquired through diet
Supports and maintains overall good health
Includes energizing co-factors and transports that ensure nutrient uptake by the body
Half strength allows more dosing flexibility
As a dietary supplement, take 2 tabsules with meals or as directed by your healthcare professional.
Alternative daily dosing as follows:
Low stress, healthy - 2-4 tabsules/day
Moderate Stress, unwell - 4-8 tabsules/day
High stress, training - 10-12 tabsules/day
Serving Size: 2 Tabsules
Amount Per Serving
Vitamin A ... 2, 500IU
(beta-carotene)
Vitamin B-1 ... 50mg
(thiamine HCl)
Vitamin B-2 ... 25mg
(riboflavin 40 mg: riboflavin 5'-phosphate, 10 mg)
Vitamin B-3 ... 12.5mg
(niacin)
Vitamin B-3 ... 37.5mg
(niacinamide)
Vitamin B-5 ... 50mg
(calcium d-pantothenate)
Vitamin B-6 ... 100mg
(pyridoxine HCl, 160 mg. pyridoxol 5'-phosphate, 40 mg)
Vitamin B-12 ... 100mcg
(hydroxocobalamin)
Folinate ... 100mcg
(as calcium folinate) (6S)-5-Methyltetrahydrofolate
as Quatrefolic™ ... 100mcg
PABA ... 15mg
(para-aminobenzoic acid)
Biotin ... 250mcg
(pure crystalline)
Vitamin C ... 75mg
(100% l-ascorbate, fully reduced, corn free)
Vitamin D-3 ... 200IU
(cholecalciferol)
Vitamins E ... 100IU
(from mixed natural tocopherols)**
Vitamin K-1 ... 250mcg
(phylloquinone)
Potassium ... 49.5mg
(as citrate)
Calcium ... 25mg
(as ascorbate, pantothenate, citrate, fumarate, malate and succinate)
Magnesium ... 50mg
(as C16 and C18 alkyls)†
Zinc ... 12.5mg
(as picolinate)
Boron ... 1mg
(as ascorbate)
Chromium ... 100mcg
(as picolinate 50%, ascorbate 50%)
Manganese ... 7.5mg
(as ascorbate)
Molybdenum ... 50mcg
(as ascorbate)
Selenium ... 25mcg
(as I-selenomethionine)
Vanadium ... 50mcg
(as ascorbate)
Quercetin dihydrate ... 50mg
(water-soluble bioflavonoid)
L-aspartic acid ... 25mg
(magnesium aspartate)
Trimethylglycine ... 25mg
(betaine HCl)
Triacontanol ... 384mcg
(polycosonol)
Hexacosanol ... 16.5mcg
(polycosonol)
Tetracosanol ... 96.5mcg
(polycosonol)
Octacosanol ... 250mcg
(polycosonol)
Citrate ... 29.5mg
Fumarate ... 29.5mg
Malate ... 29.5mg
Succinate ... 29.5mg
Vegetable fiber ... 85mg
(organic croscarmellose)
Natural Vanilla ... 60mg
OTHER INGREDIENTS: NONE
**Vitamins E is stated to reinforce the fact that the alpha, beta, gamma, and delta forms of natural tocopherols is used.
†From whole, untreated palm fruit and leaf.
WARNING: Pregnant and nursing mothers need to check with their health professional before taking supplements.