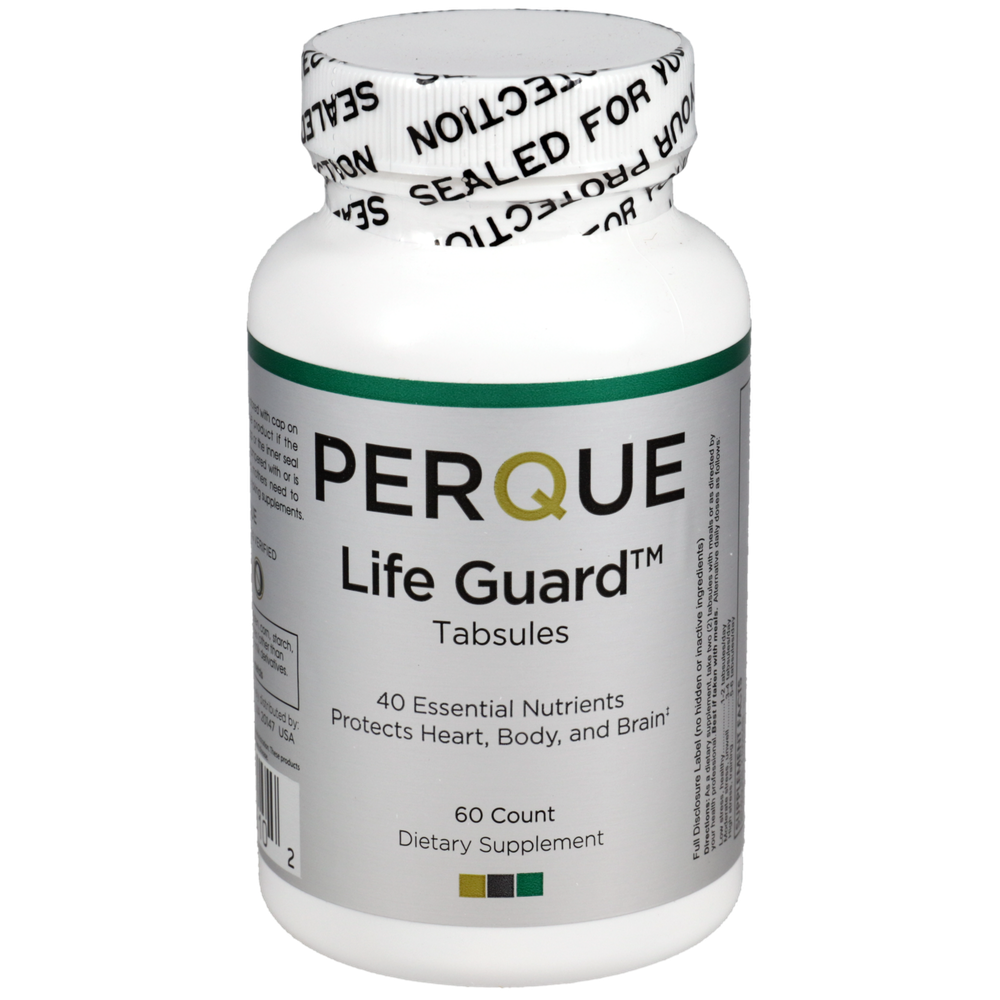 SKU: PER-161
PERQUE Life Guard is a unique, comprehensive, 40-essential nutrient formula that provides you four products in one:
Super potency B complex plus (14 vitamins)
Minerals (10 fully available elemental forms)
Mixed vitamins E, selenomethionine, and tocotrienols (enough to lower cardiovascular risk by 60%)*
Cell alkalinizers and energizers (16 forcomplete effect)
PERQUE Life Guard provides:
Purer, more active nutritives
No oxidants (like iron and copper that compete with and degrade antioxidants when they are mixed and stored together in a bottle).
Use PERQUE Hematin Anemia Guard (for iron and other anemia-protecting nutrients) and PERQUE Bone Guard Fort (for copper and other bone/body-building minerals).
As a dietary supplement, take two (2) tabsules with meals or as directed by your health professional
Alternative daily doses as follows:
Low stress, healthy. . . . . . . . . . . . . 1-2 tabsules/day
Moderate stress, unwell. . . . . . . . . 3-4 tabsules/day
High stress, training. . . . . . . . . . . . . 5-6 tabsules/day
Serving Size: Two Tabsules
Amount Per Serving
Vitamin A ... 5, 000IU
(beta-carotene)
Vitamin B-1 ... 100mg
(thiamine HCl)
Vitamin B-2 ... 50mg
(riboflavin 40 mg.; riboflavin 5-phosphate, 10 mg.)
Vitamin B-3 ... 25mg
(niacin)
Vitamin B-3 ... 75mg
(niacinamide)
Vitamin B-5 ... 100mg
(calcium d-pantothenate)
Vitamin B-6 ... 200mg
(pyridoxine HCl, 160 mg., pyridoxal 5-phosphate, 40 mg.)
Vitamin B-12 ... 200mcg
(hydroxocobalamin)
Folinate ... 200mcg
(as calcium folinate)
(6S)-5-Methyltetrahydrofolate ... 200mcg
(as Quatrefolic™)
PABA ... 30mg
(para-aminobenzoic acid)
Biotin ... 500mcg
(pure crystalline)
Vitamin C ... 150mg
(100% l-ascorbate, fully reduced, corn free)
Vitamin D-3 ... 400IU
(cholecalciferol)
Vitamins E ... 200IU
(from mixed natural tocopherols)
Vitamin K-1 ... 500mcg
(phylloquinone)
Potassium ... 99mg
(as citrate)
Calcium ... 50mg
(as ascorbate, pantothenate, citrate, fumarate, malate, and succinate)
Magnesium ... 100mg
(as citrate, fumarate, malate, succinate, aspartate)
Zinc ... 25mg
(as picolinate)
Boron ... 2mg
(as ascorbate)
Chromium ... 200mcg
(as picolinate 50%, ascorbate 50%)
Manganese ... 15mg
(as ascorbate)
Molybdenum ... 100mcg
(as ascorbate)
Selenium ... 50mcg
(as l-selenomethionine)
Vanadium ... 100mcg
(as ascorbate)
Quercetin dihydrate ... 100mg
(water-soluble bioflavonoid)
L-aspartic acid ... 50mg
(magnesium aspartate)
Trimethylglycine ... 50mg
(betaine HCl)
Tocotrienols:
Triacontanol (polycosonol) ... 744mcg
Hexacosanol (polycosonol) ... 33mcg
Tetracosanol (polycosonol) ... 193mcg
Octacosanol (polycosonol) ... 500mcg
Citrate ... 59mg
Fumarate ... 59mg
Malate ... 59mg
Succinate ... 59mg
Vegetable fiber ... 170mg
(organic croscarmellose)
Natural Vanilla ... 120mg
Other Ingredients: None.
WARNING
Pregnant and nursing mothers need to check with their health professional before taking supplements.
KEEP OUT OF REACH OF CHILDREN
Must be stored with cap on tightly in a cool, dry place. Do not use product if the tamper-resist shrink band aroung the cap or inner seal beneath the cap appears to have been tampered with or is missing.