Bone Maximizer III
Metabolic Response Modifier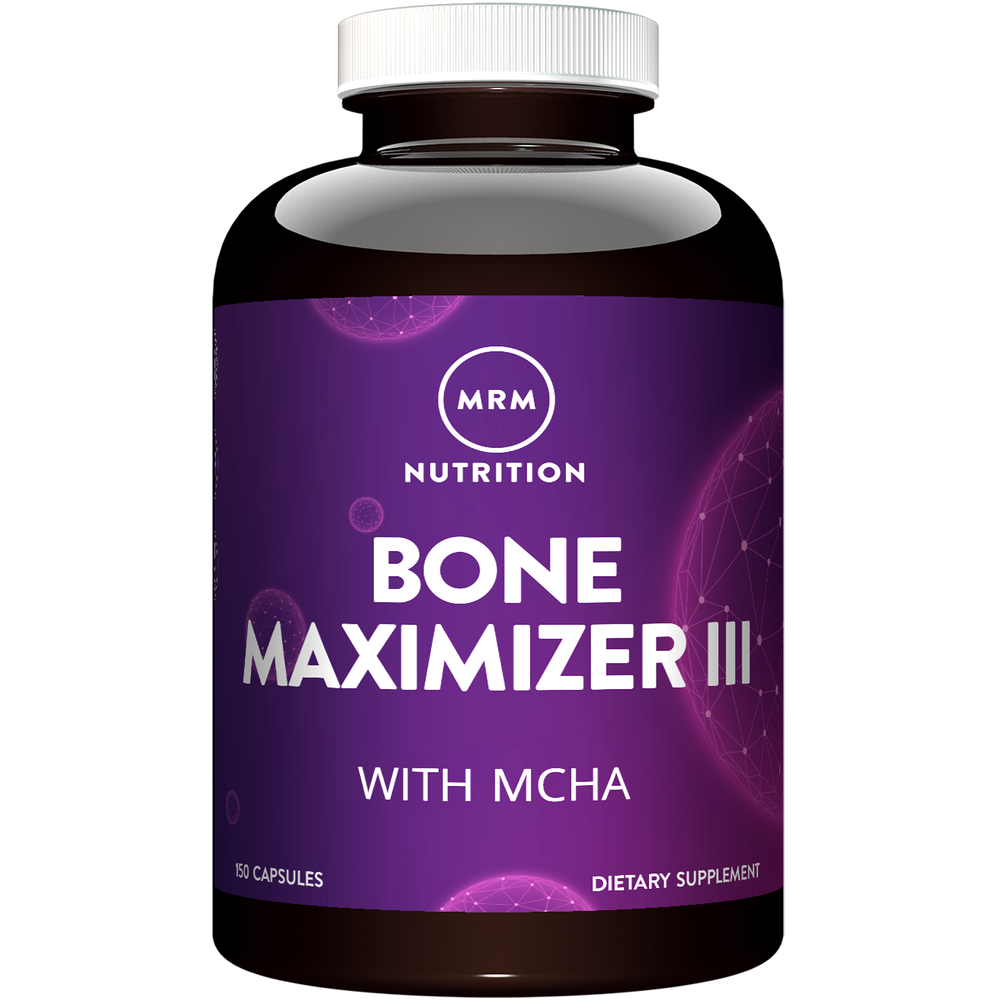 SKU: ME2-23003
Bone Maximizer III 150 caps
Dietary Supplement
Active MCHC Formula to Support Bone Health & Build Bone Density**
- Now with Vitamin K2, MK-7
Bone Maximizer III offers a superior source of calcium and related bone-building compounds for those who wish to support bone health throughout their life cycle.** Clinical studies have shown that Microcrystalline Hydroxapatite Concentrate (MCHC) is superior to calcium carbonate in supporting bone health.**
Active MCHC is derived solely from free-range, grass-fed cattle and provides whole bone proteins, peptides and other organic components in the optimal synergistic ratio to support healthy bone structure. Bone Maximizer III contains a full spectrum of bone building nutrients to maintain maximum bone density in only three capsules per day.**
• The Ultimate Bone Support Formula**
• With Active MCHC™ for Maximum Effect
• New form of Vitamin K2 (Menaquinone-7), 1200 IU of Vitamin D3 & more!
Suggested Use: Take 3 capsules daily with a meal or as directed by your qualified healthcare provider.
Supplement Facts:
Serving size: 3 capsules
Servings per container: 50
Amount per serving:
Calories 4
Calories from Fat 0
Protein (from MCHC) 1 g
Calcium (from MCHC) 1000 mg
Phosphorus (from MCHC) 500mg
Vitamin D3 (as Cholecalciferol) 1200 IU
Magnesium (from Oxide/Aspartate) 450 mg
Vitamin C (as Ascorbic Acid) 72 mg
Zinc (from Zinc Citrate) 18 mg
Vitamin K1 (as Phylloquinone) 120 mcg
Vitamin K2 (as Menaquinone-7) 20 mcg
MCHC (Microcrystalline Hydroxyapatite) 4000 mg
Trace Mineral Blend 20 mg
Boron (from Boron Citrate) 2 mg
Other Ingredients: Magnesium stearate (vegetarian). Capsule made of gelatin. Contains NO milk, egg, peanut, tree nut, fish, shellfish, soy, wheat, gluten or yeast.
**This statement has not been evaluated by the FDA. This product is not intended to diagnose, treat, cure or prevent any disease.