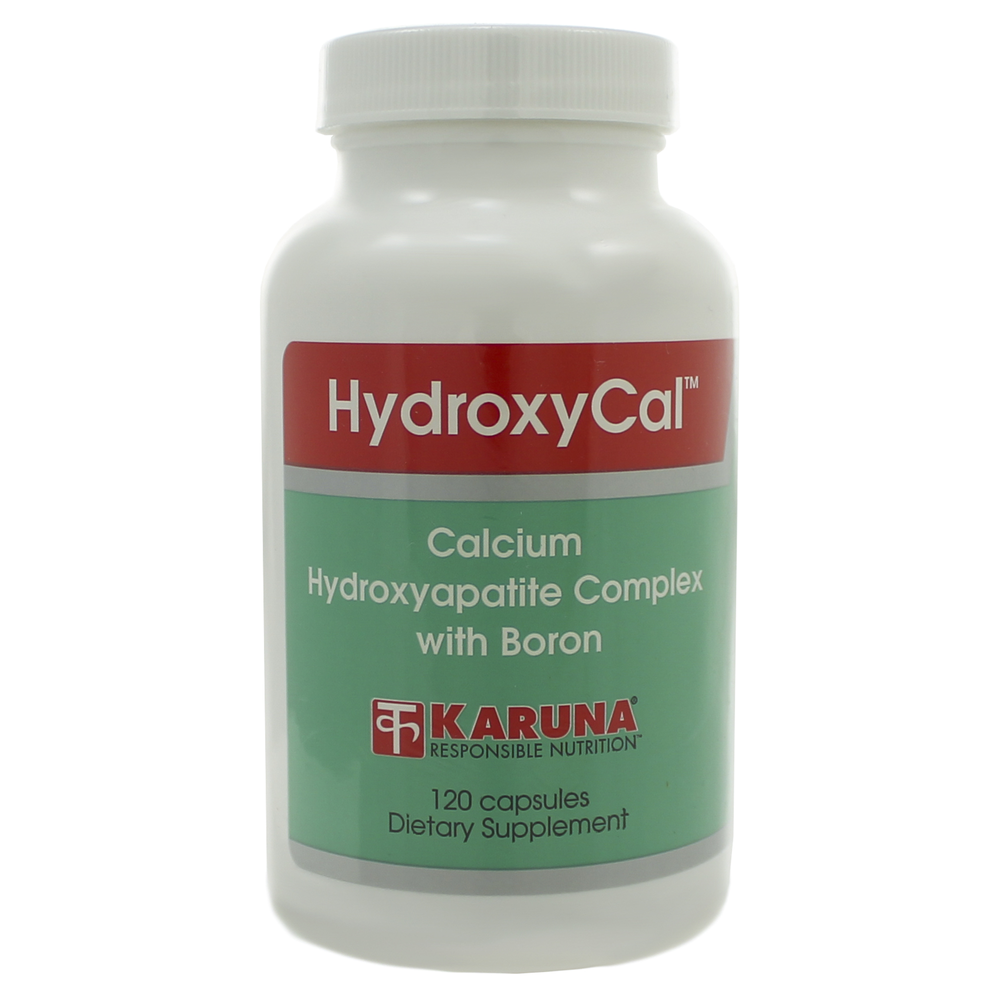 SKU: KAR-2106
Calcium hydroxyapatite bone complex in capsules
Vitamin D is the precursor of 1, 25-dihydroxycholecalciferol, a potent hormone that promotes the intestinal absorption of calcium.

Vitamin K is required for the activation of a bone protein that is responsible for bone calcium retention.

Magnesium regulates calcium transport and appears to be required for normal bone growth.

Boron may increase the levels of several hormones that retain calcium in bones, and can reduce urinary excretion of calcium and magnesium.

HydroxyCal supplies a high level of microcrystalline hydroxyapatite complex from bone tissue, along with a complex of nutrients relevant to bone health and repair.

Hydroxyapatite is an efficient source of calcium supplementation, as it is a very similar form of calcium to that found in human bone.

Bovine whole bone extract is a rich source of calcium, phosphorus, trace minerals, and proteins, effectively preserved for use in HydroxyCal by freeze-drying.

The citric and malic acid salts of calcium found in HydroxyCal are readily absorbed in humans.
Two capsules, three times daily with meals, or as directed.
Two capsules provide:
Microcrystalline hydroxyapatite complex (MCHC)* 800 mg
Yielding:
Proteins, including collagen, glycosaminoglycans, growth peptides and minerals including Potassium and Silicon
| HydroxyCal - Two capsules provide | | |
| --- | --- | --- |
| Vitamin C (ascorbic acid) | | |
| Vitamin D3 (cholecalciferol) | | |
| Vitamin K1 (phylloquinone) | 330 mcg | |
| Calcium (MCHC**/citrate & malate) | 280 mg | |
| Phosphorus (MCHC**) | 100 mg | |
| Magnesium (MCHC**/glycinate) | 140 mg | |
| Manganese (amino acid chelate) | 1 mg | |
| Microcrystalline hydroxyapatite** | 800 mg | |
| Boron (amino acid chelate) | 1 mg | |
| * Daily Value (DV) not established | | |
** MCHC from freeze-dried FDA-approved bovine bone tissue