ProbZyme (Tropical Punch)
Nutritional Frontiers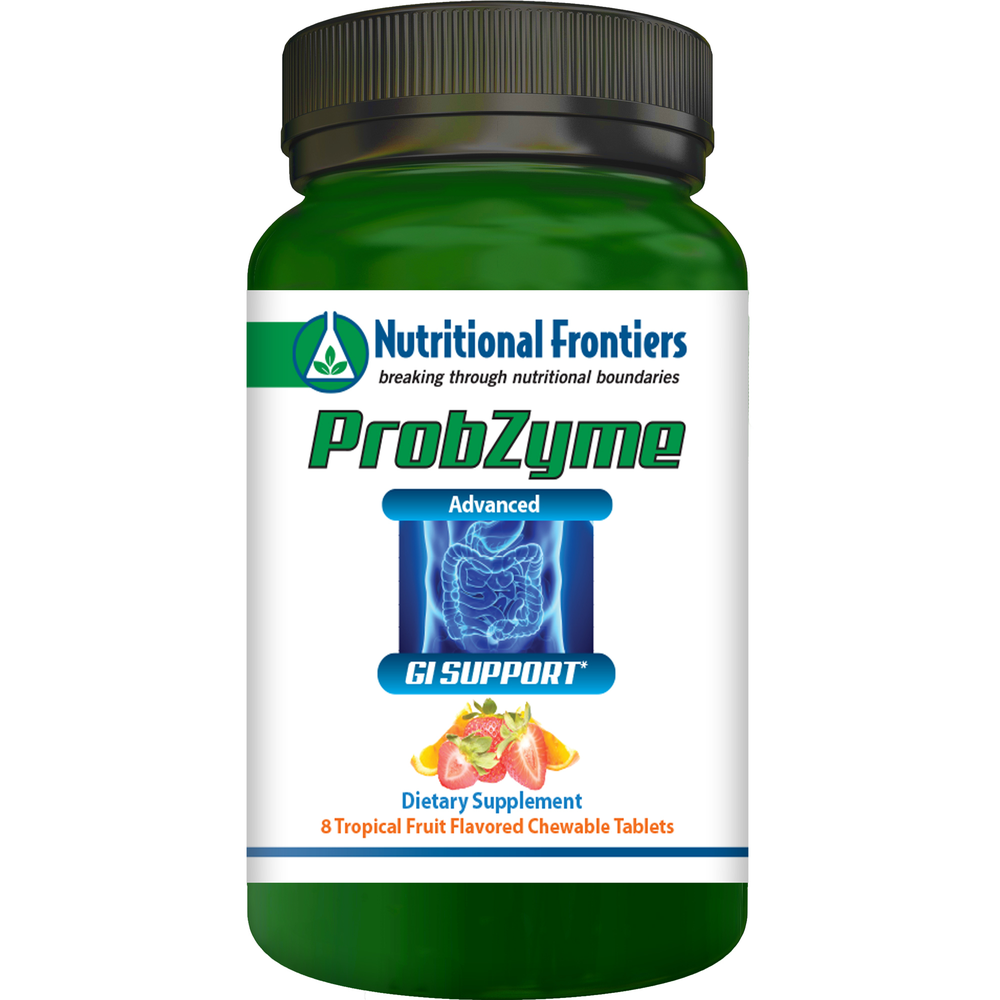 SKU: NUT412-01NF52E008
Probzyme by Nutritional Frontiers is a comprehensive, chewable vegetarian formulation designed to support digestive tract health and nutrient absorption in people of all ages.
Probzyme:
Contains non-dairy probiotics and a broad spectrum of digestive enzymes.
Provides beneficial amylase, bromelain, lactase, lipase, protease and cellulase. (guaranteed at expiration date)
Offers a complete spectrum of microrganisms to span the entire GI tract along with digestive enzymes to aid in nutrient absorption. Prob-Zyme may help soothe the digestive tract lining and provide ingredients that support proper immune function and microbial balance.*
Benefits:
Bowel Support*
Digestion*
Regularity*
Immunity Support*
As a dietary supplement, chew 1 tablet, 3 times daily, with meals, or as directed by your healthcare practitioner.
Serving Size:
1 Chewable Tablet
Amount Per ServingCalories
... 5
Total Carbohydrates
... 1g
Proprietary Blend of Non-Dairy Probiotic Culture
... 318.75mg
Containing Bacillus coagulans, Lactobacillus acidophilus, Lactobacillus bulgaricus, Lactobacillus rhamnosus, Bifidobacterium breve, Bifidobacterium longum (14 billion CFU/g)
Proprietary Blend of Digestive Enzymes
... 156.2mg
Containing Amylase (100,000 SKBU/g), Lactase (15,000 ALU/g), Bromelain (2,400 GDU/g), Lipase (15,000 FIP/g), Cellulase (6,000 CU/g), Protease (5,000 HUT/g)
Stevia Leaf Extract
... 12mg
Other Ingredients:
Mannitol, vegetable stearate, citric acid, natural tropical fruit & strawberry flavor, silicon dioxide, and orange fruit powder.
Color of this formula may vary due to color variations of the natural ingredients.
Warning:
If pregnant or nursing, consult your healthcare practitioner before taking this product.
Keep out of reach of children. Store unopened container in a cool, dry place. Close tightly after each use. Refrigerate after opening.