Proflora4R Restorative Probiotic Combination
Biocidin Botanicals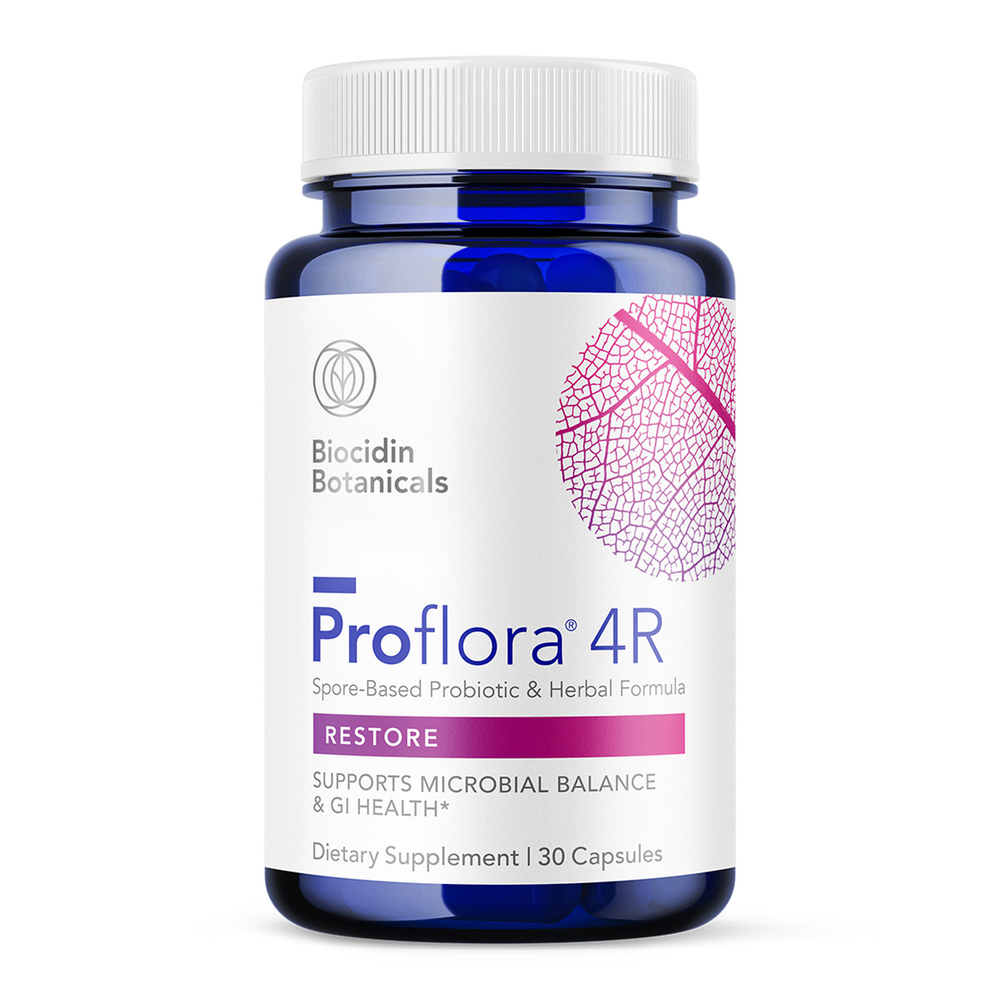 SKU: BI2-15100
Simple is sometimes better. Proflora
™
4R combines three probiotic microorganisms with three botanicals to give you one potent solution for comprehensive restoration in your gut.* In just one capsule a day, Proflora™4R supports optimal health in multiple ways.* Soothing the lining of the gut, addressing histamine, supporting motility.* Proflora contains 3 different
Bacillus
bacteria, all of which are human-derived, spore-forming, keystone species
.
That means there's something remarkable happening here. Shelf stability. Immunomodulation.* Survival through the GI tract. And the ability to restore microbial diversity, even in the presence of antibiotics.* The three botanicals – marshmallow root, aloe vera, and quercetin – soothe and calm.*
Proflora
™
4R. It's a great stand-alone choice for every day and a perfect addition to Biocidin
®
protocols.
Benefits
Maintains key health-promoting gut bacteria (e.g. Akkermansia muciniphila)*
Supports microbial balance in the GI tract*
Supports digestion and nutrient absorption*
Maintains a healthy gut barrier*
Competitive exclusion of unfavorable microbes*
Promotes a healthy inflammatory response*
Plays a primary role in the development of Gut-Associated Lymphoid Tissue (GALT)* for healthy immunity*
Features
Professional-grade ingredients
Does not require refrigeration
Designed to survive stomach acid
May be taken with antimicrobials and/or antibioticsConcurrent use with Biocidin® recommended
Produces beneficial byproducts such as B vitamins, vitamin K2, carotenoid antioxidants, and enzymes such as nattokinase*
Take one capsule per day with meals or as directed.


Serving Size: 1 Capsule

Amount Per Serving
Proprietary Probiotic Blend ... 120 mg (3 billion CFUs)
3 Billion Spore Cells
Bacillus subtilis, HU58™
Bacillus coagulans (SC-208)
Bacillus clausii (SC-109)
Proprietary Herbal Blend ... 202mg
Quercetin,Marshmallow Root,Aloe Vera gel

Other Ingredients: Microcrystalline cellulose, vegetable capsule
This product is made without dairy, gluten, artificial coloring and flavoring.
Warning: Keep out of reach of children. If pregnant, breast-feeding, taking medication, or have any underlying medical condition ask a health professional before use. Store in a cool dry place.