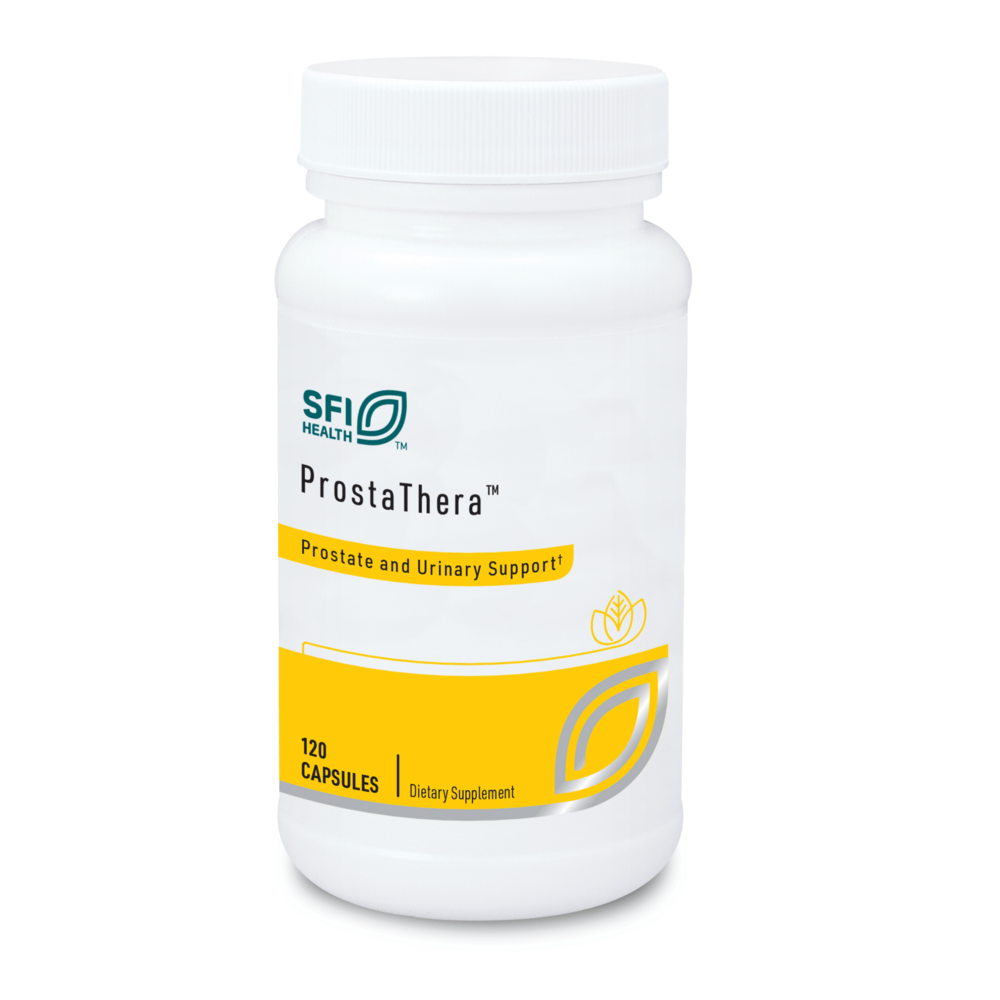 SKU: KLP-PRT
A multi-botanical and nutrient formula that supports prostate and urinary functions†
Saw palmetto is highly useful for support of prostate function in adult men, and so are a number of other plant extracts and nutrients.† Four botanical extracts with recognized roles in prostate health are combined in ProstaThera™ to augment the actions of MultiThera® multivitamin formulas along with key trace elements and lycopene creating a highly beneficial prostate-support program. These ingredients influence testosterone metabolism and promote a favorable balance with dihydrotestosterone, help reduce an age-related decline in prostaglandin production, and help maintain normal cell and tissue functions.† Graminex® flower pollen extract contributes a unique, natural spectrum of amino acids, carotenoids, flavonoids, phytosterols, nucleic acids, minerals, vitamins, and enzymes and has been shown in numerous clinical trials to be particularly beneficial for prostate and urinary function.† ProstaThera™ Clinical Trial Results Clinical improvement in prostate and urinary functions was observed in 92% of men participating in an unpublished, openlabel clinical study of ProstaThera™. Twenty-four men took 1 tablet twice daily for 12 weeks. American Urological Association Symptom Index (AUASI) scores showed noticeable improvement in the majority of subjects within 6 weeks with no adverse effects.†

Suggested Use:
2 capsules, 2 times daily with food or as directed by a healthcare professional.

Serving Size: 2 Capsules

Amount Per 2 Capsules
Zinc (as TRAACS® zinc arginine chelate‡) … 5mg
Selenium (as selenium amino acid complex) … 50 mcg
Copper (as TRAACS® copper bisglycinate chelate‡) … 0.5mg
Saw Palmetto Extract (Serenoa repens) (fruit) (standardized to 40% fatty acids and sterols (142mg)) … 356mg
Pygeum Extract (Pygeum africanum) (bark) (standardized to 2.5% total sterols, as ß-sitosterol) … 50mg
Stinging Nettle 4:1 extract (Urtica dioica) (root) … 50mg
Rye Flower Pollen Extract (Secale cereale) Graminex® G63®‡‡ … 126mg
Lycopene (tomato extract)(fruit) … 5mg

Other Ingredients: Vegetarian capsule (hydroxypropyl methylcellulose, water) microcrystalline cellulose, silicon dioxide, and magnesium stearate.
Caution:
If you are pregnant, nursing, have a medical condition, or taking prescription drugs, consult your physician before using this product. KEEP OUT OF REACH OF CHILDREN.