PushCatch™ LiverDetox
Quicksilver Scientific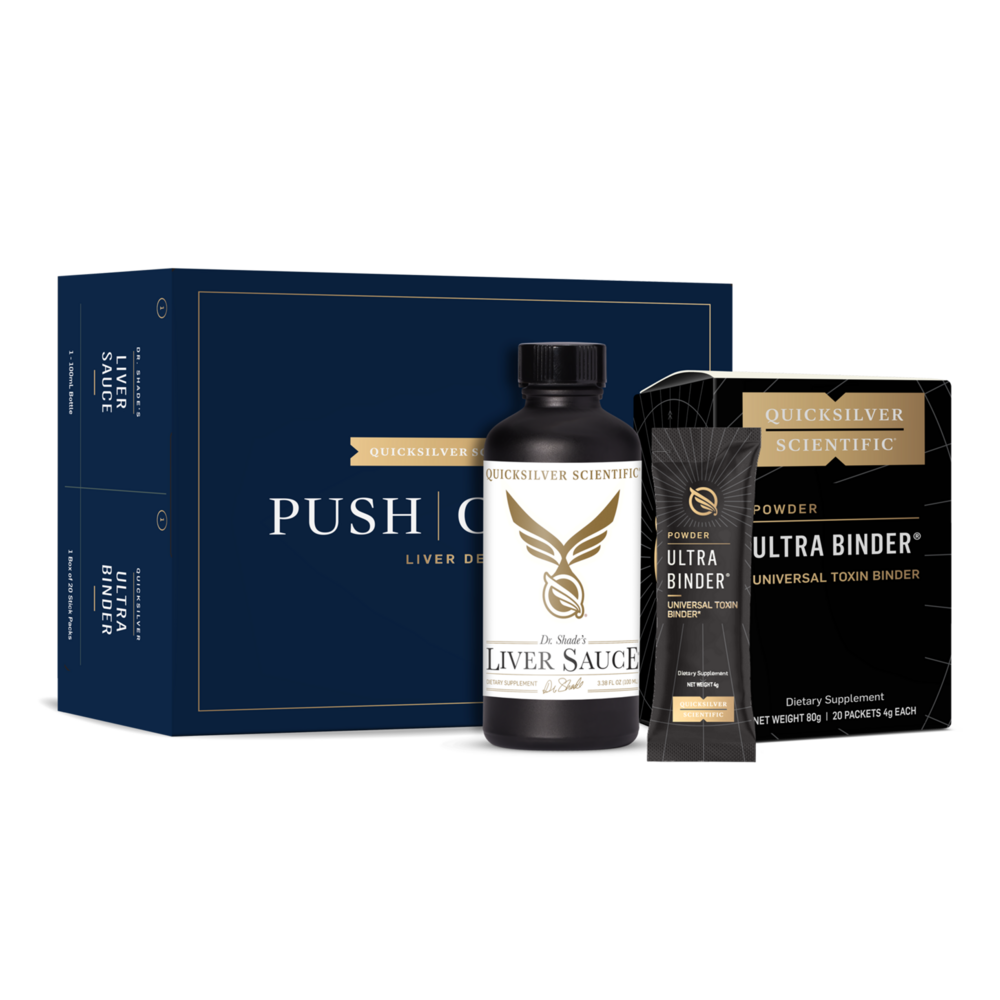 SKU: QSL-S2029
The PushCatch™ LiverDetox is a versatile two-step cleansing protocol designed to help support the liver. It is widely accepted that eliminating toxins and then minimizing their redistribution and reabsorption is essential for proper health. Other improperly designed protocols on the market can result in toxin redistribution, not elimination.
Our elegant and powerful formulation and delivery chemistry derive from Dr. Shade's extensive research into detoxification pathways. In the body, powerful antioxidants buttress a liposomal blend of bitters to "push" toxins to the gut. There, natural binders "catch" the toxins so that they can be safely eliminated by the body. Our PushCatch™ contains a broad-spectrum constellation of binders that are blended with uniquely soothing prebiotic fibers.*
Safe elimination of toxins prevents toxin reabsorption and redistribution*
Contains:
Dr. Shade's Liver Sauce and Ultrabinder® Packets 20ct
Suggested Use
Take a dose of Dr. Shade's Liver Sauce, (hold in mouth 30-60 seconds before swallowing.) 30 minutes later take a dose of UltraBinder® wait 30 minutes before eating
Dr. Shade's Liver Sauce:
Take 1 tsp. as needed. Hold in mouth for 30 seconds before swallowing. May be mixed into water. Repeat to desired dosage or as directed by healthcare professional. Best taken on an empty stomach at least 20 minutes before meals. Use within 60 days of opening.
Ultra Binder:
Mix 1 stick pack into 8 ounces of water once daily or as directed by healthcare professional. Take 30 minutes before or 2 hours after meals or medications.
Dr. Shade's Liver Sauce:Serving Size:
5.0ml (1 tsp.)
Amount Per ServingSodium
... 15mg
R-Alpha Lipoic Acid
... 60mg
Proprietary Blend
... 750mg
Liquid extracts of Dandelion (root), Gentian (root), Solidago virgaurea (aerial parts), Myrrh (Oleo-gum-resin), and Essential Oil of Sweet Orange
Proprietary Blend
... 60mg
of Dinndolylmethane, Milk Thistle Seed Extract (80% Silymarin), Quercetin, and Luteolin Extract
Phospholipids
... 180mg
(from purified sunflower lecithin)
Other Ingredients:
Ethanol, Glycerin, Water, Vitamin E (as Tocofersolan and Natural Mixed Tocopherols), Medium-Chain Triglycerides, and Acacia Gum.
Ultrabinder®:Serving Size:
4 Grams (1 packet)
Amount Per ServingDietary Fiber
... 1g
Fiber/Clay Proprietary Blend
... 1.36g**
Fibregum™ Bio (gum Arabic), Zeolite, Sodium Bentonite Clay.
Proprietary Blend
... 2.64g**
Activated Bentonite Clay, Activated Charcoal, Chitosan, BioAloe® Aloe Vera leaf,Silica extract†.†IMD (Proprietary thiol-functionalized silica)
If pregnant, consult a physician before use.