Pycnogenol OPC Complex 300mg
Patient One MediNutritionals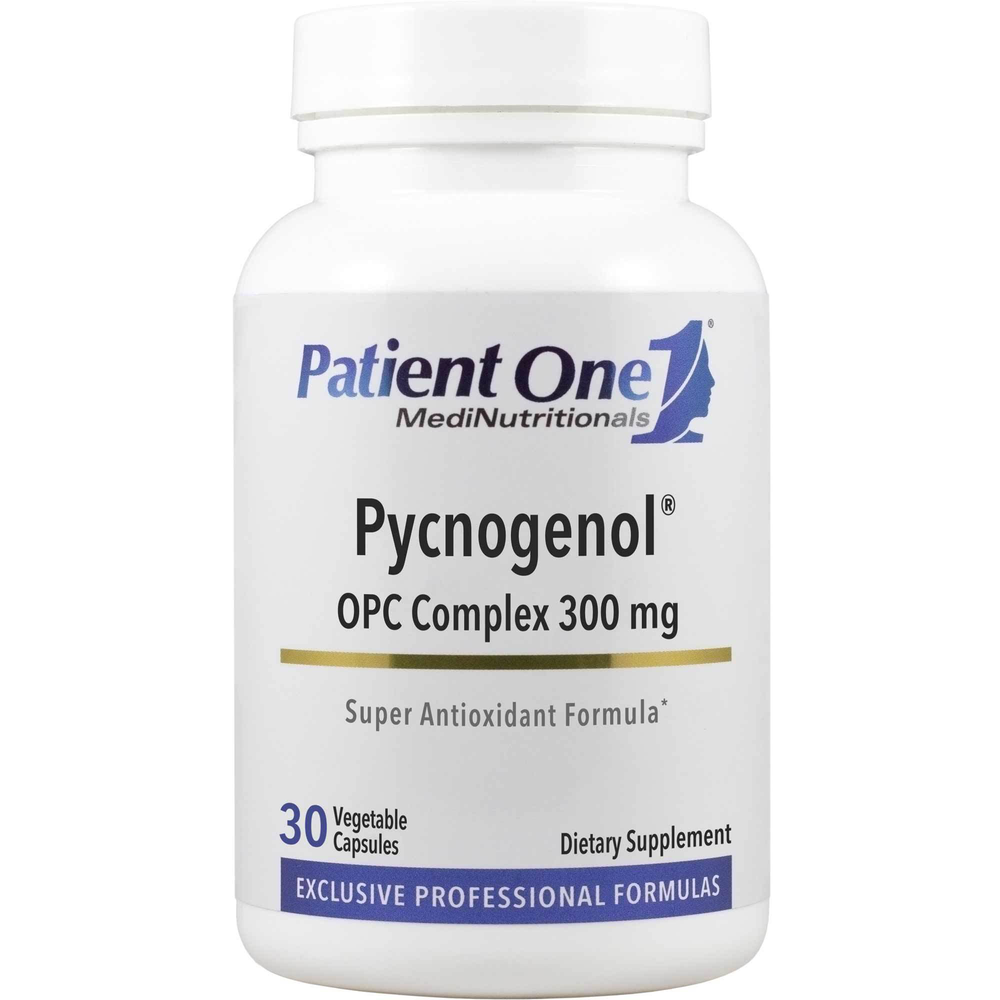 SKU: ONE631-P103930
Patient One Pycnogenol OPC Complex 300mg is a potent super antioxidant formula comprised of multiple OPCs (Oligomeric Proanthocyanidins)— powerful bioflavonoids that act as free radical scavengers in the human body and promote antioxidant activity and overall healthy aging. This highly absorbable formula features a network of clinically proven antioxidant compounds with a diverse spectrum of demonstrated health and wellness support functions: promoting heart health, normalizing blood vessel diameter, protecting retinal capillaries, promoting clear respiration, encouraging healthy inflammatory response, supporting youthful and healthy skin, and more.
Take 1 vegetarian capsule daily as a dietary supplement, preferably between meals, or as directed by a qualified health care professional.
Serving Size: 1 Capsule
Amount Per Serving:
Pycnogenol ... 100mg
(French Maritime Pine Bark Extract)
Grapeseed extract ... 50mg
(Vitis vinifera) (inner core of fruit)
(Stadardized for 95% proanthocyanidins (47.5mg))
Red wine extract ... 50mg
(Vitis vinifera) (skin)
(Standardized for 25% polyphenols (12.5mg))
Mirtoselect Bilberry fruit ... 50mg
(Vaccinium myrtillus L.) (Standardized ethanolic extract 36% of anthocyanins (18mg))
Citrus bioflavonoid complex ... 50mg
(50% total bioflavonoids (25 mg))
Typical profile: (to equal 50% total bioflavonoids) Flavanone (Hesperidin) 35% (mg) Flavonones (Naringin, Naringenin 7-B-Rutinoside and others) 14% (mg))
Other Ingredients: Vegetable cellulose (capsule), rice flour, l-leucine
This product contains NO milk, eggs, fish, peanuts, crustacean shellfish (lobster, crab or shrimp), soybeans, treenuts, wheat, yeast, gluten, corn, sugar, artificial sweeteners, flavors or preservatives.
If you are pregnant, nursing, or taking any medications, consult your doctor before use. Discontinue use and consult doctor if any adverse reactions occur.
The statements on this page have not been evaluated by the Food and Drug Administration. These products are not intended to diagnose, treat, cure or prevent disease.