Qualia Mind
Neurohacker Collective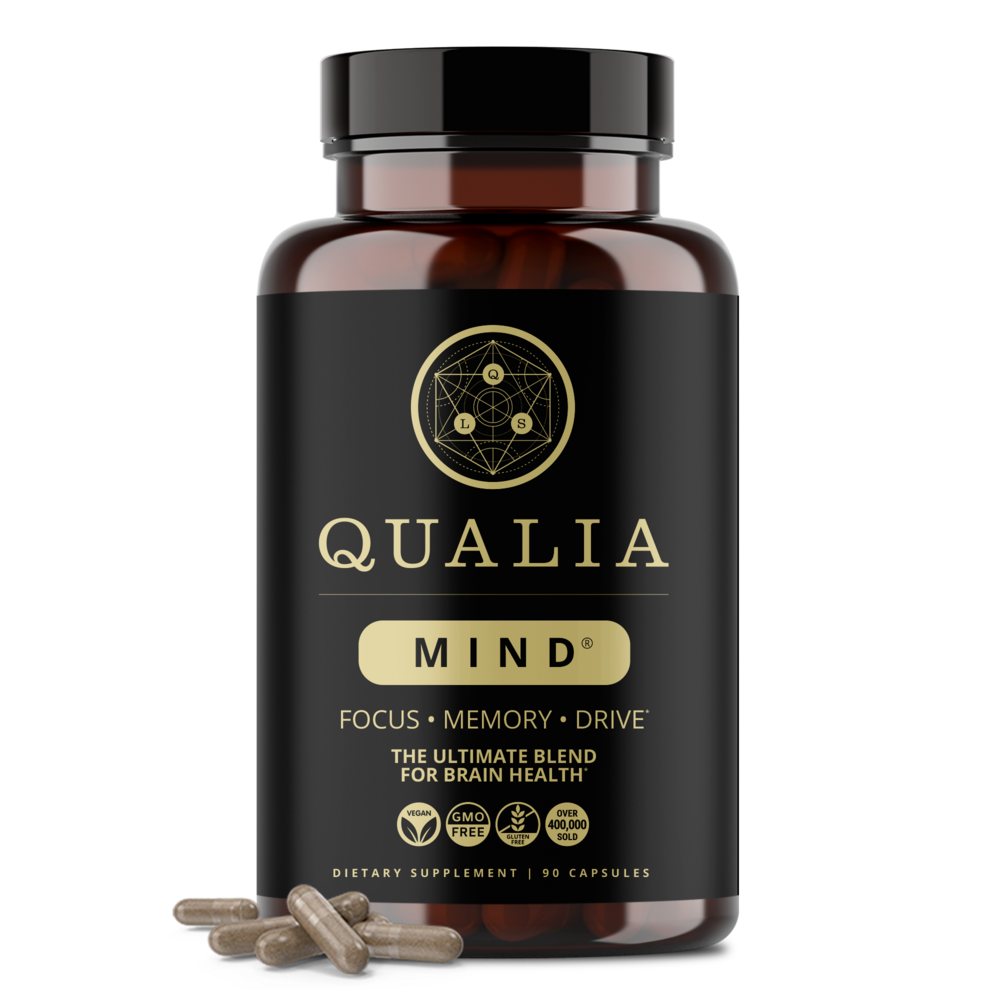 SKU: NEU760-NK0004
Premium supplement that helps support mental performance and brain health. Specifically designed to promote focus, support energy, mental clarity, mood, memory, and creativity.*
Suggested Use:
Take up to 7 capsules with water first thing in the morning before eating. If preferred, dose can be taken later in the morning with food or snack.
Serving Size:
7 Vegetarian Capsules
Amount Per ServingVitamin C
... 100mg
(as ascorbic acid)
Vitamin D3
... 25mcg (1,000IU)
(as cholecalciferol)

Thiamine ... 50mg
(as thiamine HCI)
Niacin
... 50mg
(as niacinamide)
Vitamin B6
... 20mg
(as pyridoxal 5'-phosphate)
Vitamin B12
... 1000mcg
(as methylcobalamin)
Pantothenic Acid
... 50mg
(as calcium pantothenate)
Acetyl-L-Carnitine HCI
... 500mg
Artichoke Leaf Extract
... 500mg
(4% cynarin and related flavonoids)
Bacopa monnieri Leaf Extract
... 300mg
(40% bacosides)
Rhodiola rosea Root Extract
... 300mg
(3% rosavins; 1% salidrosides)
DL-Phenylalanine
... 300mg
Uridine-5'-Monophosphate heptahydrate disodium
... 250mg
N-Acetyl-L-Tyrosine
... 250mg
Taurine
... 200mg
L-Theanine
... 200mg
Alpha-Glyceryl Phophoryl Choline
... 200mg
(alpha GPC)
Cognizin®
... 150mg
Organic Coffeeberry®
... 129mg
(90% caffeine) Whole Coffee (Coffea arabica) Fruit Extract

Velvet Bean
... 100mg
(Mucuna pruriens) (Seed Extract)
Phosphatidylserine ... 100mg
(from sunflower lecithin)
DHA
... 80mg
(as Docosahexaenoic Acid from Algae)
Celastrus paniculatus Seed Extract
... 60mg
Ginkgo biloba Leaf Extract
... 50mg
(24% glycosides)
Coleus forskohlii Root Extract
... 20mg
(20% forskolin)
Pyrroloquinoline Quinone disodium
... 10mg
Huperzine serrata Leaf Extract
... 5mg
(7% Huperzine A)

Other Ingredients:
Hypromellose, Organic Rice Concentrate, Organic Rice Extract Blend, Silicon Dioxide, Calcium Carbonate.
Cognizin® is a registered trademark of Kyowa Hakko Bio Co., Ltd.
Coffeeberry® is a registered trademark of FutureCeuticals, Inc
WARNING:
Do not take if you're under 18 years old, take an MAO inhibitor, SSRI, or any other psychiatric medicines, are pregnant or nursing, sensitive to caffeine, or if you have Phenylketonuria. Do not take with recreational drugs or alcohol. If you have any other conditions please review our full medical disclaimer on our website and consult with a physician before taking. If any uncomfortable symptoms occur, discontinue immediately.