RepairVite™
Apex Energetics, Inc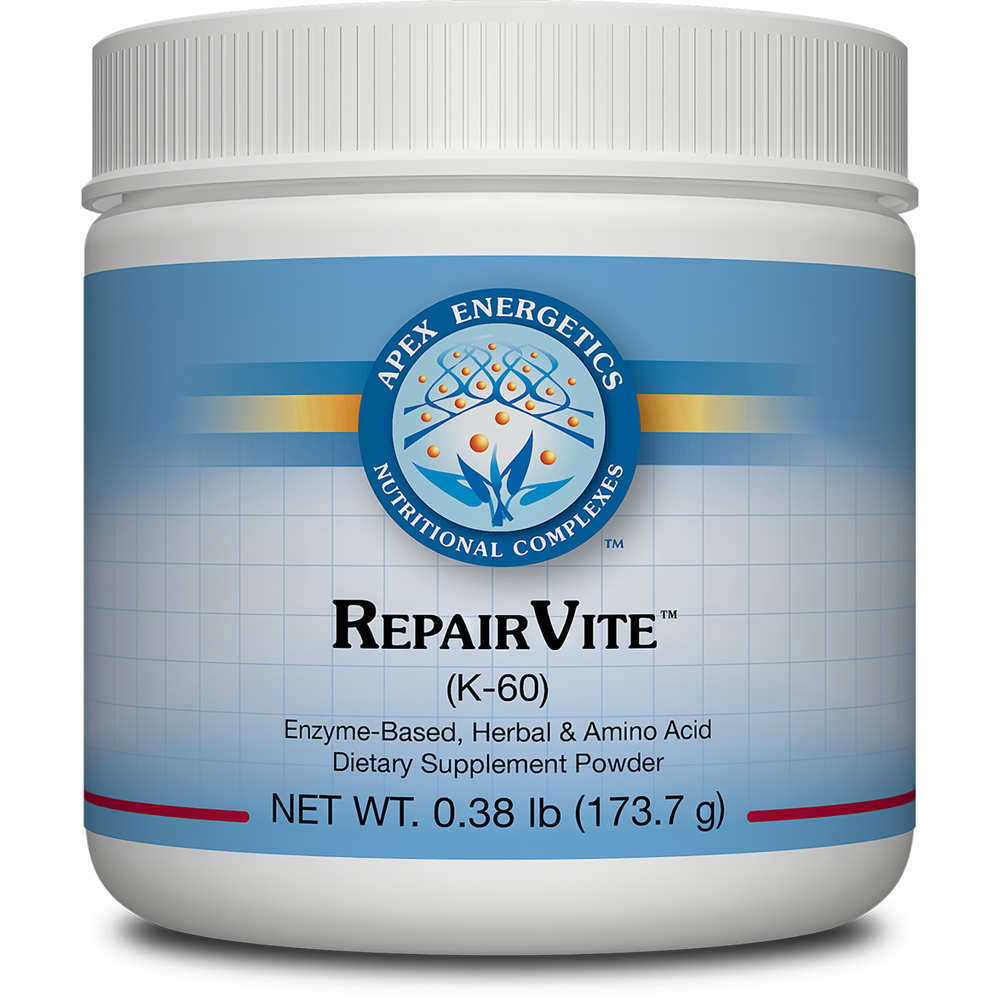 SKU: APE949-K60
RepairVite™ is part of a dietary program intended to support the intestinal tract and intestinal lining.* This unique formula includes flavonoids, carotenoids, and phytochemicals that may nourish gastrointestinal tissue.* It includes extracts with mucilage content and uses glycoproteins that help sustain the mucous membrane.* Additionally, this product incorporates plant sterols and ferulic acid esters intended to support the enteric nervous system.* Primary ingredients include L-glutamine, deglycyrrhizinated licorice, and aloe vera extract. Also available in caramel flavor (K63).
Mix 1 scoop with up to 8 ounces of water. Mix well before drinking. Use once a day, or as directed by your healthcare professional.
Serving Size:
1 scoop (5.79 g)
Amount Per Serving
L-Glutamine ... 2700mg
Deglycyrrhizinated Licorice Extract ... 500mg
(Glycyrrhiza glabra) (root)
Aloe Vera Gel Concentrate ... 200mg
(Aloe barbadensis) (leaf)
Proprietary Blend ... 1410mg
(Lactase, Maltase, Invertase, Amylase, Cellulase, Marshmallow Extract (Althaea officinalis) (root), Slippery Elm (Ulmus rubra) (bark), Gamma Oryzanol, MSM (methylsulfonylmethane), Spanish Moss Extract (Tillandsia usneoides) (whole plant), Chamomile Extract (Matricaria chamomilla) (flower), Calendula Extract (Calendula officinalis) (flower))

Other Ingredients: Natural flavor, cellulose, luo han guo fruit extract.
Consult your healthcare professional before use if pregnant, nursing, taking medications, or for any use by minors. Do not use if safety seal is broken or missing. KEEP OUT OF REACH OF CHILDREN.