Rosita Extra Virgin Ratfish Liver Oil
Rosita Real Foods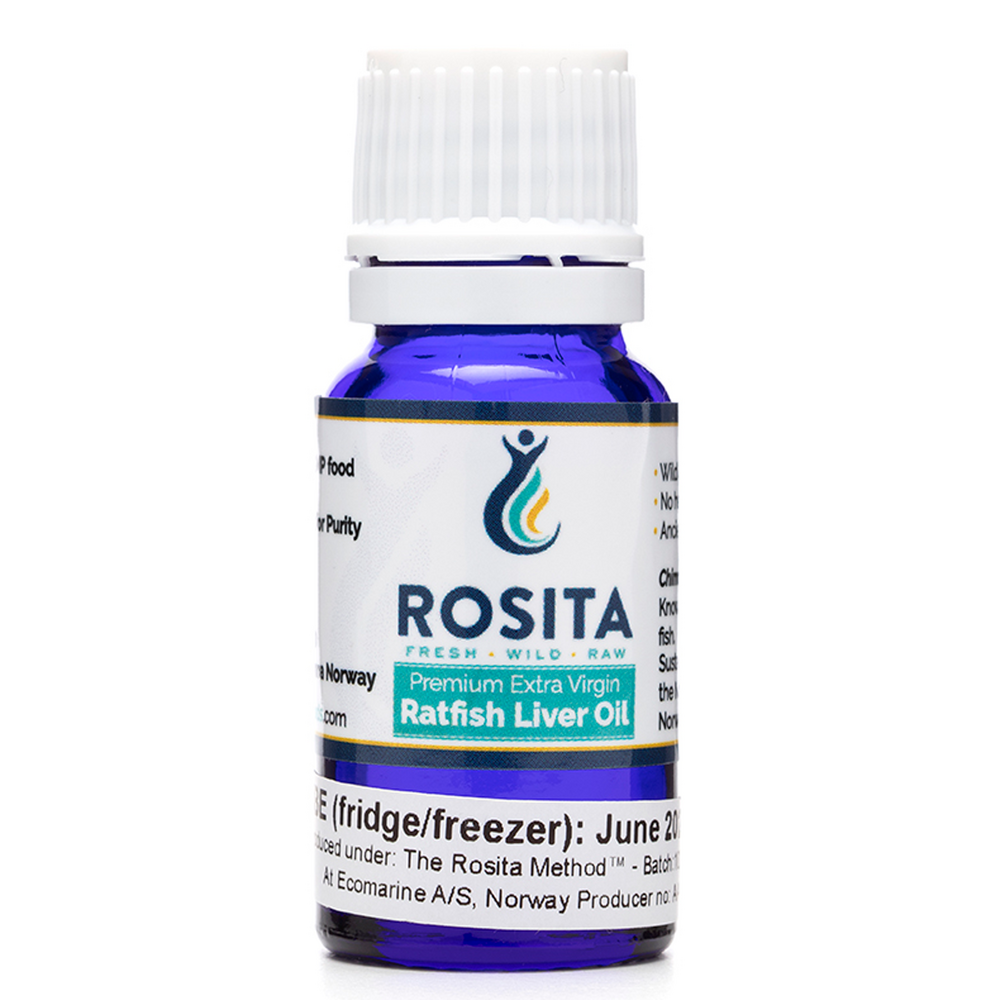 SKU: RRF-RFO25
Rosita's wild-caught, handcrafted Ratfish Liver Oil is an ancient whole food derived from the liver of Chimaera monstrosa, also known as the ratfish. Its rarity and exceptional properties were a major reason they called it the "Gold of the ocean."
Natural vitamins A, D, and E. Contains a full spectrum of healthy fats, including phytosterols, and multiple forms of omega 4, 6, 7, 9, and 11 fatty acids. Never heated above room temperature nor treated with chemicals, bleaches or deodorizers.
Rosita RFLO has a mild, buttery taste – less fishy than cod liver oil. The oil will get absorbed easily with the taste dissipating quickly.
Rosita RFLO liquid is a full spectrum fish liver oil. Unlike refined fish oils, RFLO contains many different fatty acids that thicken and separate when refrigerated. When chilled, the stearins, waxes and triglycerides may appear as particles, as a film, cloudy, or thick like gelatin. This is normal for a fresh, wild and raw fish liver oil. You may take the oils out of the fridge 3-5 minutes before use to allow them to evenly mix and to permit the efficient use of the dropper. This is particularly important for the 10ml dropper.
Dosing:
• Adults: 4 to 8 drops daily or as needed, with food.
• Children and sensitive individuals: 1 to 4 drops daily or as needed, with food.
• Infants (3 months and older): 1 to 2 drops daily or as needed mixed with breastmilk, baby formula, or food. Always check with a healthcare practitioner first.
• Breastfeeding moms may consume the oil directly (2 to 5 drops daily with food) and allow the rich nutrients to
pass through the milk to baby.
• Rosita is premium, pure and potent. Therefore, it's critically important to start slowly, with a low dosage.
For example, 1 to 2 drops every other day - until you can determine how the oil affects your body and what dose feels right for you.
Special protocols:
Under the supervision of a qualified healthcare practitioner only: 10 to 12 drops twice daily for a period of 6 weeks, followed by a maintenance dose of 4 to 12 drops daily.