SeroTrex Chewable - Orange
NeuroScience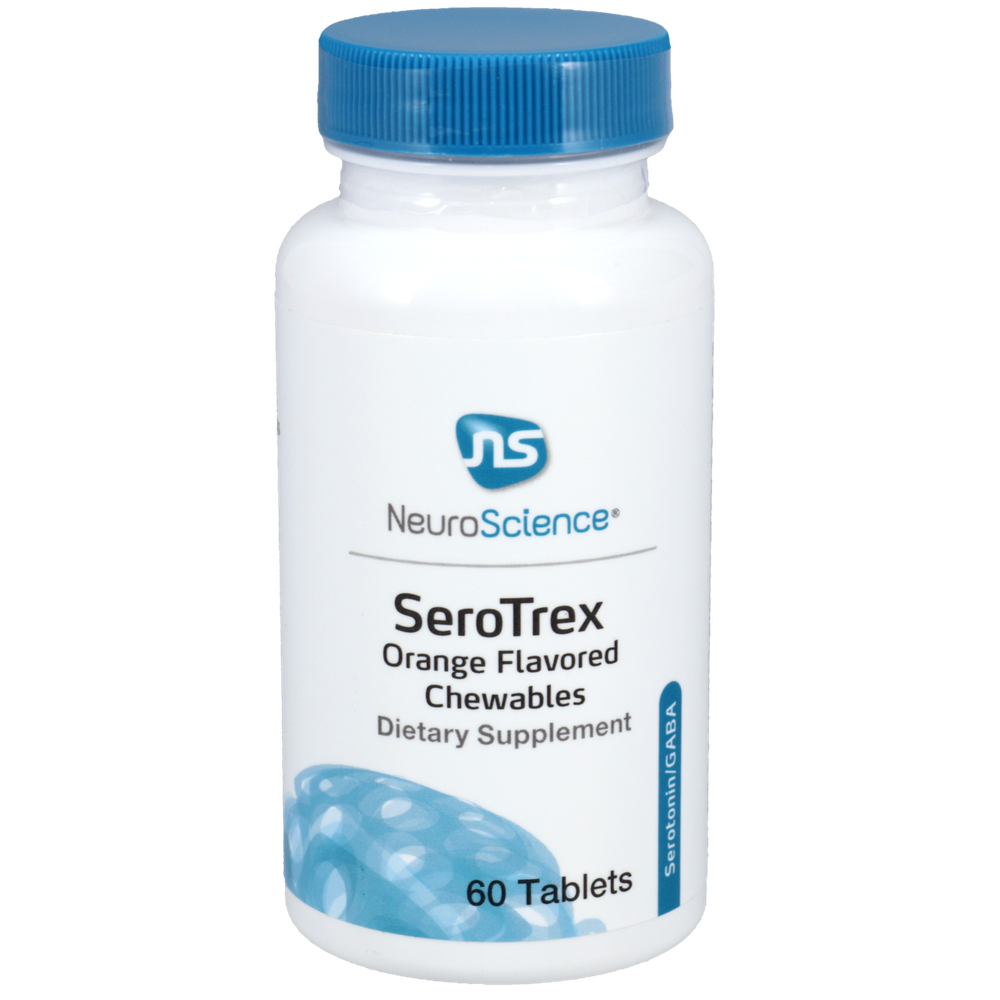 SKU: NEU-20026
Chewable tablets with ingredients important for mood and reducing stress*
Key ingredientsL-theanine:
Amino acid that acts as a glutamate receptor antagonist (1).* In a randomized, double-blind, placebo-controlled study, L-theanine was shown to significantly reduce stress (2).* In individuals 8-12 years of age, L-theanine has been shown to significantly increase the number of nights with restful sleep and reduce nocturnal motor activity (3).*

5-HTP (from Griffonia simplicifolia seed extract):
5-hydroxytryptophan (5-HTP) crosses the blood-brain barrier and is a precursor to serotonin and melatonin (4).* Serotonin is important for regulating mood and sleep-wake function (5).
References
Kakuda T, et al. Biosci Biotechnol Biochem. 2002;66(12):2683-2686.
Kimura K, et al. Biol Psychol. 2007; 74(1):39-45.
Lyon MR, et al. Alt Med Rev. 2011;16(4):348-54.
Shaw K, et al. Cochrane Database Syst Rev. 2002;(1):CD003198.
Monti J. Sleep Med Rev. 2011;15(4):269-81.
Chew 1-2 tablets up to twice daily or as directed by your healthcare provider. Do not exceed suggested use.
Serving Size:
2 Tablets
Amount Per ServingCalories
... 10
Total Carbohydrtate
... 2g
Total Sugars
... 2g
Includes 2g Added Sugars
L-theanine
... 200mg
5-hydroxytryptophan
... 60mg
(from Griffonia simplicifolia seed extract)
Other Ingredients:
Xylitol, Stearic acid, Natural Orange Flavor, Citric Acid, Magnesium stearate, and Stevia (Stevia rebaudiana) leaf extract (Rebaudioside A)
If you are pregnant or nursing, consult your healthcare provider before use.
This product has a tamper evident seal under the cap. Do not use if seal is broken or missing.
Keep out of reach of children. Store in a cool dry place.