Sinatrol - California Only
Ortho Molecular Products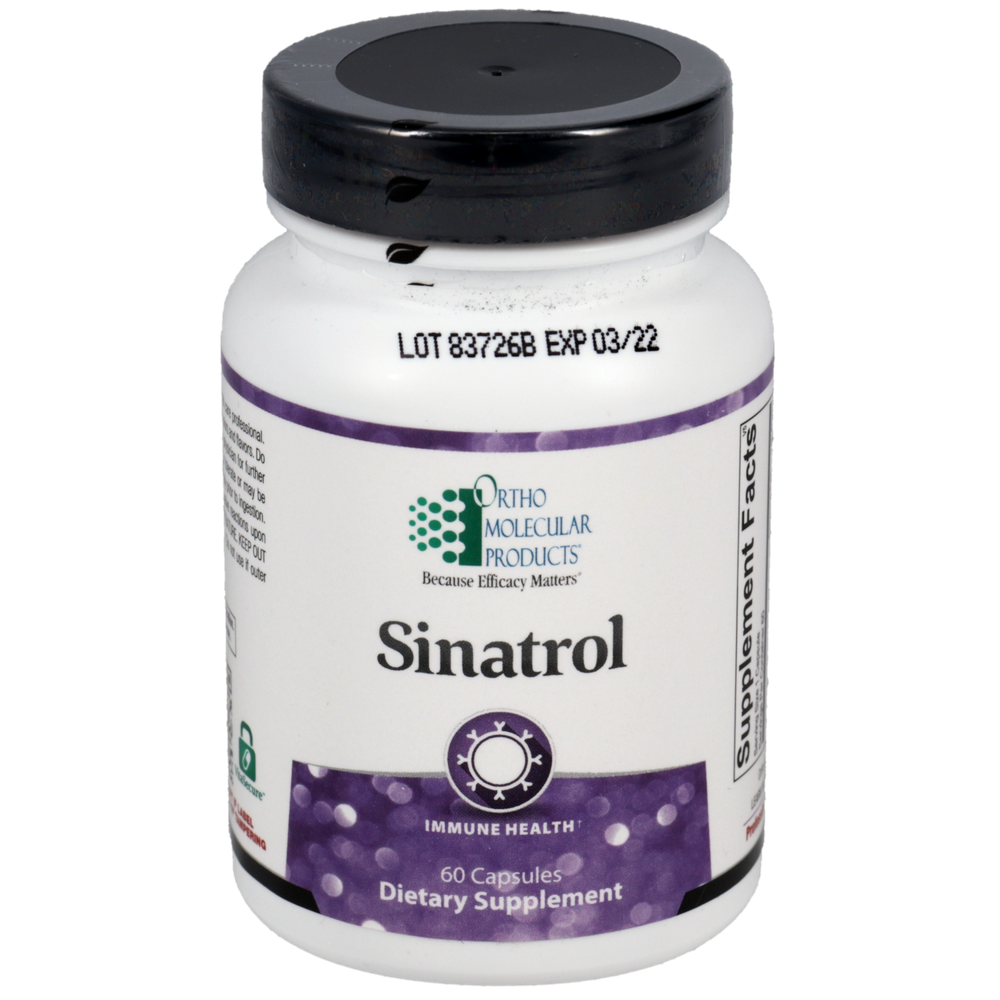 SKU: OHM-516060C
The standardized nutrients and botanicals in Sinatrol help support microflora balance, promote normal mucus viscosity for healthy sinus function, and promote a balanced inflammatory response. Also available in convenient blister packs.
Provides Immediate Support for Sinus and Respiratory Challenges
Maintains Optimal Sinus Clearance
Boosts Immune Response
Aids in the Breakdown of Mucus
Helps Soothe the Sinuses
Optimal sinus health requires proper circulation through the sinus cavities that is free of mucus build-up. The sinuses are composed of hollow cavities that are lined with soft tissue, called mucosa. Under healthy conditions, the sinuses are empty and contain a thin layer of mucus. A healthy process that occurs in the sinus cavities, termed mucociliary clearance, allows the ciliated epithelium (hair-like structures located on tissues), in coordination with mucus production, to continually remove waste from the sinuses by facilitating drainage and particle removal. Typical particles that collect in the sinus cavities include dust, pollen, dirt, allergens and fungi. Sinatrol contains a synergistic blend of ingredients that support sinus health by increasing mucociliary clearance, decreasing the build-up of mucus and boosting immune response during seasonal respiratory challenges.
Sinatrol is a specialized preparation of botanicals and nutrients formulated to support immune health and provide immediate support for respiratory challenges. The standardized botanicals and nutrients in Sinatrol target sinus related issues by clearing airway passages, decreasing the viscosity of mucus and supporting immune health.
Suggested Use:
Take 3 capsules per day or as recommended by your health care professional
Serving Size: 1 Capsule
Amount Per Serving
N-Acetyl-L Cysteine USP … 750mg*
Andrographis paniculata … 300mg*
(Leaf) (Extract) (Standardized to contain 30% Andrographolides)
Thyme Extract … 300mg*
(Whole Leaves and Flowers)
Turmeric Root Extract … 300mg*
(Complete Turmeric Matrix) (Standardized to contain 45-55% Curcuminoids, 3-8% Volatile Oil, 2-6% Turmerin)
Eleuthero Root Extract … 250mg*
(Standardized to contain 0.8% Eleutherosides)
Bromelain … 200mg (480 GDU)*
(from Pineapple)
Berberine Hydrochloride Hydrate … 100mg*
Licorice Root Extract … 100mg*
(Standardized to contain 12% Glycyrrhizin)
Other Ingredients: Natural Vegetable Capsules, Magnesium Stearate, and Silicon Dioxide.
Does Not Contain: Gluten, yeast, artificial colors and flavors.
Caution: Do not consume this product if you are pregnant or nursing. Consult your physician for further information.