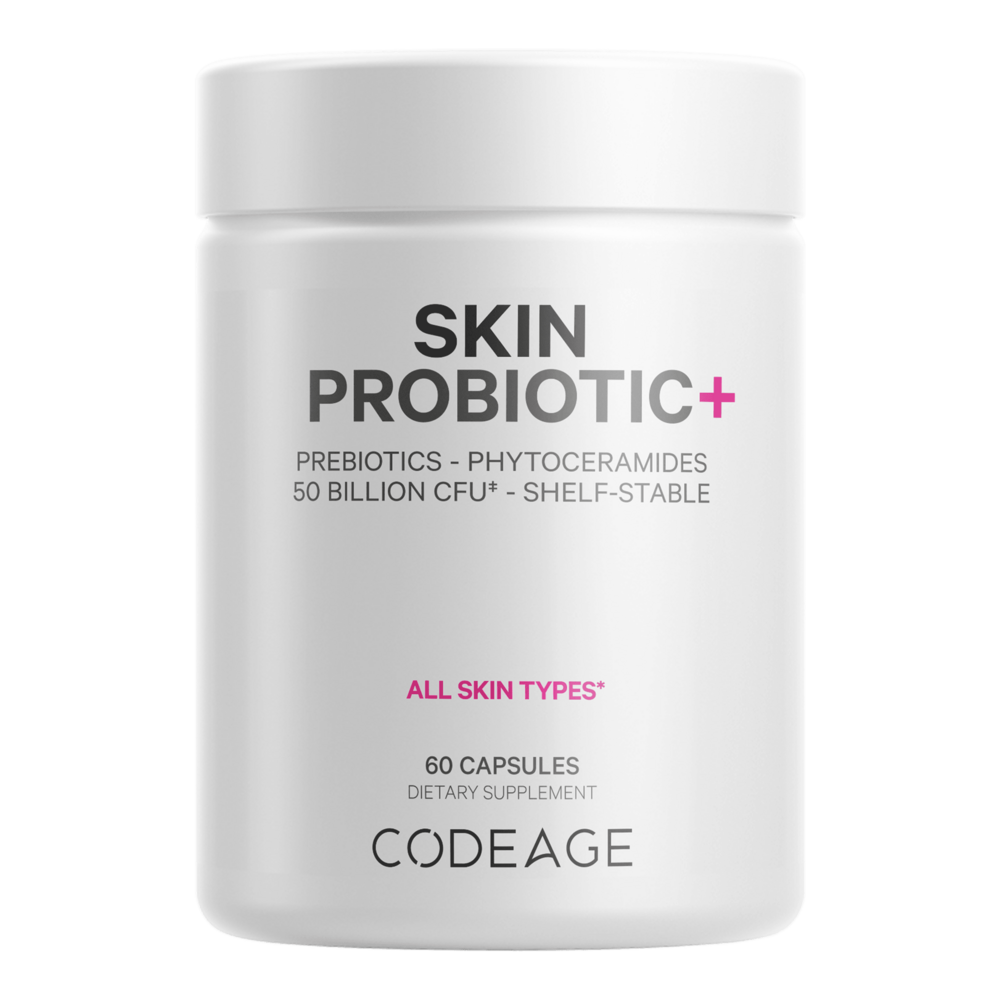 SKU: COD404-853919008403
Codeage Skin Probiotic supplement offers an all-in-one premium probiotic supplement specifically formulated to support your skin. This advanced formula features 19 strains of probiotics with 50 Billion CFUs* per serving along with vitamin C and botanical herbs. This probiotics and prebiotics formula also provides phytoceramides and botanical herbs rooted in Ayurveda. This supplement offers a probiotics blend that is an all-in-one capsule supplement to help provide a convenient source of good microorganisms.
Suggested Use:
Take 2 capsules daily with 8 ounces of water or your favorite beverage. May be taken with or without food.


Serving Size: 2 Capsules

Amount Per Serving
Vitamin C ... 45mg
(from Acerola Cherry Extract)
Proprietary Blend ... 755mg
Fermented Indian Frankincense Resin Extract (Boswellia serrata), Camu Camu Powder (Myrciaria dubia; Fruit), Fermented Triphala Extract (Amla Fruit Extract), Fermented Holy Basil Extract (Ocimum tenuiflorum; Leaf), Fermented Elecampane Extract (Root), Fermented Fenugreek Extract (Seed), Fermented Asparagus (Shoot), Mangosteen Powder (Garcinia mangostana; Fruit), Açaí Powder (Euterpe oleracea; Berry), Huang Qi Extract (Astragalus propinq
Probiotic Blend (50 Billion CFU) ... 581 mg
S. boulardii, B. coagulans, L plantarum, L. paracasei, L. rhamnosus, L. casei, B. lactis, B. breve, B. bifidum, L. acidophilus, L. fermentum, L. gasseri, L. helveticus, B.longum, L. johnsonii, L. crispatus, L. bulgaricus, B. subtilis, B. clausii
Phytoceramides ... 30 mg

Other Ingredients: Methylcellulose Capsule.


Does not contain: GMO, gluten, dairy, soy, milk, egg, wheat, shellfish, additives, or preservatives.

Ideal for Vegan and Keto Diet

Warning: Store in a cool, dry place. Do not use if product has been opened or tampered with in any way. Keep out of reach of children and pets.