Sleep Tonight
Nature's Way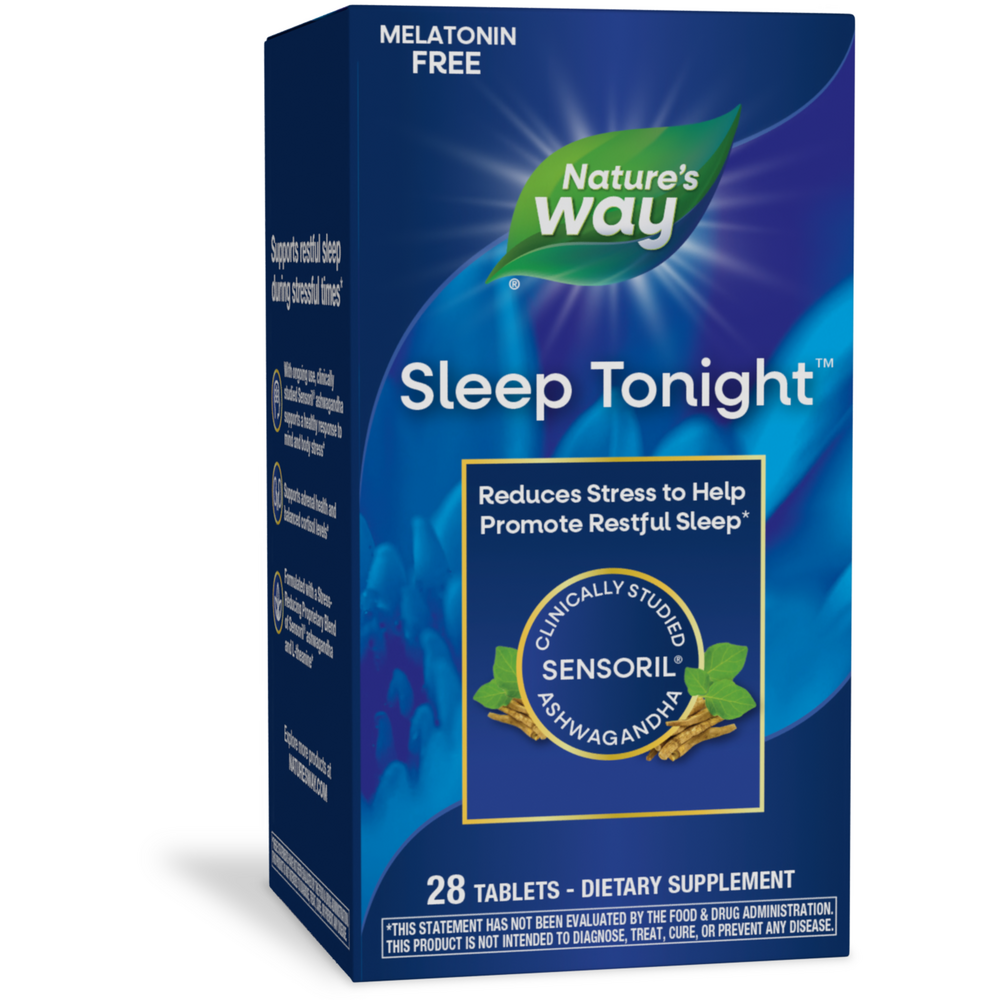 SKU: EN2-00458
Sleep Tonight 28t is available by Enzymatic Therapy.
Enzymatic
Therapy
Sleep Tonight!
Put Stress to Rest
* Sleep soundly, awake refreshed!
* Valerian-free - Non-habit forming
DIETARY SUPPLEMENT
28 TABLETS
More Info:
Sleep tonight!
Sleep Tonight! for a focused tomorrow.
Rejuvenate your system while you sleep with Sleep Tonight! This formula helps you fall asleep naturally to restore energy so you wake up at ease, alert, and in control.
Sleep Tonight! is clinically shown to:
* Promote deeper sleep
* Work to reduce stress hormones
Greet tomorrow refreshed and focused to take on the day
Supplemental Facts:
A Good Day Starts with a Good Night.
When stress occasionally keeps you awake at night, unwind with Sleep Tonight! stress-reducing sleep aid, and get an edge on the day ahead!
Everyday stressors cause natural stress hormones in your body to become elevated. Sleep Tonight! helps activate your bodys relexation response to return stress hormones to healthy levels - both night and day.
Benefit:
Get Results On Day One!*
61.25% reduction in stress hormone levels.*
PURITY, SAFETY & PERFORMANCE
LABORATORY TESTED
* An open label pilot study of the safety and effectiveness of a cortisol-reducing combination in healthy adults. 2006.
Recommendations: For adults, one (1) tablet before bedtime. Increase to two (2) tablets during times of high stress. Safe for use every night.
Serving Size: 1 tablet
Amount per tablet
Sodium ...5mg / <1% DV***
Stress-Reducing Proprietary Blend* ...250mg**
ashwagandha (Withania somnifera) Sensoril brand) root and leaf extract standardized to contain 8% withanolides and L-theanine (Suntheanine brand)
Cortisol-Reducing Proprietary Blend* ...225mg**
magnolia (Magnolia officinalis) bark extract standardized to contain 2% honokiol and 1% magnolol and epimedium (Epimedium koreanum) aerial part extract
Phosphatidylserine ...50mg**
*** Percent Daily Values (DV) are based on a 2, 000 calorie diet.
** Daily Value not established.
Contains:
dextrose, cellulose, modified cellulose gum, modified cellulose, magnesium stearate, stearic acid, titanium dioxide color, soy lecithin, and carnauba wax.
Does Not Contain:
yeast, wheat, gluten, corn, dairy products, artificial flavoring, preservatives, or ingredients of animal origin.
Supplemental Facts:
All colors are used from natural sources.
MANUFACTURED EXCLUSIVELY BY ENZYMATIC THERAPY, INC.,
GREEN BAY, WI 54311 USA
Sunsoril is protected under U.S. Patent 6, 713, 092 and is a trademark of of Natreon, Inc.
Suntheanine, a patented form of L-Theanine, is a trademark of Taiyo International, Inc.
ETI is an FDA-registered Drug Establishment.
Caution: Drowsiness may occur. Avoid driving, operating heavy machinery, or consuming alcohol while using this product. If pregnant, nursing, taking prescription drugs, or if you suffer with chronic insomnia, consult your healthcare practitioner prior to use. Keep out of reach of children.