So Lean & So Clean: Protein Powder - Unflavored
Ora Organic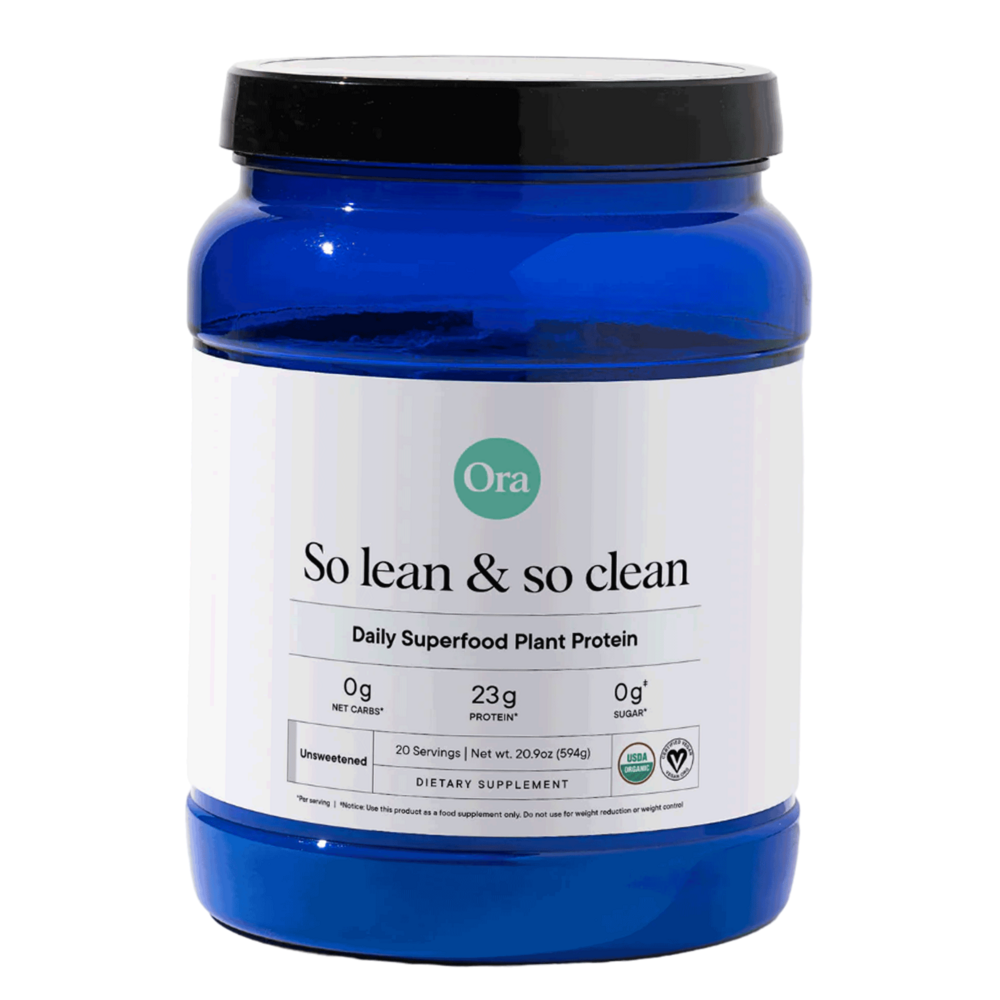 SKU: ORA858-10297
Vegan and organic protein powder complete with 19 superfoods and broad-spectrum digestive enzymes.
Get 21+ grams of protein per serving in Ora Organic's delicious, naturally-flavored blend - it mixes easily without any chalkiness or grit.
So Lean & So Clean is perfect whether you just finished a workout, you're chasing kids around the house, or you need an easy way to get high quality nutrition on the go. It's chef-formulated to have a subtly sweet taste that's delicious in water, a smoothie, or baked goods!
Ora Organic's blend of protein sources provides all of the essential (and non-essential) amino acids required to build your body's tissues and hormones*. It's a clean, organic protein powder you'll look forward to using every day.
Product Benefits
21-22 grams of organic plant-based protein and 3 grams net carbs per serving
2 servings of greens from 19 organic superfoods
Vegan, soy free, dairy free, gluten free, and non-GMO
Broad-spectrum digestive enzymes support easy digestion and no post-protein bloat
No artificial flavors, colors, preservatives, or filler ingredients
Subtle sweetness from a hint of monk fruit and stevia
Key Ingredients
Organic, plant-based protein from pea, sprouted rice and quinoa, sacha inchi, and amaranth has all of your essential (and non-essential) amino acids - the building blocks of protein.
Organic blueberries, strawberries, and blackberries provide antioxidants that may reduce inflammatory signaling in the body*.
Cruciferous veggies like broccoli and kale have sulfur-containing antioxidants that support healthy cells*.
The prebiotic Jerusalem artichoke can help your gut bacteria stay healthy*.
Supports Your Goals
So Lean & So Clean has all of the same essential amino acids you'd find in an animal-based protein along with additional nutritional benefits. Amaranth is rich in minerals like calcium and magnesium, while sprouted quinoa and sacha inchi have high levels of lysine, an essential amino acid. Studies suggest that rice protein may support muscle gain and exercise performance just as well as milk-based whey protein*. Ora Organic's superfood blend provides antioxidants that may support muscle recovery*.
Good To Know
So Lean & So Clean is pregnancy, breastfeeding, and kid-friendly! Be sure to check in with your doctor to discuss any allergies or concerns you may have.
Each one of Ora Organic's products is tested for cleanliness and safety. This third party testing also certifies that what's on the label is exactly what you'll get!
About the Brand
Ora Organic harnesses the Earth's most powerful plants to transform your health. 'Ora' comes from the New Zealand Māori greeting 'Kia Ora' which literally translates to 'be well'. And that's exactly what we help you do with our focus on plant-based, quality nutrition, and ethical sourcing.


Suggested Use:
Blend or shake two scoops of Ora Superfood Protein with 8-12 oz of chilled water or plant-based milk.
Serving Size: 2 scoops (29g)

Amount Per Serving
Calories … 110
Total Fat … 2.5g
Total Carbohydrate … 1g
Dietary Fiber … 0g
Total sugars … 0g
Includes 0g Added Sugars
Protein … 23g
Calcium … 31mg
Iron … 5mg
Potassium … 42mg
Sodium … 240mg
Ora Protein, Superfood & Greens Blend … 28.40g
Organic Pea Protein, Organic Rice Protein, Organic Cranberry, Organic Sacha lnchi, Organic Acai, Organic Acerola Extract, Organic Apple, Organic Blackberry, Organic Blueberry, Organic Broccoli, Organic Coconut Milk, Organic Jerusalem Artichoke lnulin, Organic Kale, Organic Pomegranate, Organic Strawberry, Organic Turmeric
Ora Enzyme Blend … 100mg
Amylase, Neutral Protease, Lactase, Lipase, Cellulase.
Contains NO: Dairy, GMOs, wheat, gluten, eggs, peanuts, soy, fish, shellfish, artificial colors or flavors, parabens, synthetic pesticides or synthetic herbicides.
Contains coconut.


Warning: If pregnant, nursing, or taking prescription drugs, please consult your healthcare professional prior to use.