So Lean & So Clean: Protein Powder - Vanilla
Ora Organic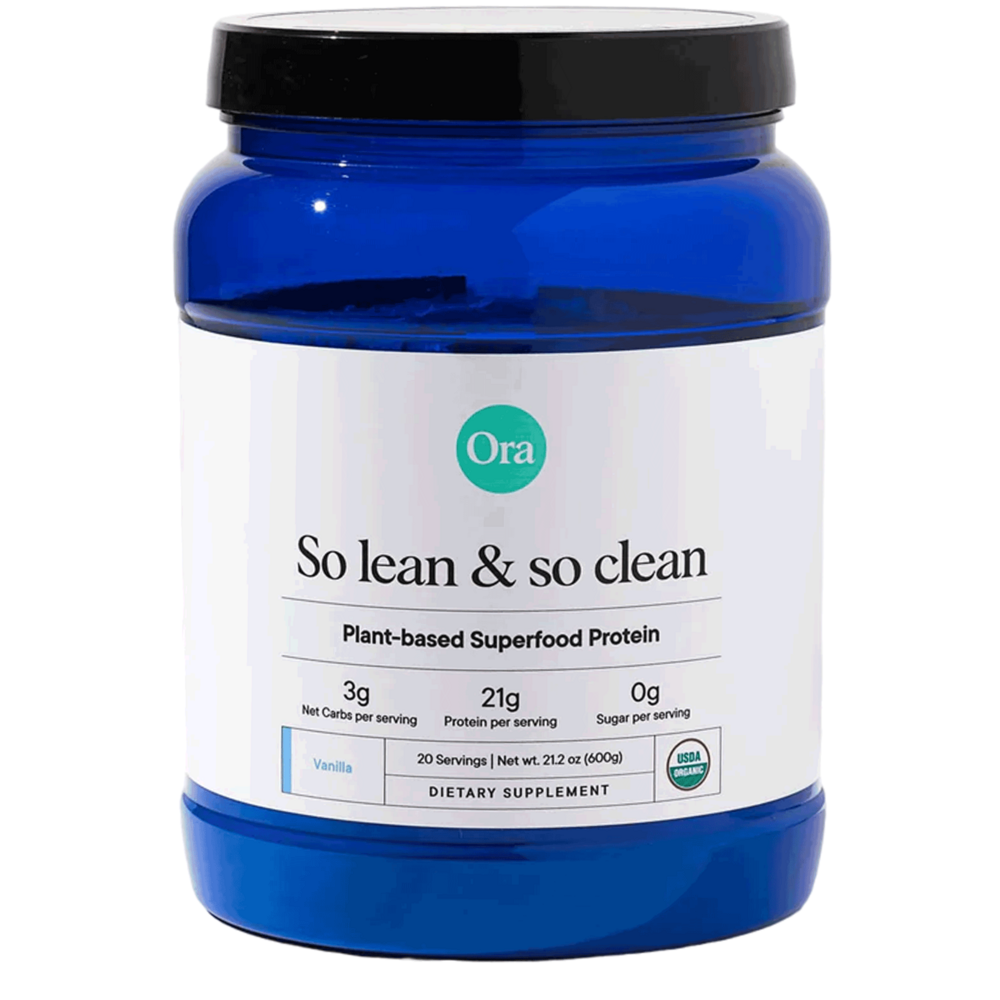 SKU: ORA858-1105P
22g of plant-based protein:
This plant-powered powder is packed full of protein and has two servings of organic greens in every shake, adding crucial macro and micronutrients for proper cognitive and muscle function.
19 Organic superfoods:
Ora Organics USDA Organic plant-based protein powder delivers a complete amino acid profile with no filler ingredients, artificial flavors, colors, sweeteners, or preservatives.
Full-spectrum of digestive enzymes:
If you've ever experienced bloating or tummy issues from protein powders in the past, Ora Organics has good news for you. This plant-based protein powder also supports digestion and the bioavailability of nutrients for absorption.
Why Ora Organics made this…
Protein supports everyday bodily function, muscle recovery and growth as well as skin, nail and hair health.
Adequate protein intake allows our bodies to put together the structures that make up every cell, tissue, and organ, as well as generate the biochemical substances needed for cardiovascular function, muscle contraction, growth, and healing.
Suggested Use:
Mix 2 scoops with 8oz (1 cup) of chilled water or plant-based milk.
Serving Size
: 2 Scoops (30 g)
Amount Per ServingCalories
... 120
Total Fat
... 2.5 g
Total Carbohydrate
... 4 g
Dietary Fiber
... 1.1 g
Total Sugars
... 0 g
Added Sugars
... 0 g
Protein
... 21 g
Calcium
... 28 mg
Iron
... 6 mg
Sodium
... 390 mg
Ora Protein, Superfood & Green Blend
... 28.36 g
Organic Pea Protein, Organic Rice Protein, Organic Cranberry, Organic Sacha Inchi, Organic Amaranth, Organic Sprouted Quinoa, Organic Acai, Organic Acerola Extract, Organic Apple, Organic Blackberry, Organic Blueberry, Organic Broccoli, Organic Coconut Milk, Organic Jerusalem Artichoke, Organic Kale, Organic Pomegranate, Organic Strawberry, Organic Turmeric
Ora Enzyme Blend
... 100 mg
Amylase, Neutral Protease, Lactase, Lipase, Cellulase
Other Ingredients:
Natural Vanilla Flavor, Organic Monk Fruit Extract, Organic Stevia Extract.
Contains NO:
Dairy, GMOs, wheat, gluten, eggs, peanuts, soy, fish, shellfish, artificial colors or flavors, parabens, synthetic pesticides or synthetic herbicides.
Contains coconut.Warning
: If pregnant, nursing, or taking prescription drugs, consult your healthcare professional prior to use.
Storage: Store in a cool, dry place and keep away from moisture. Refrigeration is not required.