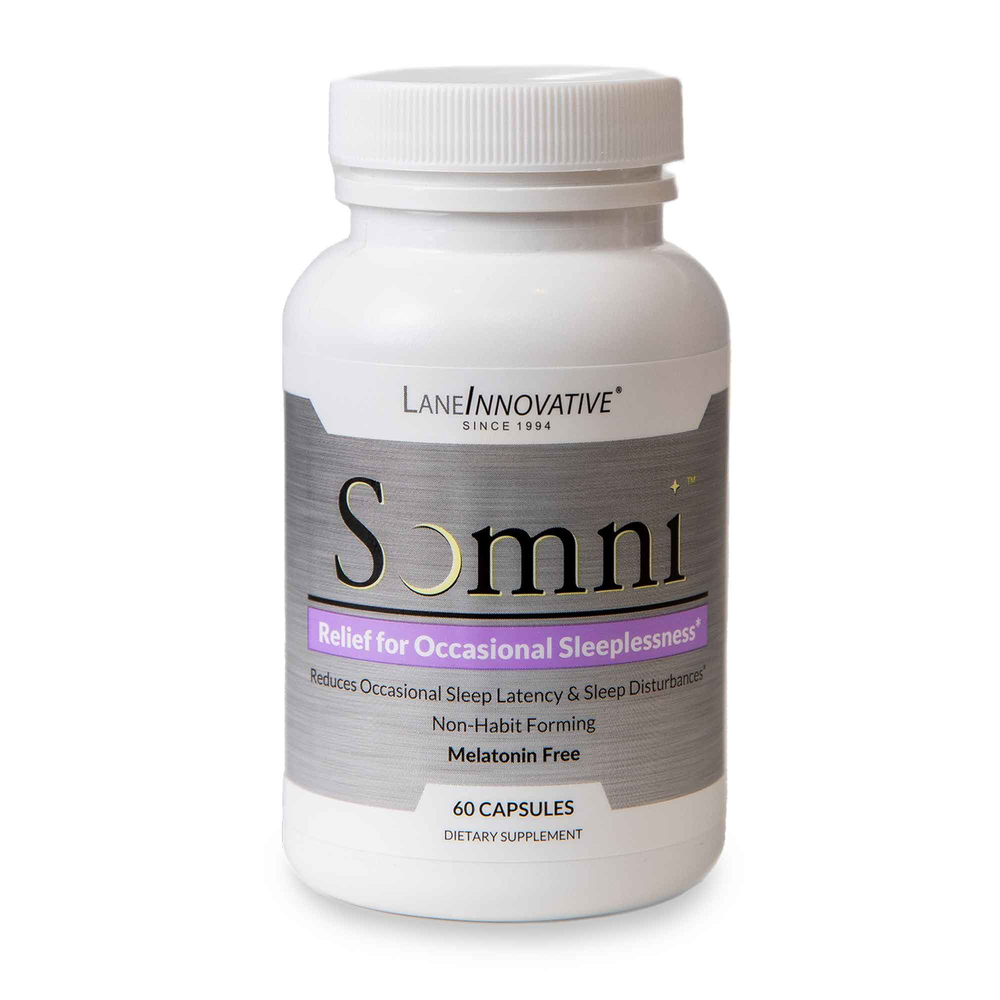 SKU: LA2-SOMNI60
Somni™ is a synergistic formula containing calcium and magnesium, night-time herbs and amino acids for the relief of occasional sleeplessness. Somni™ is formulated to support the overall body function of sleep for a good night's rest.*
Key Benefits of Somni:
• Relief for Occasional Sleeplessness*
• Decreases Occasional Sleep Latency*
• Reduces Occasional Sleep Disturbances*
• Does not contain Melatonin
Restful Sleep at Last with Somni!*
Somni was created to fill the gap in what people need for a healthy night's rest. Your body needs more than just a little shut-eye; many natural ingredients fuel the proper restoration of your mind and body. This natural supplement comes with a slew of vital ingredients, such as calcium, L-Theanine, magnesium, and various herbal extracts, your body is given the best chance for a thorough amount of sleep.*
People who take Somni can encounter a wide range of benefits pertaining to their sleep. Many people struggle with occasional sleeplessness that isn't considered chronic but can be harmful. The ingredients in Somni have been shown to help reduce occasional sleeplessness and nightly disturbances and may also reduce occasional sleep onset latency. Finally, you likely won't have to deal with adverse side effects such as drowsiness or feeling lethargic.*
Suggested Use:
Take 2 or 3 capsules, 30-60 minutes before bedtime.
Serving Size:
3 Capsules
Amount Per Serving
Vitamin D3
... 25 mcg (1000 IU)
(as cholecalciferol)
Calcium
... 144 mg
(as calcium hydroxide and calcium oxide)
Magnesium
... 72 mg
(as magnesium bisglycinate chelate)
L-Theanine
... 200 mg
Chamomile PE 1.2%
(Flower Heads) ... 100 mg
Passion Flower Extract
... 100 mg
(Passiflora caerulea L.) (Herb)
Ashwaghanda Extract
... 100 mg
(Withania somnifera) (root) (Standardized to contain 2.5% with anolides)
5-HTP
... 50 mg
(5-Hydroxytryptophan) (from Griffonia Extract) (Griffonia simplicifolia) (seed)
HAI Amino Acid Extract
... < 1 mg
(from sea algae)
Other Ingredients:
Cellulose (capsule), microcrystalline cellulose, and plant-based magnesium stearate.
Somni™
For occasional sleeplessness only, consult a healthcare professional if you are experiencing long-term sleep difficulties. Consult with your physician before use in pregnant or nursing women, those with a medical condition, and those taking medication. Not recommended for use by children. Do not drive or operate machinery within 8 hours of taking this product or if you feel groggy.