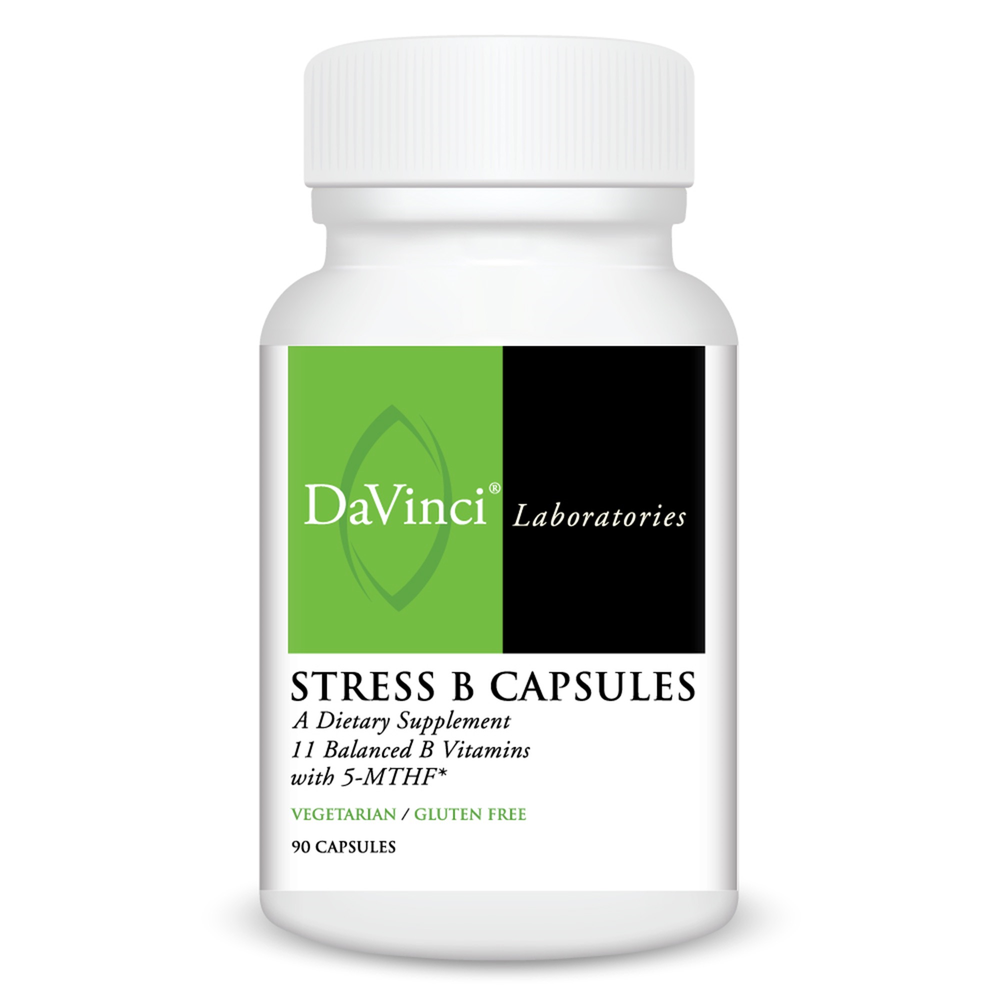 SKU: DAV-020056D090
Stress B
-contains Thiamin (B1), Riboflavin (B2), Niacin (B3 asniacinimide), Vitamin B6, Folic Acid, Vitamin B12, Biotin, Pantothenic Acid (B5), PABA, Choline and Inositol to support proper nerve function and relaxation.* The Vitamin B complex in Stress B helps manage stress, support immune system function and helps reduce irritability.* B vitamins are important to proper circulatory function, for maintaining blood pressure within normal ranges, and preserving proper cholesterol and homocysteine levels.* Available in a vegetarian, gluten free, and easy to swallow capsule.
As a dietary supplement, take 1 capsule with a meal, or as directed by your healthcare practitioner.
Serving Size: 1 Vegetarian Capsule
Amount Per Serving
Thiamin ... 55mg
(as Thiamin Mononitrate)
Riboflavin ... 55mg
(Vitamin B2)
Niacin ... 55mg
(as Niacinamide)
Vitamin B6 ... 55mg
(as Pyridoxine HCl)
Folate ... 200mcg
(as [6S]-5-methyltetrahydrofolic acid from 400 mcg of Quatrefolic® [6S]-5-methyltetrahydrofolic acid, glucosamine salt)
Vitamin B12 ... 12mcg
(as Methylcobalamin)
Biotin ... 100mcg
Pantothenic Acid ... 55mg
(as Calcium d-Pantothenate)
PABA ... 55mg
(Para-aminobenzoic Acid)
Choline ... 55mg
(as Choline Bitartate)
Inositol ... 55mg
Other ingredients: vegetable cellulose (capsule), microcrystalline cellulose, vegetarian leucine.
If pregnant or nursing, consult your healthcare practitioner before taking this product.
Color of this product may vary due to color variations of the natural ingredients.
Keep out of reach of children. Store in a cool, dry place.
Quatrefolic is a registered trademark of Gnosis S.p.A. Corporation. U.S. Patent No. 7, 947, 662
*This statement has not been evaluated by the Food and Drug Administration. This product is not intended to diagnose, treat, cure or prevent any disease.