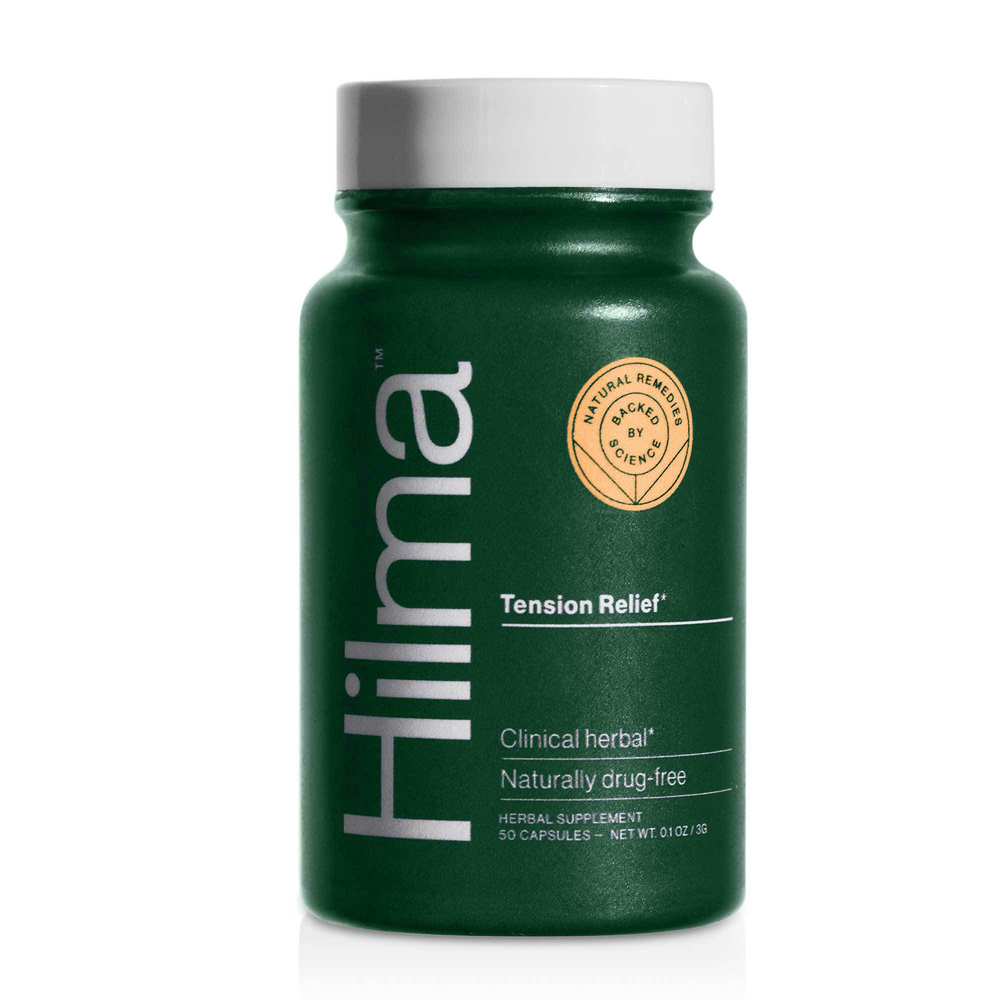 SKU: HIL203-TE50
Hilma Tension Relief is a capsule that relieves occasional headaches and head tension with a blend of natural herbs. In an independently run clinical study of 75+ people, 79% of participants saw a decrease in feelings of head tension after 30 minutes. Created by Hilma's board of doctors, PhDs, and herbalists, Hilma Tension Relief combines 5 natural ingredients that ease head discomfort and and have calming effects. Hilma's formula is packed with White Willow Bark to promote head and body comfort, Magnesium to promote comfort and increase calmness, Feverfew to reduce sensitivity to triggers, Boswellia to promote head and joint comfort, and Skullcap to help balance the nervous system. Tension Relief is made without any drugs, dyes, fillers or added sugars.

Hilma Tension Relief is Clean Label Project™ certified, Vegan certified and third-party lab tested, so you know that you're getting a premium quality product that has been tested for harmful substances like heavy metals, plasticizers and pesticides. Third-party lab tested, Non-GMO, Gluten Free, Vegan, Soy Free. No synthetic colors, fillers, dyes, sweeteners, or flavors.

Suggested Use:
Take two (2) easy-to-swallow capsules as needed, up to six (6) capsules daily.
When to take: When you are experiencing occasional head tension from stress, staring at a computer screen for too long, or after a restless night or long day.
Serving Size:
2 Capsules
Amount Per ServingMagnesium
... 100mg
(as Magnesium Glycinate)
White Willow Extract
... 500mg
(Bark)
Boswellia serrata Extract
... 150mg
(Resin)
Chinese Skullcap Extract
... 50mg
(Root)
Feverfew Extract
... 25mg
(Aerial)
Other Ingredients:
Vegetable capsule (vegetable cellulose), Rice Hull concentrate.
Only the best ingredients: Clean Label Project (TM) certified. Naturally drug-free, Non-GMO, Gluten Free, Vegan, Nut Free, Soy Free. No synthetic colors, fillers, dyes, sweeteners, or flavors. Always 3rd-party lab tested.
Warning:
If pregnant, nursing, or taking medication, consult doctor before use. This product contains salicylates. Do not take if you are allergic to aspirin, and do not combine with aspirin or other products containing salicylates. Do not take if you are taking blood-thinners or other medications.
Hilma products do not contain milk, egg, soy, or tree nuts. They are packaged in a shared cGMP (current Good Manufacturing Practices) facility that also produces products with those allergens. If you experience an adverse event or allergic reaction, discontinue use immediately and contact a healthcare professional.