Ther-Biotic Complete Probiotic Powder
Klaire Labs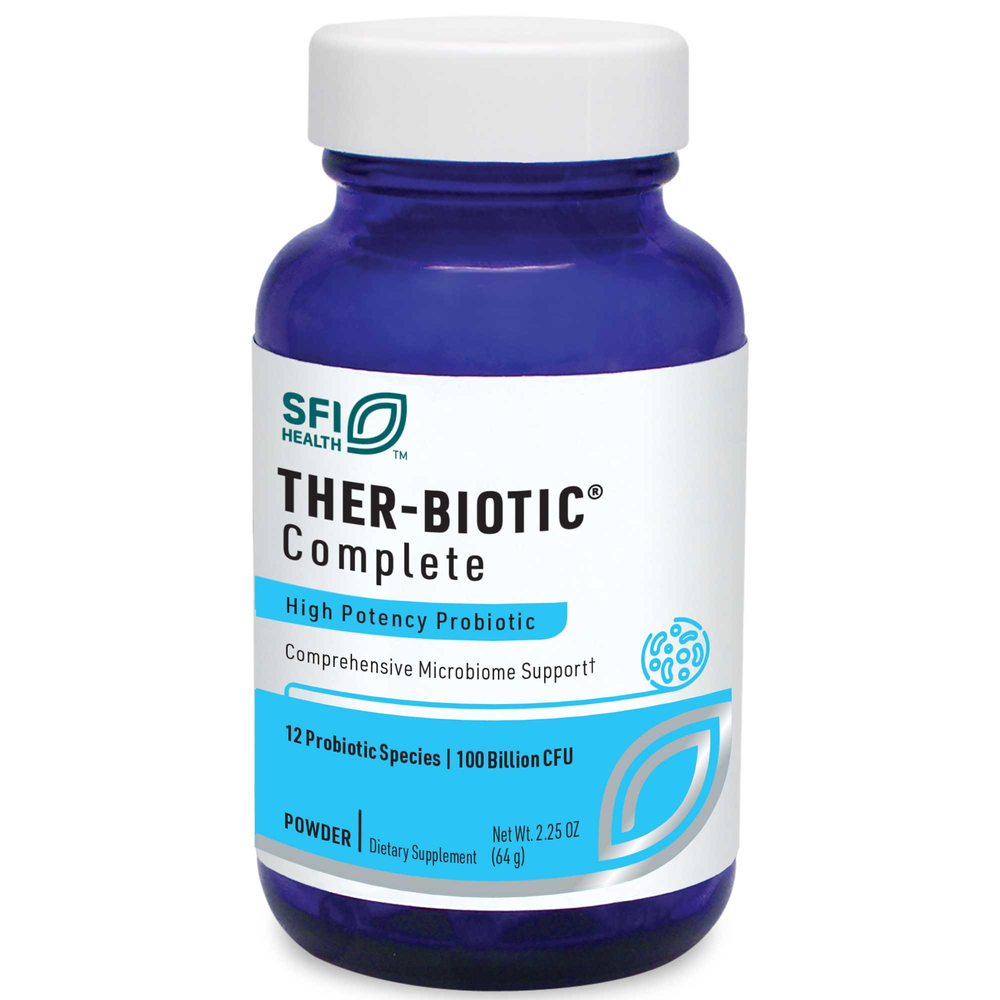 SKU: KL-KTCP
Ther-Biotic® Complete
is a robust, broad-spectrum, hypoallergenic blend of 12 probiotic species in a base of inulin. Designed to supply a complete component of synergistic and complementary species, each 0.25 teaspoon (1 gram) provides 100 billion CFU protected by our proprietary InTactic® technology for maximum viability throughout the intestinal tract.
Maximum probiotic support with colonizing and transient strains
Clean and hypoallergenic for optimal results
Available in 100B CFU powder or 25B CFU capsules
Probiotic Mechanisms
Competitive and antagonistic activity against undesirable microorganisms*
Strengthening of intestinal epithelial barrier integrity*
Short chain fatty acid production nourishes enterocytes*
Healthy inflammation modulation*
Support of innate and acquired immunity*
Suggested Use
Adults: 1/4 teaspoon daily with food or as directed by a healthcare professional.
Children: As directed by a healthcare professional.


Serving Size: 1/4 Teaspoon (Approx. 1 gram)

Amount Per Serving
Probiotic Blend ... 1g
(100 billion CFU) in a base of inulin (derived from chicory root) and InTactic® proprietary polysaccharide complex
Lactobacillus rhamnosus 24.0 billion CFU
Bifidobacterium bifidum 20.0 billion CFU
Lactobacillus acidophilus 12.0 billion CFU
Lactobacillus casei 10.0 billion CFU
Lactobacillus plantarum 8.0 billion CFU
Lactobacillus salivarius 8.0 billion CFU
Bifidobacterium longum 4.0 billion CFU
Streptococcus thermophilus 4.0 billion CFU
Lactobacillus bulgaricus 4.0 billion CFU
Lactobacillus paracasei 2.0 billion CFU
Bifidobacterium lactis 2.0 billion CFU
Bifidobacterium breve 2.0 billion CFU

Other Ingredients: Inulin (from chicory root), InTactic® polysaccharide complex.

Free of the following common allergens: milk/casein, eggs, fish, shellfish, tree nuts, peanuts, wheat, gluten, and soybeans.
Contains no artificial colors, flavors, or preservatives.
Caution: If you are pregnant, nursing, have a medical condition, or taking prescription drugs, consult your physician before using this product. KEEP OUT OF REACH OF CHILDREN.