Ther-Biotic® Vital-10®
Klaire Labs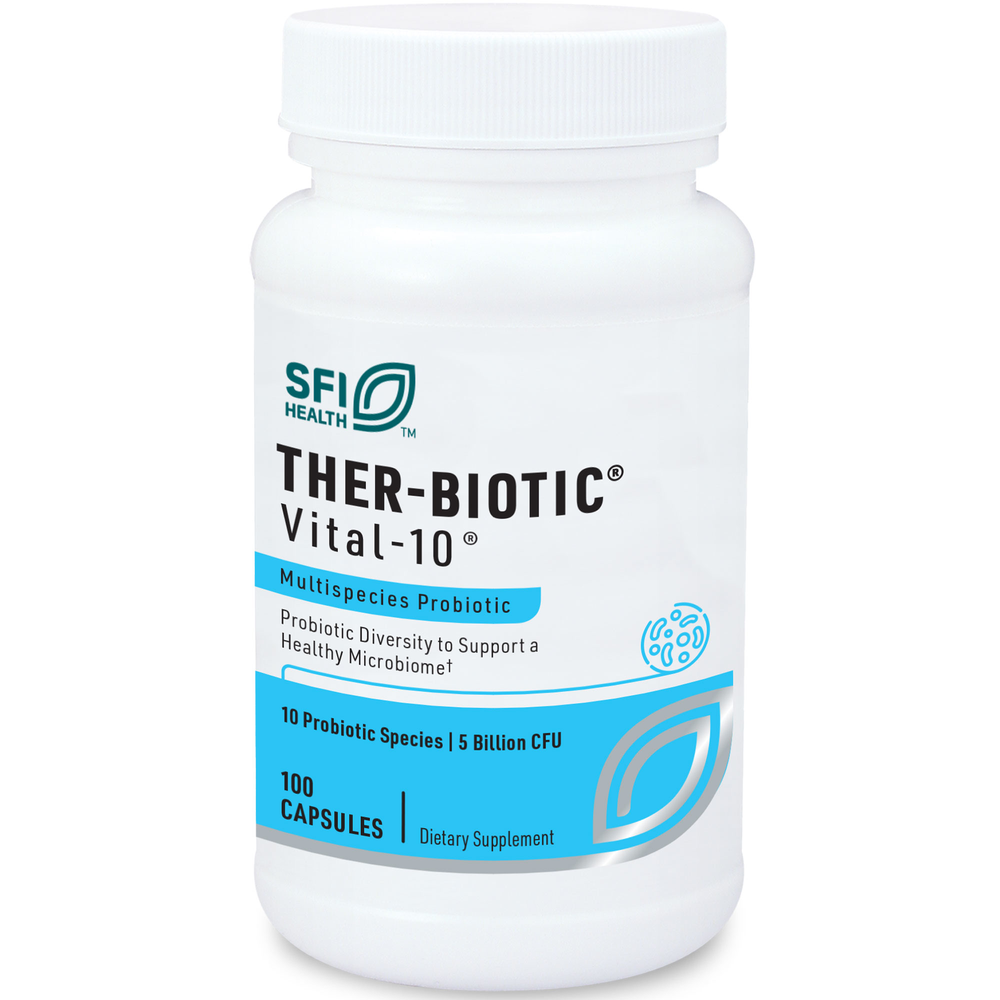 SKU: KL-V08510
Benefits and Features
-Helps maintain a healthy, balanced intestinal microbiota to promote normal gastrointestinal function†
-Supports healthy intestinal and systemic immune function†
-Synthesizes important B vitamins and vitamin K, as well as facilitates nutrient and mineral absorption†
-Ther-Biotic® Vital-10® is a hypoallergenic, proprietary blend of 10 probiotic species developed specifically for the maintenance of a healthy intestinal microbiota.†
Detail Overview
Ther-Biotic® Vital-10® provides a synergistic blend of indigenous, essential colonizing, and beneficial transient probiotic microorganisms. The Lactobacillus species normally predominate in the small intestine while the Bifidobacterium species are important for the colon. Ther-Biotic® Vital-10® supplies beneficial probiotic organisms generally not present in modern, highly processed foods together with indigenous species whose numbers decline with age, medication, and stress. Two transient yogurt starter species with long histories of health benefits are blended into the formulation. Together they maintain a healthy, balanced intestinal microbiota, promote normal gastrointestinal function, synthesize B vitamins and vitamin K, facilitate nutrient and mineral absorption, and support normal intestinal and systemic immune functions.†

Ther-Biotic® Vital-10® is a cost-effective, multispecies probiotic formula especially useful for maintaining a healthy microbiota balance in people with normal gastrointestinal function and for maintenance supplementation in individuals following more aggressive probiotic supplementation with higher strength preparations or more targeted probiotic blends.†

Ther-Biotic® Vital-10® is available in both a high-strength powder providing 10 billion CFUs per 1/4 teaspoon and a maintenance-dose vegetarian capsule supplying 5 billion CFUs.


Suggested Use:
Adults: 1 capsule, 1 or 2 times daily with food or as directed by a healthcare professional. Children: As directed by a healthcare professional.

Serving Size: 1 Capsule
Amount Per Serving
Probiotic Blend ... 450mg*
(5+ billion CFUs)(in a base of inulin)(derived from chicory root)
Lactobacillus acidophilus
Bifidobacterium bifidum
Lactobacillus bulgaricus
Lactobacillus rhamnosus
Lactobacillus brevis
Lactobacillus casei
Lactobacillus salivarius
Lactobacillus plantarum
Streptococcus thermophilus
Bifidobacterium lactis

Other Ingredients: Vegetarian capsule (hydroxypropyl methylcellulose, water) and L-leucine.

Made without common allergens: milk/casein, eggs, fish, shellfish, tree nuts, peanuts, wheat/gluten, soybeans, and sesame. No synthetic colors, flavors, or preservatives. Non-GMO, Vegetarian.


Caution: Consult with your physician if you are pregnant or lactating, or have any medical condition, or taking prescription drugs, or under the age of 18 years. KEEP OUT OF REACH OF CHILDREN.