ThyroCalm Px
Restorative Formulations
120 capsules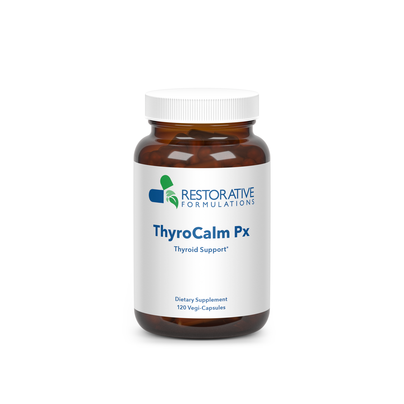 SKU: RF-1260
Blend of thyroid calming herbs. Includes highly-concentrated Rosemary Extract (45:1).
- Preserves Thyroid Function.
- Stabilizes Thyroid-Stimulating Immunoglobulins
ThyroCalm Px is a highly-concentrated, spray-dried herbal extract designed to help stabilize healthy thyroid function. The Lemon
Balm, Bugleweed, and Rosemary included in this formula are all from the mint family and contain rosmarinic and lithospermic acids.
These plant acids are powerful polyphenols have been shown to bind Thyroid Stimulating Immunoglobulins (TSIs) and buttress the
thyroid gland.
Lemon balm has been shown to have activity in the central nervous system where it promotes dopaminergic transmission. This is
important because dopamine helps regulate pituitary hormones and may support endocrine feedback loops and hormone synthesis.
Traditional uses of lemon balm include nervous system support via the maintenance of dopamine activity in the brain. This formula
uses sophisticated technology capable of condensing the herbs to extremely high concentrations, ranging from 45:1 to 100:1 ratios
of whole herb.
Take three vegi-capsules twice a day or as directed by your health care practitioner. Can be taken with or without food.
Serving Size: 3 vegi-capsules
Each Capsule Contains:
Zinc ... 3 mg
(zinc citrate)
Selenium ... 100 mcg
(selenomethionine)
Organic Bugleweed Polyphenol 5% ... 237 mg
(Lycopus virginicus)
Organic Lemon Balm Polyphenol 4% ... 189 mg
(Melissa officinalis)
Rosemary extract 45:1 ... 155 mg
(Rosmarinus officinalis)
Organic Blue Flag ... 9.5 mg
(Iris versicolor)

Minimum Constituent Bio Marker Per Dose
Rosmarinic Acid 111.6 mg
Non-Medicinal Ingredients: hypromellose vegi-capsule, Omega 3 Powder

Each capsule is extracted from 7,451 mg of crude herbs
ThyCalm Px may potentiate drugs found in the Thioamides class, which are commonly used to control thyrotoxicosis. Thus, medications such as Methimazole, Carbimazole, and Propylthiouracil (PTU) should not be combined with ThyCalm Px unless instructed differently by a physician.