Thyroid Px
Restorative Formulations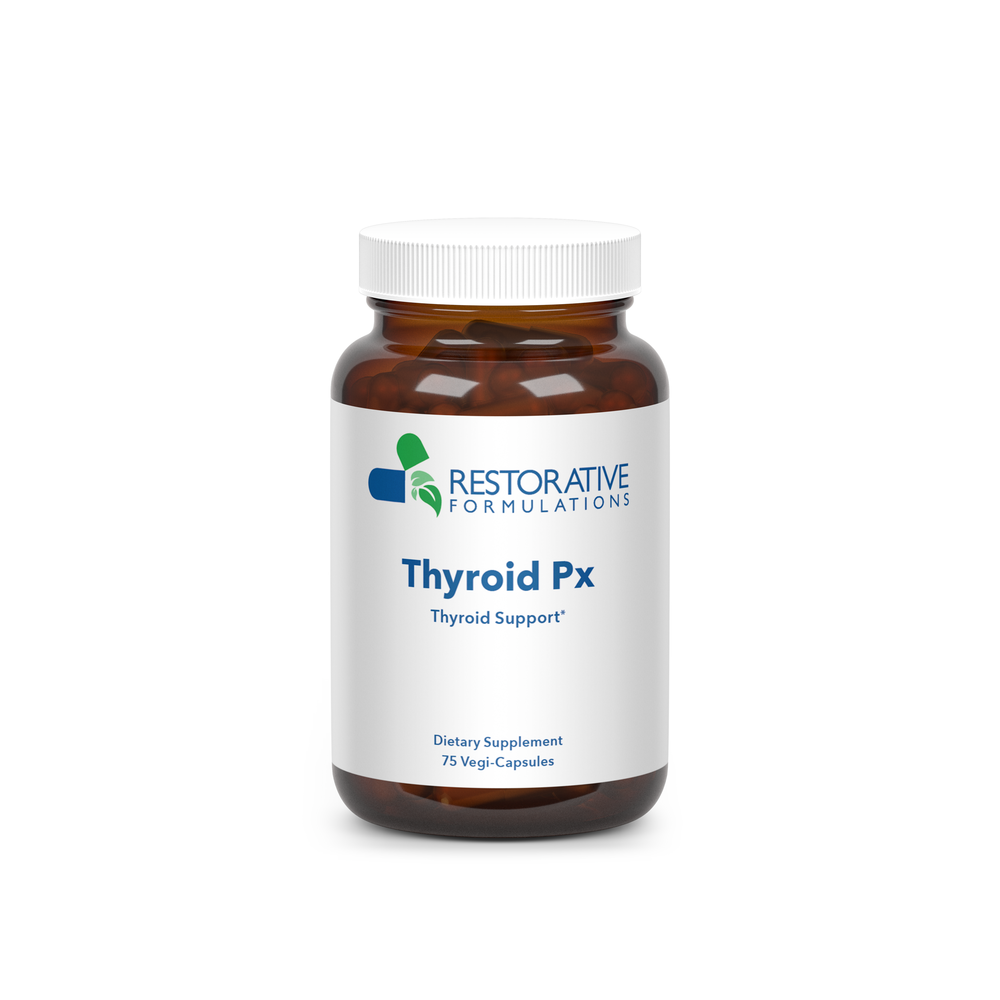 SKU: RF-1300
Features herbs and nutrients to support thyroid function. This formula is the most potent support we offer for healthy thyroid function. Provides the thyroid with the required nutrition and substrates. Supplies the building blocks for T3/T4 hormone synthesis. Promotes the activation of thyroid hormone.
Supports Metabolism
Promotes T4-T3 Conversion
Stabilizes Thyroid Peroxidase Antibodies
Optimizes Body Temperature
High dose Iodine/Iodide
Thyroid Px is a balanced blend of minerals and botanicals designed to support the healthy functioning of the thyroid gland while simultaneously maintaining healthy metabolic function. Thyroid Px optimizes thyroid function, normal body temperature and general metabolic rate.
This formula can help stabilize thyroid peroxidase immunoglobulins which is essential for normal thyroid activity. The powerful antioxidants selenium and zinc, as well as the myrrh guggul gum resin, help neutralize free radicals that affect iodothryonine-5-monodeiodinase enzyme activity, which is involved in the conversion of T4 to the active T3 hormone.
Iris species contain oleoresins in their roots and are historically claimed to move fluid (lymph). Myrrh Gum Resin is a powerful adaptogen which not only augments the thyroid, but also the liver and kidney. Studies suggest that Commiphoras constituents may help to increase iodine metabolism in the thyroid and T4-T3 conversion in peripheral tissues. Given the important role iodine plays in thyroid function, Thyroid Px includes 12 mg of Potassium iodide in 2 capsules.
Adults take 1 to 2 capsules twice daily, with or without food, or as recommended by your health care practitioner. When increasing dose, do so gradually to a maximum dose of 4 capsules, twice daily. Never to exceed 8 capsules in a 24 hour period, nor to take high doses for more than 3 months.
Serving Size: Two capsules
Amount Per Serving
Vitamin D3 ... 10mcg
(Cholecalciferol)(400IU)
Vitamin B12 ... 400mcg
(Methylcobalamin)
Iodine ... 12mg
(as Potassium Iodide)
Zinc ... 6mg
(as Zinc Citrate)
Selenium ... 200mcg
(as L-Selenomethionine)
Organic Blue Flag Root ... 410mg†
(Iris spp.)
Guggul Myrrh Gum Resin ... 240mg†
Organic Triphala Fruits ... 160mg†
(Amla Fruit, Belleric myrobalan Fruit, Chebulic myrobalan Fruit)
Organic Ashwagandha Root ... 150mg†
Organic Nettle Leaf ... 150mg†
Organic Kelp ... 110mg†
Organic Ginger Root ... 20mg
Other Ingredients: Vegetable Cellulose
Caution
Do not use if clear safety seal around bottle neck is broken or missing. If pregnant, nursing or considering pregnancy do not use without rst consulting with your health care provider. Keep out of reach of children. Due to potential drug-herbal interactions, tell your physician about any medications you are taking. One capsule EXCEEDS the Recommended Daily Allowance for Iodine.
This product can potentiate thyroid hormone replacement medications. Discontinue use if rapid heart rate, palpitations, or skin reactions occur.