Thyroid Resilience
Progressive Labs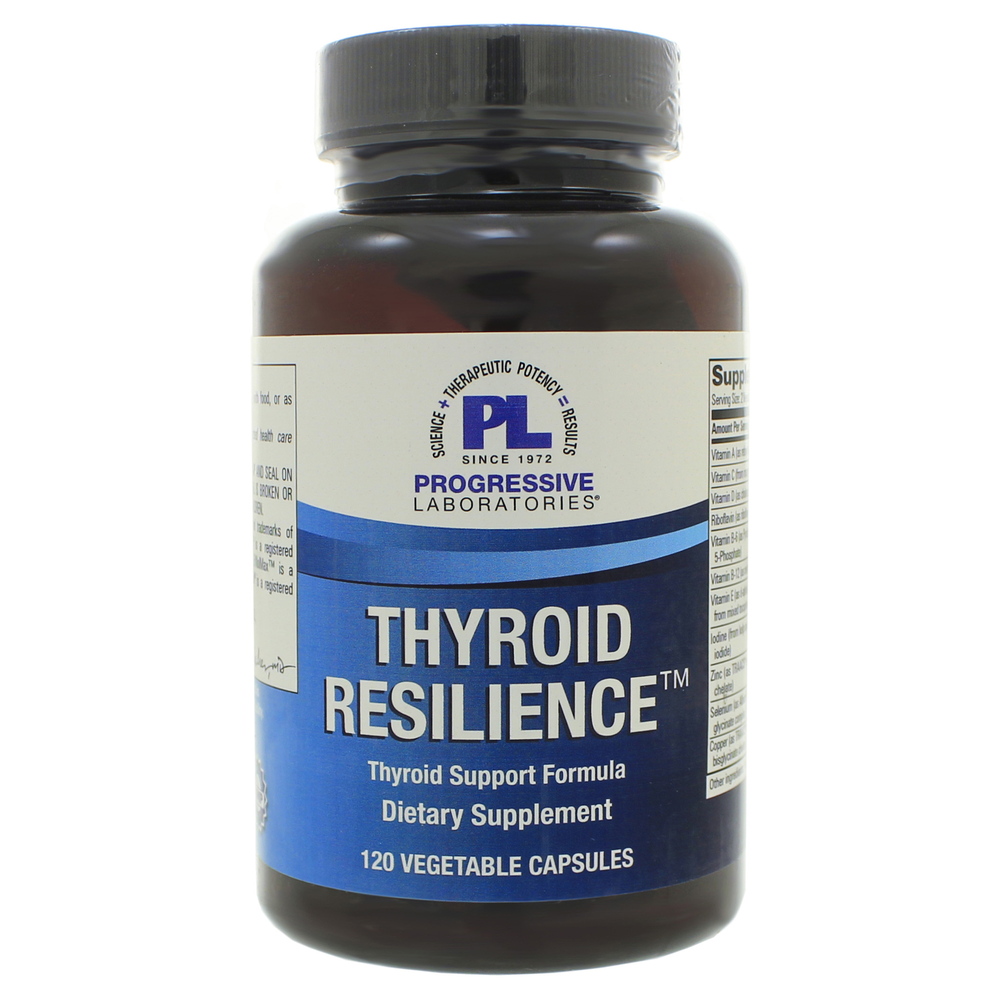 SKU: PGV-3726
Thyroid Resilience™ is scientifically designed and balanced to provide nutrients specifically selected and studied to help support healthy thyroid function as well as protect the thyroid gland and other vital organ systems from environmental toxicity and oxidative stress damage.
Take two vegetable capsules twice daily, with food, or as directed by a health care professional.
Serving Size: Two Vegetable Capsules
Amount Per Serving
Vitamin A ... 500IU
(as retinyl acetate)
Vitamin C ... 100mg
(from magnesium ascorbate)
Vitamin D ... 100IU
(as cholecalciferol)
Riboflavin ... 10mg
(as riboflavin-5-phosphate)
Vitamin B-6 ... 25mg
(as Pyridoxal-5-Phosphate)
Vitamin B-12 ... 500mcg
(as methylcobalamin)
Vitamin E ... 50IU
(as d-alpha-tocopheryl and from mixed tocopheryls [EVNolMax™])
Iodine ... 180mcg
(from kelp and potassium iodide)
Zinc ... 2.5mg
(as TRAAC® zinc bisglycinate chelate)
Selenium ... 25mcg
(as Albion® selenium glycinate complex)
Copper ... 1mg
(as TRAACS®)
Manganese ... 1mg
(as TRAACS® manganese bisglycinate chelate)
Molybdenum ... 25mcg
(as TRAACS® molybdenum glycinate chelate)
L-Tyrosine ... 250 mg
Ashwagandha root extract ... 150mg
(KSM-66®)
Bladderwrack ... 100mg
(algae)
Atlantic Sea Kelp ... 100mg
Guggul Resin extract ... 25mg
(Gugulipid® 2.5% guggulsterones)
Inositol ... 15mg
Seanol®-P ... 250mg
(Ecklonia cava extract)
Other Ingredients: hydroxypropyl methylcellulose (vegetable capsule)
Tamper evident band around cap and seal on bottle. Do not use if either seal is broken or missing. Keep out of reach of children.