Thyroid Basics
DaVinci Labs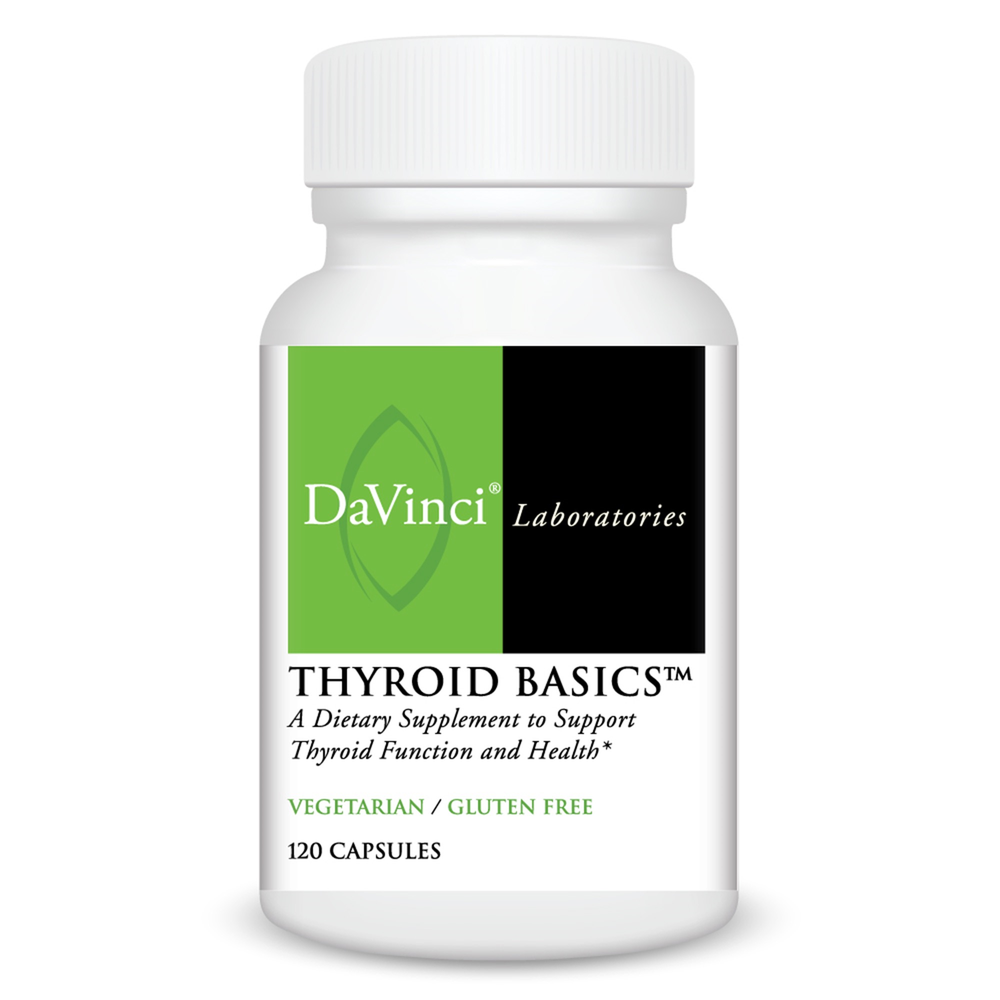 SKU: DAV-0200840120
Thyroid Basics
- is a dietary supplement to support thyroid function and health.* It is a
vegetarian blend of Tyrosine, selenium, iodine, copper, zinc, manganese,
ForsLean brand Coleus Forskohlii, Bacopa monnieri, guggulsterones, Chromium and
B vitamins all of which work together to optimize thyroid function, relieve
fatigue, manage weight, appetite and mood, improve T4 and T3 ratios and elevate
cellular metabolism .*
As a dietary supplement, take 2 capsules with food, twice daily until results
occur. Then take 2 capsules daily with food, or as directed by your healthcare
practitioner.
Serving Size: 2 Capsules
Amount Per Serving
Vitamin B2 ...5mg
(as Riboflavin 5-Phosphate)
Vitamin B6 ...25mg
(as Pyridoxal 5-Phosphate)
Folic Acid ...500mcg
Iodine ...225mcg
(as K Iodide)
Zinc ...10mg
(as Zn Glycinate)
Selenium ...50mcg
(as Selenomethionine)
Copper ...500mcg
(as Cu Glycinate)
Manganese ...5mg
(as Mn Glycinate)
Chromium ...50mcg †
(as Cr Polynicotinate)
L-Tyrosine ...500mg
Bacopa Monnieri Extract ...200mg
yielding Bacosides ...40mg
Commiphora Mukul Extract ...100mg
yielding Guggulsterones ...2.5mg
Coleus Forskohlii Extract ...100mg
(ForsLean Brand)
yieding Forskolin ...10mg
Other ingredients: vegetable cellulose (capsule), rice flour, vegetarian
leucine.
Color of this product may vary due to color variations of the natural
ingredients.
WARNING:Do not take this product if you have an overactive thyroid, bleeding
disorders, cardiovascular disease or hormone sensitive conditions; or if you are
taking blood thinners, calcium channel blockers, nitrates, or statin drugs.
Discontinue use 2 weeks prior to any elective surgeries. If pregnant or nursing,
consult with your healthcare professional before taking this product.

WARNING:This product contains lead, a chemical known to the State of California
to cause birth defects and other reproductive harm.
Keep out of reach of children. Store in a cool, dry place.
WARNING: Consuming this product can expose you to chemicals including lead, which is known to the State of California to cause birth defects or other reproductive harm. For more information go to www.P65Warnings.ca.gov/food