Thyroid Strength®
MegaFood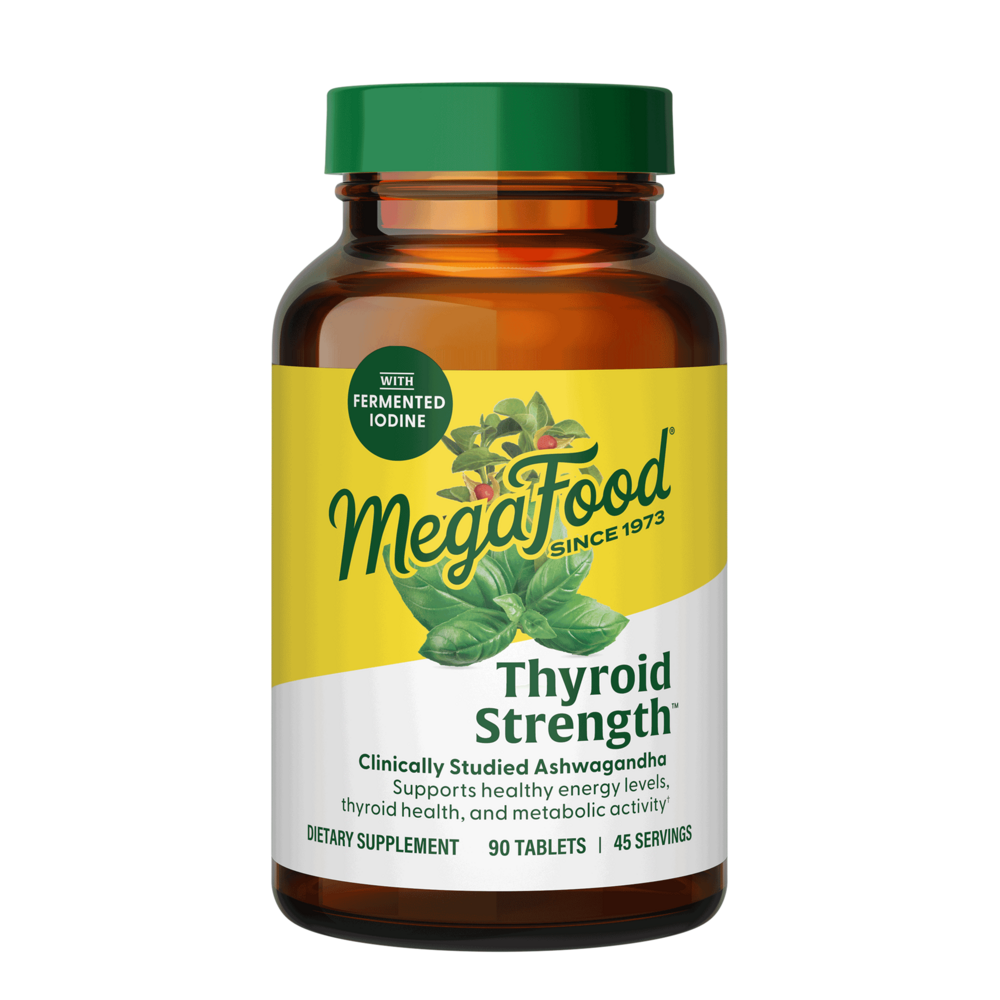 SKU: MEG-20029

Thyroid Strength

Supports thyroid health and metabolic activity*
A healthy thyroid means healthy metabolism—and a healthy mood, mental focus and cardiovascular system*! MegaFood® Thyroid Strength® combines thyroid-supporting FoodState® minerals with L-tyrosine, Sensoril® ashwagandha and other herbal extracts to support thyroid health*.
FoodState® Iodine, Zinc, Selenium and Copper, along with L-tyrosine, help nourish a healthy thyroid*
Sensoril® ashwagandha, a multi-purpose and traditional herb, supports healthy energy levels, mental cognition, cardiovascular health, endothelial function and lipid profile*


This MegaFood product is made with real food, carefully selected herbs and added nutrients. Each mineral is paired with wholesome nutritional yeast using a unique process to deliver guaranteed potency and the benefit of health-promoting compounds present in the whole food itself.
Suggested Use:
Take 2 tablets daily. May be taken anytime throughout the day, even on an empty stomach.


Serving Size: 2 Tablets

Amount per Serving
Iodine ...150 mcg
(as fermented iodine glycinate)
Zinc ... 8 mg
(as fermented zinc bisglycinate)
Selenium ... 70 mcg
(as fermented selenium glycinate)
Copper ... 0.35 mg
(as fermented copper bisglycinate)
Herb Blend
Holy Basil Leaf Extract ... 250 mg
(Ocimum sanctum)
Sensoril® Ashwagandha Root & Leaf Extract ... 250 mg
(Withania somnifera / 10% Withanolides)
Coleus Forskohlii Root Extract ...150 mg
(Coleus forskolii)
L-Tyrosine ... 300 mg
Other Ingredients: Microcrystalline cellulose, ferment media (organic brown rice, rice protein, yeast (inactive) autolyzed yeast extract), hypromellose, silicon dioxide, stearic acid, guar gum.

Gluten Free, Vegetarian, Kosher, Dairy Free, Soy Free.

Cautions & Warnings
If pregnant, nursing, or you have a health condition, consult your healthcare practitioner before taking this product.