Total Omega
Barlean's Organic Oils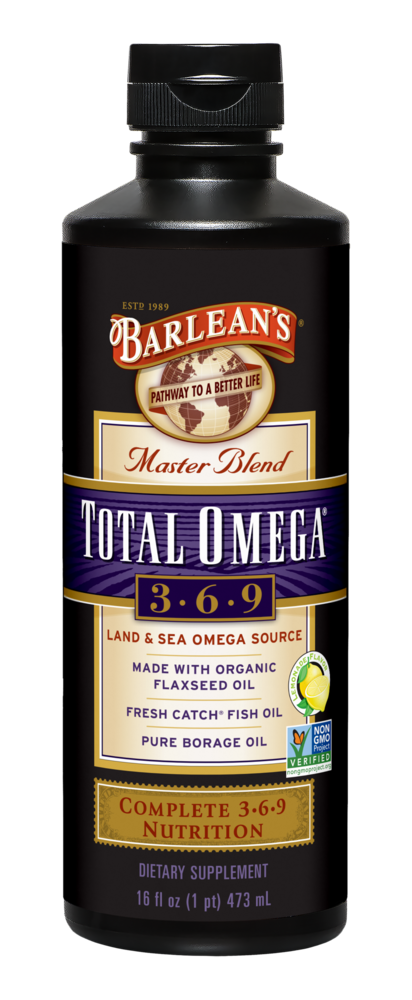 SKU: BAR-BTO16
The Master Blend. Take a look at these numbers: 6,468mg combined Omega-3 (ALA, DHA & EPA), 2,000mg Omega-6 (LA & GLA) and over 1,850mg Omega 9 (Oleic acid). This unique blend of fresh, cold-pressed flax, ultra-purified Fresh Catch® fish oil and pure borage oils offers a complete and balanced source of the Omega-3, 6 and 9 essential fatty acids our brains and bodies need, but can't make on their own. Mix it into juice, yogurt, oatmeal or smoothies, or take off the spoon.

Suggested Use:
Take 1 tbsp daily. Can be taken straight or mixed into salad dressings, yogurt, oatmeal or smoothies.


Serving Size: 1 Tbsp (15 ml)

Amount Per Serving
Calories ... 120
Total Fat ... 14 g
Saturated Fat ... 1.5 g
Polyunsaturated Fat ... 9 g
Monounsaturated Fat ... 2.5 g
Cholesterol ... 10 mg
Omega-3 Polyunsaturated Fat: Alpha Linolenic Acid ... 5,875 mg (ALA)
Eicosapentaenoic Acid ... 356 mg (EPA)
Docosahexaenoic Acid ... 237 mg (DHA)
Omega-6 Polyunsaturated Fat: Linoleic Acid ... 1,817 mg (LA)
Gamma-Linolenic Acid ... 196 mg (GLA)
Omega-9 Monounsaturated Fat: Oleic Acid ... 1,870 mg

Ingredients: Total Omega Oil Blend (organic flaxseed oil, fish oil (anchovy, sardine, and/or mackerel), and borage oil), natural flavors, and antioxidant (sunflower lecithin, sunflower oil, natural mixed tocopherols, rosemary extract, ascorbic acid, and citric acid.


Non-GMO, Gluten Free, Kosher, No Artificial Flavors, Colors or Sweeteners, No Added Sugar

Keep out of reach of children. Never give to pets. Refrigerate after opening.