Seriously Delicious Orange Creme Total Omega
Barlean's Organic Oils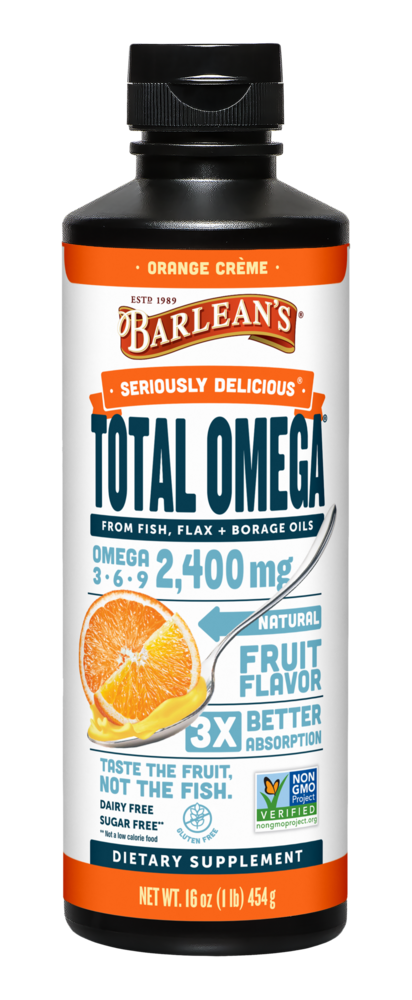 SKU: BAR-BE16TOOC
Think Creamsicle. This unique blend of fish, flax and borage oils offers a complete and balanced source of the Omega-3, 6 and 9 fatty acids our brains and bodies need. Plus, Barlean's Seriously Delicious Total Omega® is emulsified for superior absorption and bioavailability. It's made with pharmaceutical grade, ultra-purified natural triglyceride fish oil, fresh cold-pressed flax oil, and pure, healthy borage oil. Want some more good news? Orange Cream Seriously Delicious Total Omega® is so delicious it will remind you of summer days spent eating creamsicles on the beach. Forget taking bulky softgels or fishy tasting oils. Now you can add your Omega supplement to yogurt, oatmeal, ice cream or a smoothie – or enjoy it right off the spoon.

Suggested Use:
Adults & children ages 4 and up: 1 Tbsp daily. Great straight or in yogurt, oatmeal or smoothies.


Serving Size: 1 Tbsp (15.9g)

Amount Per Serving
Calories ... 70
Total Fat ... 4.5 g
Saturated Fat ... 1 g
Polyunsaturated Fat ... 2.5 g
Monounsaturated Fat ... 1 g
Cholesterol ... 15 mg
Total Carbohydrate ... 6 g
Total Sugars ... 0 g
Added Sugars ... 0 g
Sugar Alcohol ... 5 g
Omega-3 Polyunsaturated Fat Alpha Linolenic Acid ... 700 mg (ALA)
Eicosapentaenoic Acid ... 365 mg (EPA)
Docosahexaenoic Acid ... 235 mg (DHA)
Omega-6 Polyunsaturated Fat: Linoleic Acid ... 530 mg (LA)
Gamma Linolenic Acid ... 200 mg (GLA)
Omega-9 Monounsaturated Fat: Oleic Acid ... 370 mg


Ingredients: Water, Total Omega Oil Blend (fish oil (anchovy, sardine and/or mackerel), flaxseed oil, and borage oil), xylitol, glycerine, gum arabic, natural flavors, citric acid, xanthan gum, antioxidant blend (Vitamin E (as d-alpha tocopherol), rosemary extract, ascorbyl palmitate, and green tea extract), guar gum, beta carotene, sorbic acid
Keep out of reach of children and never give to pets. Refrigerate after opening.