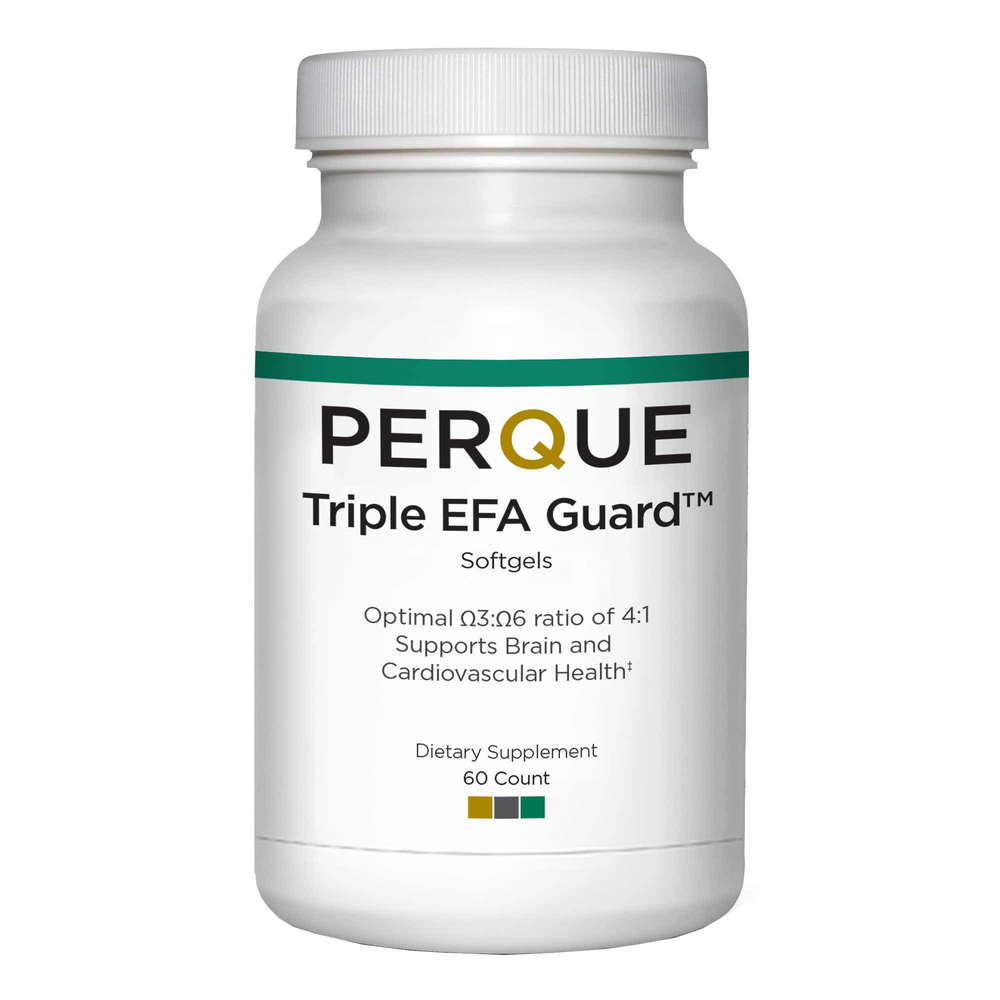 SKU: PER-145
Results: Synergistic combo of required Omega 3,6 & 9 fats that help protect tiny and large blood vessels for better heart and brain resilience.
Benefit: Improves brain, heart, neurohormone, and immune health.
Fact: Uses purer oils that are nitrogen distilled to prevent oxidization and rancidity damage.
Some fat is good and in fact is essential for optimal health. PERQUE Triple EFA Guard contains the best balance (4:1) of omega 3 to omega 6 essential fatty acids (EFAs), along with the beneficial omega 9 EFA and the most potent docosahexaenoic acid (DHA) / conjugated linoleic acid (CLA) combination. Finally, a product with the essential oils you need.*
Like many, you may associate fat with obesity and health risk. However, certain fats are required for healthy function; these are known as EFAs.
PERQUE Triple EFA Guard is a unique blend of oils: organic flax seed oil as well as olive and fish oils plus DHA and CLA. Finally, an essential oil product that meets PERQUE's standards and brings the complicated issues of fat supplementation into one easy to-use, source. EFAs are essential because they can only be obtained from the diet. The body is unable to manufacture them even thought they are required for critical chemical reactions in the body. The average American diet is too high in harmful fats, and therefore, it is also deficient in EFAs. Foods lose EFAs through processing, exposure to air (oxygen), oxidants, and toxins (from lead and mercury to peroxides and sulfites); therefore, deficiencies have become more the rule than the exception.
Only PERQUE Triple EFA Guard gives you all the essential fats in one formula, and, as with all PERQUE products, its ingredients are of the highest action and purity.* Essential fatty acids may be divided into two primary groups: omega 3 (including DHA) and omega 6 fatty acids. In addition, omega 9 fatty acids and CLA are vital for complete health. EFAs are the source of the body's potent prostaglandins, which are hormone-like substances that regulate many cardiovascular, reproductive, immune, hormonal, and nerve functions.*
Suggested Use:
As a dietary supplement, take one (1) to four (4) softgel capsules daily with meals or as directed by your health professional.
Serving Size: 1 Softgel
Amount Per Serving
Vitamin E … 3.4mg
(mixed natural tocopherols)
Omega 3 Total … 405 mg
ALA (Alpha Linolenic Acid) … 335 mg
DHA (Docosahexaenoic Acid) … 50 mg
EPA (Eicosapentaenoic Acid) … 20 mg
Omega 6 Total ... 100 mg
LA (Linoleic Acid) ... 85 mg
GLA (Gamma Linolenic Acid) ... 15 mg
Omega 9
OA (Oleic Acid) ... 20 mg
CLA (Conjugated linoleic acid) ... 150 mg
Sterols (phytosterols) ... 1500 mg
Sources & Ingredients:
Organic flax seed oil ... 541 mg
Organic olive oil (cold-pressed extra virgin) ... 218 mg
Organic safflower oil (80% CLA) ... 198 mg
Phosphatidylcholine … 3.2 mg
Phosphatidylethanolamine ... 1 mg
Phosphatidylinositol ... 2.6 mg
Marine lipids (distilled) ... 127 mg
Black currant oil ... 104 mg
(15% GLA)
Ascorbyl palmitate ... 1 mg
Other Ingredients: Gelatin shell (bovine gelatin (kosher), glycerin, carob flavanoid extract, purified water)
Warning: KEEP OUT OF REACH OF CHILDREN
Must be stored with cap on tightly in a cool, dry, place. Do not use product if the tamper-resist shrink band around the cap or the inner seal beneath the cap appears to have been tampered with or is missing.