Tru Niagen® Stick Packs
Tru Niagen® by ChromaDex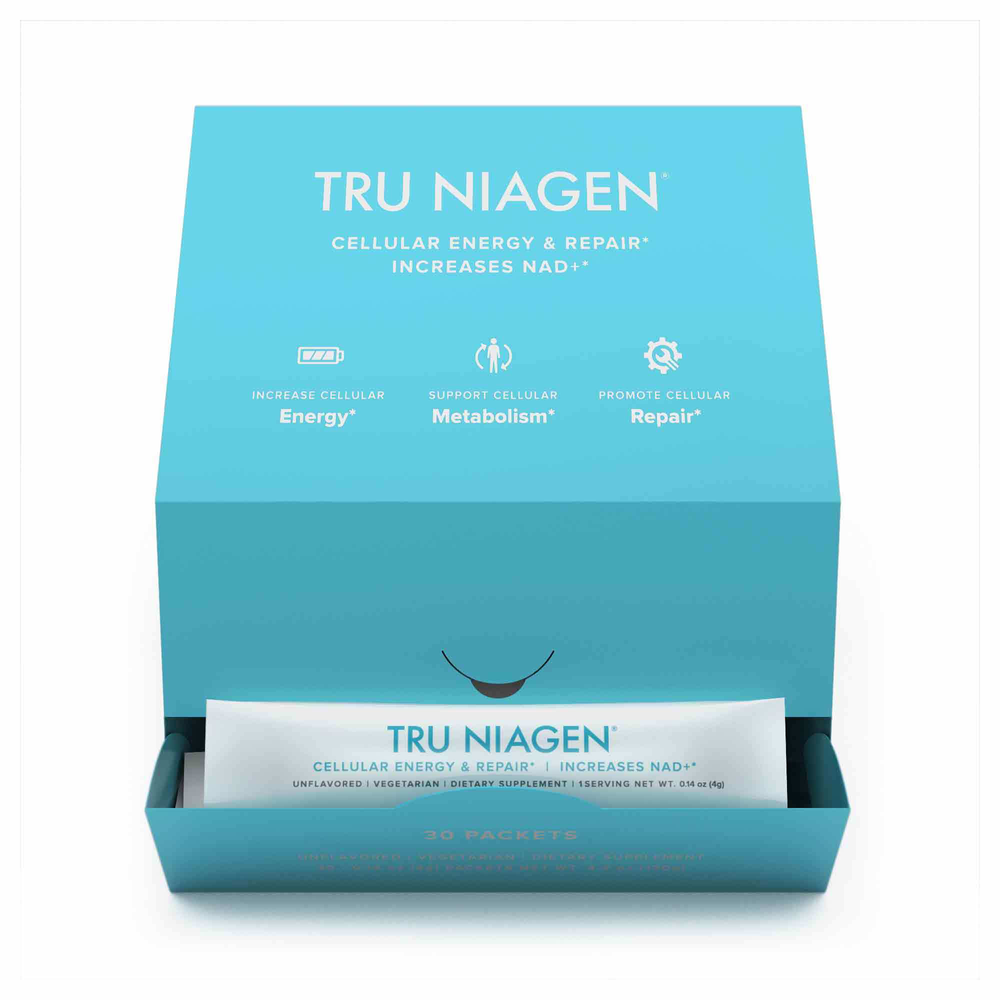 SKU: TRN-PHTNSP00130S
ELEVATE YOUR BODY'S NAD+: NAD is a vital cellular resource which helps fuel many of the body's essential functions. But NAD levels decline over time and under metabolic stress, leaving cells with a dwindling supply. Tru Niagen replenishes your body's NAD, every time its taken, and is now available in a convenient stick pack.*
WHAT TO EXPECT: Promoting cellular health can have many positive effects on your daily routine. While each individual's experience may be unique, Tru Niagen customers report everything from sustained energy throughout the day to improvements in their sense of well-being. Ultimately, what you feel and how long it takes will depend on what your cells need. Tru Niagen is clinically proven to elevate NAD levels by approximately 40-50% after 8 weeks.*
AN EASY DAILY ROUTINE: Tru Niagen portable stick packs, now combined with a good source of fiber, are a simple addition to your health routine. Their easy delivery method makes them a great alternative to capsules whether you're on-the-go, traveling, heading to the gym, or at home. Mix one packet daily into 16 ounces of your favorite pre- or post-workout beverage and enjoy.
SCIENTIFICALLY PROVEN: Tru Niagen increases your NAD levels and is backed by multiple published clinical trials, with more than one dozen registered human studies ongoing. There is even growing evidence to support it is better than nicotinamide / niacinamide and Niacin.

Tru Niagen Stickpacks provide daily cellular care to help you age better® and live better, including:
• Replenishing NAD levels*
• Increasing cellular energy production*
• Promoting healthy cellular metabolism*
• Promoting cellular repair*
• Supporting healthy aging*
Mix 1 packet with 16 fl oz of liquid, mix thoroughly.

Serving Size: 1 Packet

Amount Per Serving
Calories ... 5
Total Carb ... 4g
Dietary Fiber ... 3g
NIAGEN® ... 300mg
(nicotinamide riboside chloride)

Other Ingredients: Inuline (Chicory root extract)
Caution: If you are pregnant, nursing, or taking any medications, please seek the advice of a healthcare professional prior to use. Not intended for use by children under 18. Do not use if sealed packet is ripped or torn.