Turmeric Curcumin Extra Strength† - Whole Body
MegaFood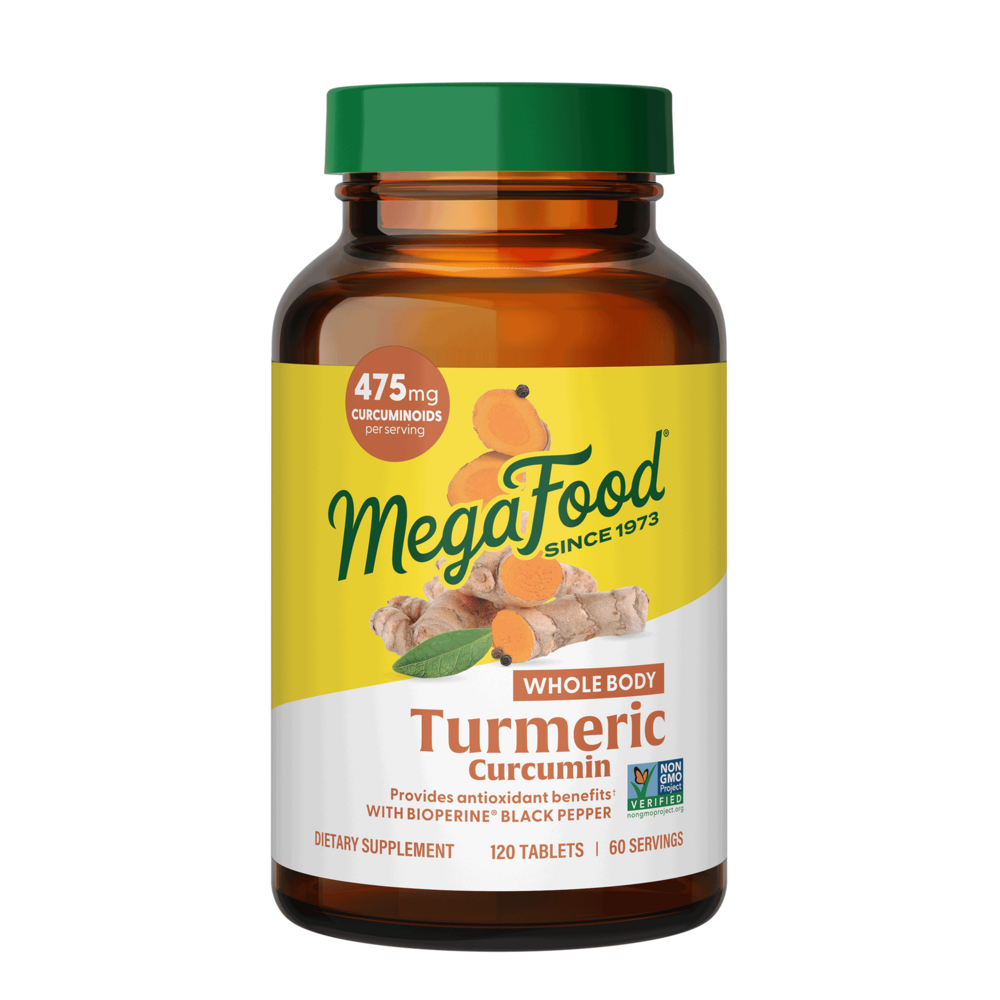 SKU: MEG-10010
Turn to turmeric for healthy inflammation support*
Supports a healthy inflammation response for the whole body *
Features our proprietary Turmeric Strength Blend (500 mg turmeric root extract & 200 mg turmeric root) to deliver a guaranteed minimum of 475 mg curcuminoids per serving† which is twice the amount of curcumin of our Turmeric Curcumin Minis
We add BioPerine®, a patented black pepper extract, to support the absorption of curcuminoids (which alone are very difficult for the body to assimilate)
Includes our proprietary Golden Harvest Fruit Blend (tart cherry, black raspberry extract, cranberry extract, wild blueberries) and our Fruit Phenolic Blend (organic oranges, organic blueberries, organic cranberries) for a natural source of phytonutrients & additional nourishment*
Also includes holy basil leaf extract
Suggested Use:

Adults take 2 tablets daily with a beverage. May be taken anytime throughout the day, even on an empty stomach.
Serving Size:
2 Tablets
Amount per Serving
Vitamin C
... 120 mg
(ascorbic acid)
Turmeric Strength Blend
... 700 mg(475mg Curcumin) (500mg Turmeric root extract (95% curcuminoids) (Curcuma longa), 200mg turmeric root (Curcuma longa)
Food Blend
... 523mg
142mg Organic orange, 100mg tart cherry, 80mg wild blueberry, 75mg black raspberry extract (Rubus occidentalis), 75mg cranberry extract, 42mg organic brown rice, 9mg organic cranberry.
Holy basil leaf extract
... 200 mg
(Ocimum sanctum)

BioPerine® Black Pepper Fruit Extract
... 3 mg
(95% Piperine)
Other Ingredients:
Microcrystalline cellulose, silicon dioxide, stearic acid, rice protein, maltodextrin, hypromellose.
This product is Certified Vegan, Gluten Free, Dairy Free, Soy Free, Non-GMO, Kosher.
Warning
: If you are pregnant or nursing or are using any prescription medication, consult your healthcare practitioner before taking this product.