Adrenal Strength®
MegaFood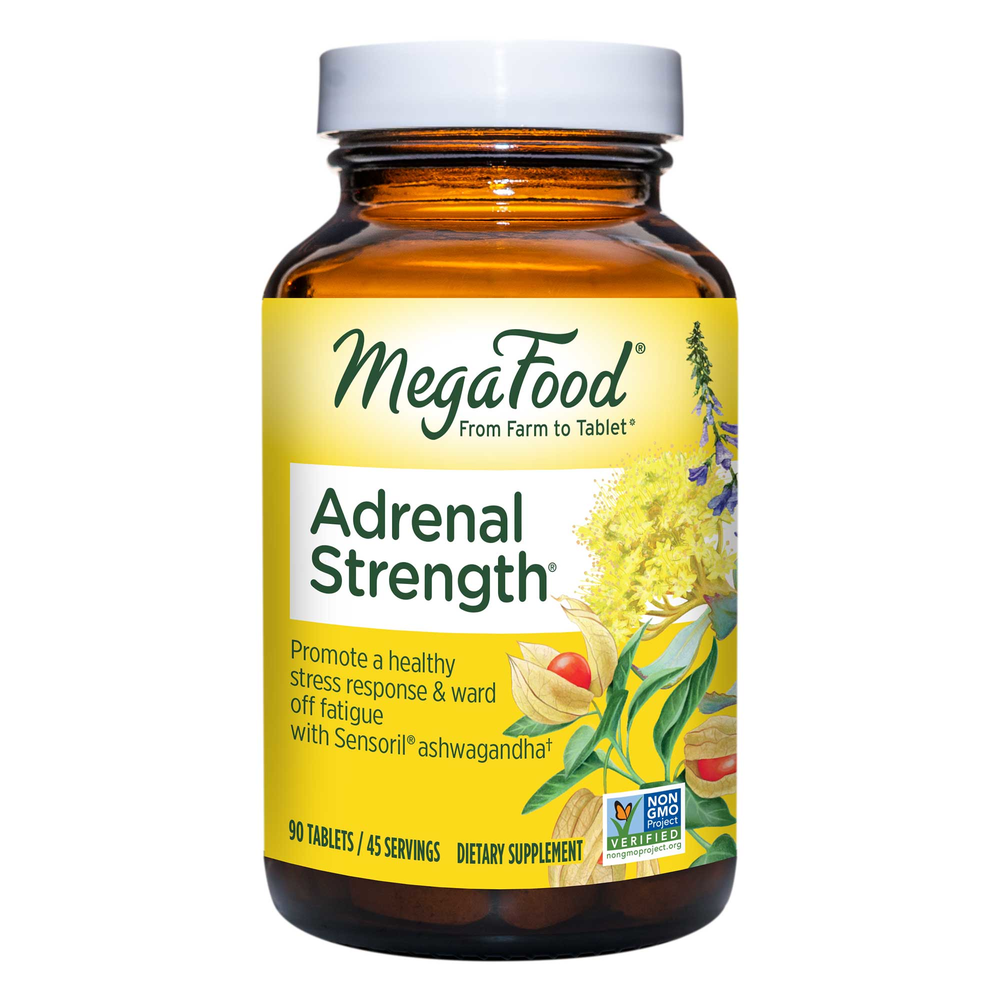 SKU: MEG-20023
Adrenal Strength
Promotes healthy stress response and wards off fatigue.*
Got stress? (Who doesn't?!) MegaFood® Adrenal Strength® nourishes adrenal glands depleted by everyday physical, mental and and emotional stress with the help of Sensoril®, a clinically-studied extract derived from ashwagandha root shown to promote feelings of wellbeing and balance* (say 'Ahh'), plus organic whole orange from Uncle Matt's Organic, brown rice from Lundberg Family Farms and FoodState® Magnesium. Show fatigue and tension the door—and say hello to restored adrenal function*.
Nourishes depleted adrenals, wards off fatigue, and promotes a healthy stress response by the body*
Sensoril® is a clinically-studied extract of ashwagandha root shown to promote emotional balance and wellbeing*
This MegaFood product is made with real food sourced from our trusted family farm partners, wholesome nutritional yeast, added nutrients and carefully selected herbs. Each vitamin or mineral is paired with an ideal whole food using our unique process to deliver guaranteed potency and the benefit of health-promoting compounds present in the whole food itself.
Suggested Use:
Adults take 2 tablets daily with a beverage. May be taken any time of day, even on an empty stomach.
Serving Size:
2 Tablets
Amount Per Serving
Vitamin C
... 100mg
(as ascorbic acid)
Pantothenic Acid
... 30 mg
(as d-calcium pantothenate)
Magnesium
... 40 mg
(as fermented magnesium bisglycinate)
Herb Blend
... 825mg
250mg Sensoril® Ashwagandha Root & Leaf Extract (Withania somnifera / 10% Withanolides) , 200mg Rhodiola rosea root extract (Rhodiola rosea), 175mg Holy basil leaf extract (Ocimum sanctum), 100mg Organic astragalus root (Astragalus membranaceus), 100mg Organic schisandra berry (Schisandra chinensis)
L-Serine
... 200mg
Reishi Mushroom
... 200mg
(Ganoderma Iucidum)
Food Blend
... 92mg
Organic Orange, Organic Brown Rice
Other Ingredients:
Ferment media (organic brown rice, rice protein, yeast (inactive) autolyzed yeast extract), hypromellose, purple corn, silicon dioxide, stearic acid, rice protein, autolyzed yeast extract.
Gluten Free, Vegetarian, Kosher, Dairy Free, Soy Free.