Adrenal Response® Complete Care
Innate Response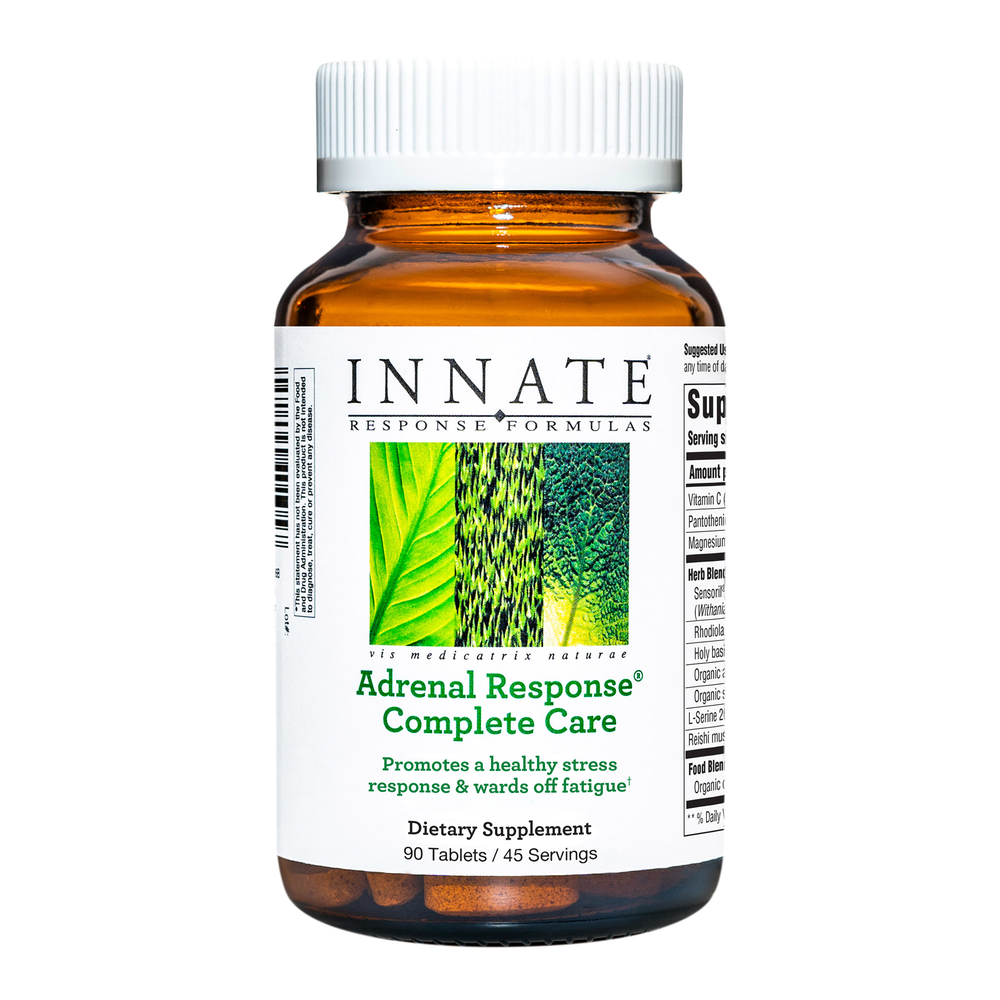 SKU: INR-40105
Promotes a healthy response to stress & wards off fatigue*
90 tablets, 45 servings
Nourishes depleted adrenals, wards off fatigue, and promotes a healthy stress response by the body*
Sensoril® is a clinically-studied extract of ashwagandha root shown to promote emotional balance and well-being*
Suggested Use:
Adults take 2 tablets daily with a beverage. May be taken any time of day, even on an empty stomach.
Serving Size:
2 Tablets
Amount Per ServingVitamin C
… 100mg
(as ascorbic acid)
Pantothenate Acid
… 30 mg
(as d-calcium pantothenate)
Magnesium
… 40 mg
(as fermented magnesium bisglycinate)
Herb Blend
Sensoril® ashwagandha root & leaf extract
… 250mg
(Withania somnifera / 10% Withanolides)
Rhodiola Root Root Extract
… 200mg
(Rhodiola rosea)
Holy Basil Leaf
… 175mg
(Ocimum sanctum)
Organic Astragalus Root
… 100mg
(Astragalus membranaceus)
Organic Schisandra Berry
… 100mg
(Schisandra chinensis)
L-Serine
… 200mg
Reishi Mushroom
… 200mg
(Ganoderma lucidum)
Food Blend
… 92mg
Organic orange, organic brown rice
Other Ingredients:
Ferment media (organic brown rice, rice protein, yeast (inactive), autolyzed yeast extract), Hypromellose, purple corn, silicon dioxide, stearic acid, rice protein, autolyzed yeast extract.