ArcticPure® Ultra Potency Omega-3 Fish Oil
Source Naturals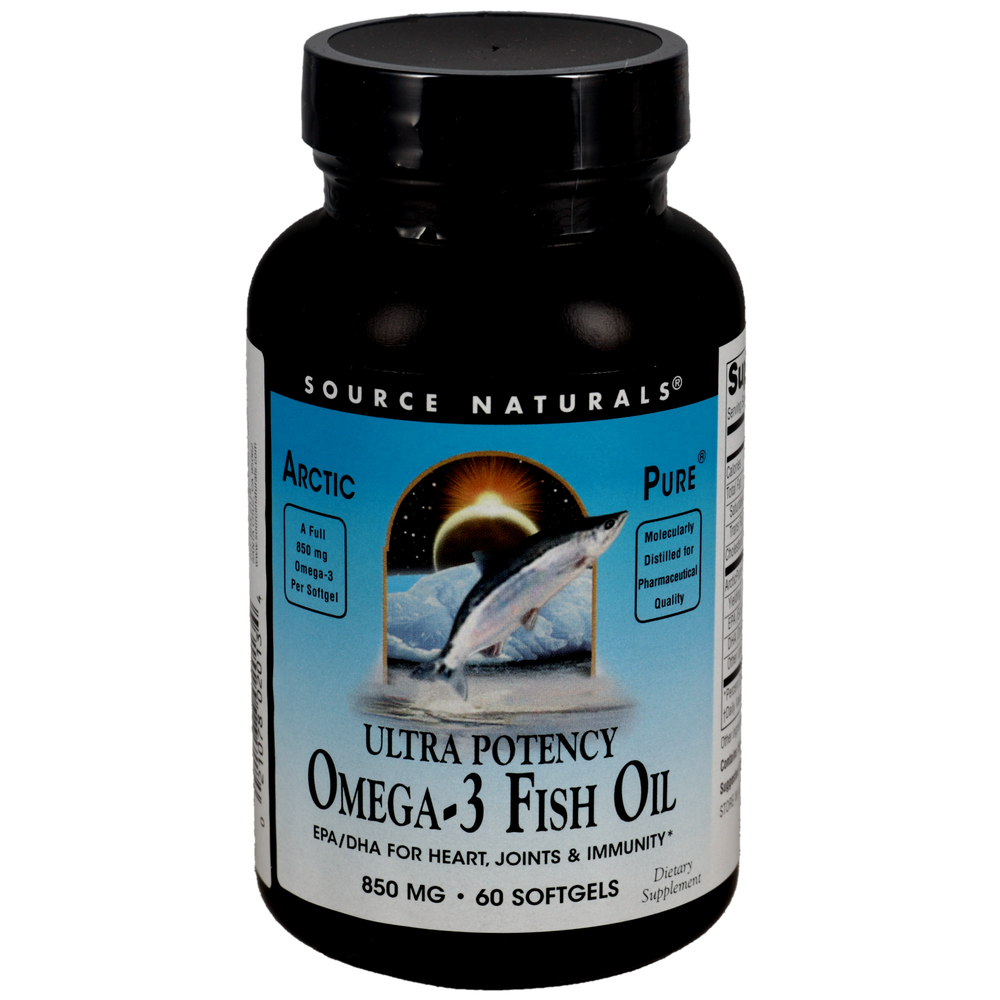 SKU: SOU-SN2013

ArcticPure® Ultra Potency Omega-3 Fish Oil
EPA/DHA For Heart, Joints & Immunity * Molecularly Distilled for Pharmaceutical Quality
A Full 850 mg Omega-3 Per Softgel
ArcticPure® Ultra Potency Omega-3 Fish Oil not only supports the functions of the brain, joints and circulatory system, it also strengthens the immune system. Each softgel contains a potent 850 mg of omega-3. ArcticPure® uses fish oils from the cleanest sources on Earth. A series of advanced molecular distillation processes extracts and concentrates the beneficial fatty acids from the raw oil, resulting in a product of outstanding purity. The state-of-the-art encapsulation process ensures oil as pure as any oil available worldwide.*

Supplement Facts
Serving Size: 1 Softgel

Amount %DV
Calories 10
Calories from Fat 10
Total Fat 1 g <1%
Saturated Fat 0 g <1%
Trans Fat 0 g
Cholesterol 5 mg 2%
ArcticPure® Fish Oil Concentrate Yielding: 1.25 g
EPA (Eicosapentaenoic Acid) 450 mg
DHA (Docosahexaenoic Acid) 340 mg
Other omega-3 Essential Fatty Acids 60 mg

Suggested Use
1 softgel twice daily with meals.

Other Ingredients
gelatin, glycerin, purified water, and natural tocopherols.

Warning
If you are pregnant, may become pregnant, or are breastfeeding, have any blood coagulation disorder or are taking any prescription medication such as warfarin (Coumadin(R)), consult your health care professional before using this product. Discontinue use before any surgical procedure.
Do not use if either tamper-evident seal is broken or missing. Keep out of the reach of children.
Store in a cool, dry place.
Contains fish and soy.

Allergies
Contains fish and soy. Contains no yeast, dairy, egg, gluten or wheat. Contains no sugar, salt, preservatives, or artificial color, flavor or fragrance.

*These statements have not been evaluated by the Food & Drug Administration. These products are not intended to diagnose, treat, cure or prevent any disease.