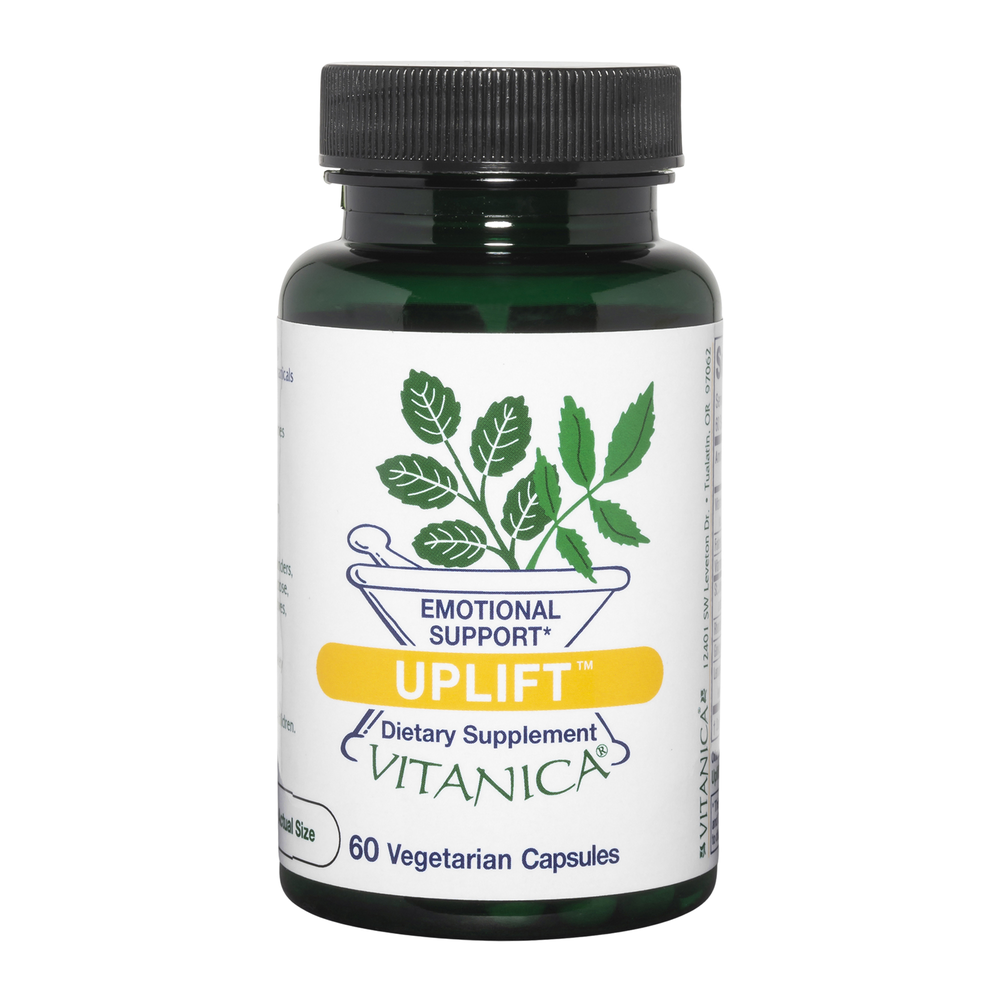 SKU: VTC-01040
Uplift is available by Vitanica.

All of the ingredients in this well-balanced formula have been supported by botanical and nutritional research. By using standardized extracts, Uplift enables us to offer you the most reliable form of support with scientific documentation in the relief of depressive mood disorders.
Suitable for Vegetarians
One (1) capsule, three (3) times per day. Also suitable for men.
Serving Size: 1 Capsule
Vitamin B6 ...25mg
(as pyridoxal-5-phosphate)
Folate (as folic acid) ...300mcg
Vitamin B-12 (as cyanocobalamin) ...350mcg
St. John's Wort extract ...200mg
(.3% hypercine) (Hypericum perforatum)
Rhodiola rosea extract ...50mg
(3% rosavin, 1% salidroside)
Ginkgo biloba extract ...30mg
(24% ginkgo flavone glycosides) (Ginkgo biloba)
Lemon balm leaf extract ...25mg
(5% rosemarinic acid) (Melissa officinalis)
Contains - Vegetable cellulose, l-leucine, water
Does Not Contain - Preservatives, binders, artificial colorings or flavorings, sucrose, glucose, starch, lactose, salt, corn, wheat, gluten, soy, milk derivatives
Keep in a cool, dry place out of reach of children.
Consult a physician if taking insulin, digoxin or prescription anti-depressants. Do not use this product while takingany prescription drug(s) without the advice of your physician. Avoid excessive exposure to UV radiation when using this product. Avoid if pregnant, nursing, or if bi-polar disorder.