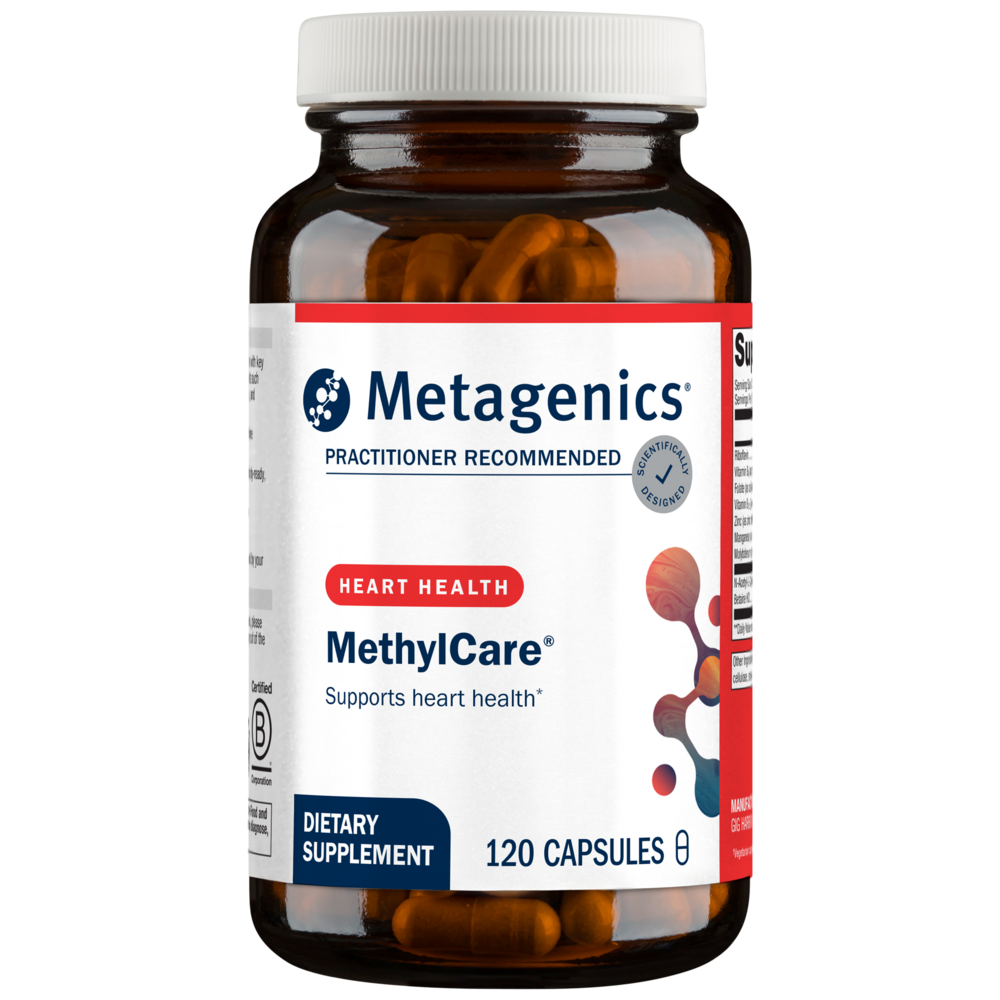 SKU: MET-VESC
MethylCare® is a comprehensive formula that features calcium L-5-methyltetrahydrofolate—a body-ready, nature identical folate—along with N-acetyl-L-cysteine, vitamins B6 and methylated B12, and betaine HCl. Together, these nutrients support methylation, which promotes healthy homocysteine metabolism.*

Suggested Use:
Take 2 capsules once daily, or as directed by your healthcare practitioner.
Serving size: 2 Capsules†
Amount Per Serving
Riboflavin … 1.6 mg
Vitamin B6 … 25 mg
(as pyridoxine HCl)
Folate … 1,330 mcg DFE
(as calcium L-5-methyltetrahydrofolate)††
Vitamin B12 … 1,000 mcg
(as methylcobalamin)
Zinc … 1.5 mg
(as zinc citrate)
Manganese … 0.4 mg
(as manganese citrate)
Molybdenum … 15 mcg
(as molybdenum glycinate)
N-Acetyl-L-Cysteine … 600 mg*
Betaine HCl … 500 mg*
Other Ingredients: Capsule (hydroxypropylmethylcellulose), silicified microcrystalline cellulose, stearic acid (vegetable), magnesium stearate (vegetable), and silica.
This product is non-GMO and gluten-free.
††As Metafolin®. Metafolin® is a registered trademark of Merck KGaA,Darmstadt
Germany
†Vegetarian capsules.

Caution: If pregnant or nursing, or taking medications, please consult your healthcare practitioner before use. Keep out of the reach of children.
Storage: Keep tightly closed in a cool, dry place.