Vital Adapt® - Liquid
Natura Health Products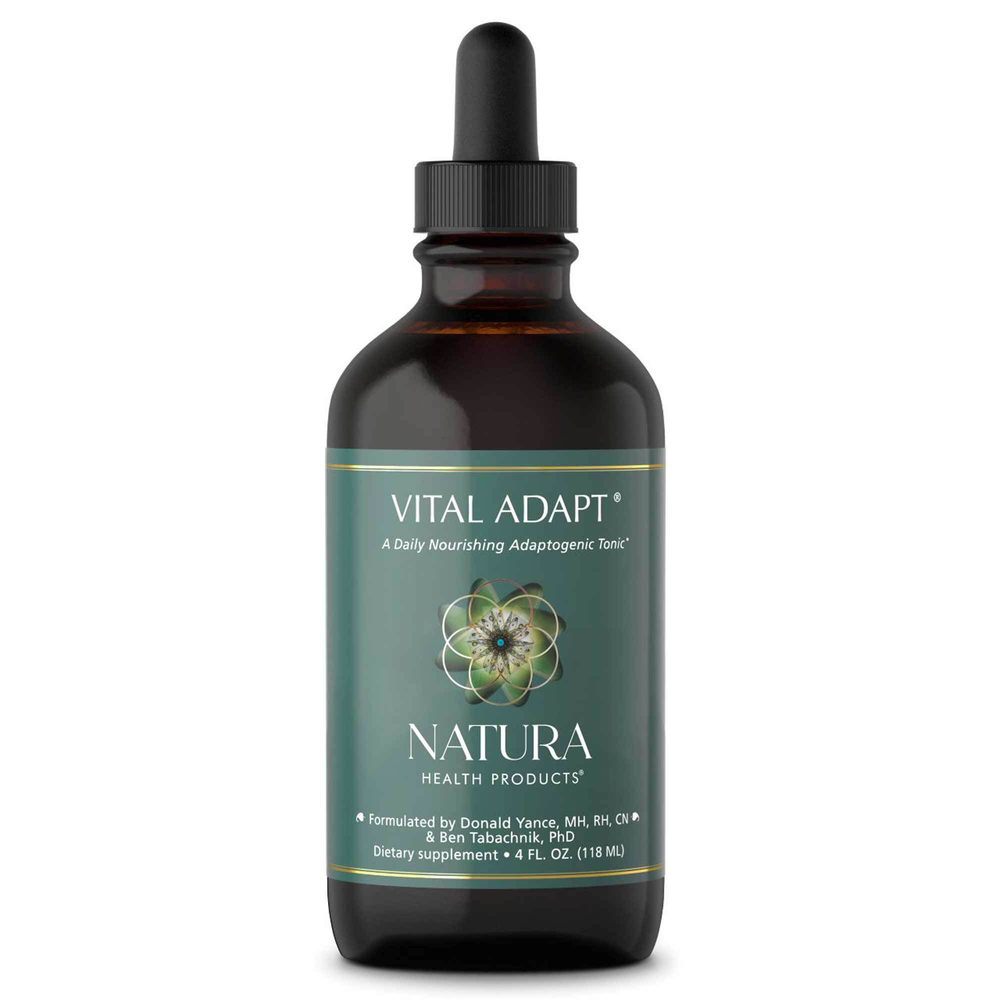 SKU: NTH-VA4L308
Vital Adapt® is a nourishing, broad-spectrum herbal tonic designed to optimize the body's natural resilience and adaptation to stressful influences. As a cornerstone of Natura's approach to health, Vital Adapt® offers a profoundly potent combination of elite adaptogenic botanicals to promote health, longevity, and well-being. Adaptogenic herbs nourish vital energy and provide a restorative action primarily through modulation of the HPA (hypothalamic-pituitary-adrenal) axis. This optimizes neuroendocrine function and encourages a healthy stress response.
Suggested Use:

Take 2 ml (2.5 droppers) two times daily, or as directed by your healthcare practitioner.
Serving Size:
2 ml (2.5 dropperfuls)
Amount Per ServingProprietary Formula
... 1446 mg Herb Weight Equivalent
Eleutherococcus senticosus Root 1:1 Ext. (Organic)Schisandra chinensis Berry 1:3 Ext.Aralia mandshurica Root 1:5 Ext.Rhodiola rosea Root 1:1 Ext.American Ginseng (Panax quinquefolius) Root 1:3 Ext.Fresh Ashwagandha (Withania somnifera) Root 1:1.5 Ext. (Organic)Reishi Mushroom (Ganoderma lucidum) 1:2 Ext. (Organic)Cordyceps (Cordyceps sinensis) Mycelium 1:2 Ext. (Organic)Rosehip (Rosa canina) Fruit 1:1 Ext. (Organic)Hawthorn (Crataegus laevigata or monogyna) Leaf, Flower and Berry 1:1.5 Ext. (Organic)Turmeric (Curcuma longa) Root 1:1 Ext. (Organic)Green Tea (Camellia sinensis) Leaf Ext. 95% PolyphenolsLicorice (Glycyrrhiza glabra) Root 1:1 Ext. (Organic)Elderberry (Sambucus nigra) Fruit 1:2 Ext. (Organic)Ginger (Zingiber officinale) Root 1:2 Ext. (Organic)Grape (Vitis vinifera) Seed Ext. 95% PolyphenolsGrape (Vitis vinifera) Skin Ext. 50% Polyphenols
Other Ingredients:
Vegetable Glycerin, Deionized Water, Grain Alcohol (20-30% by volume), Luo Han Guo Fruit, Fennel Essential Oil
.
Does Not Contain:
Wheat, soy, gluten, milk, eggs, fish, crustacean shellfish, tree nuts, peanuts
Warning
: If pregnant or breast feeding ask a health care professional before use.