VitaSpectrum Powder (Citrus)
Klaire Labs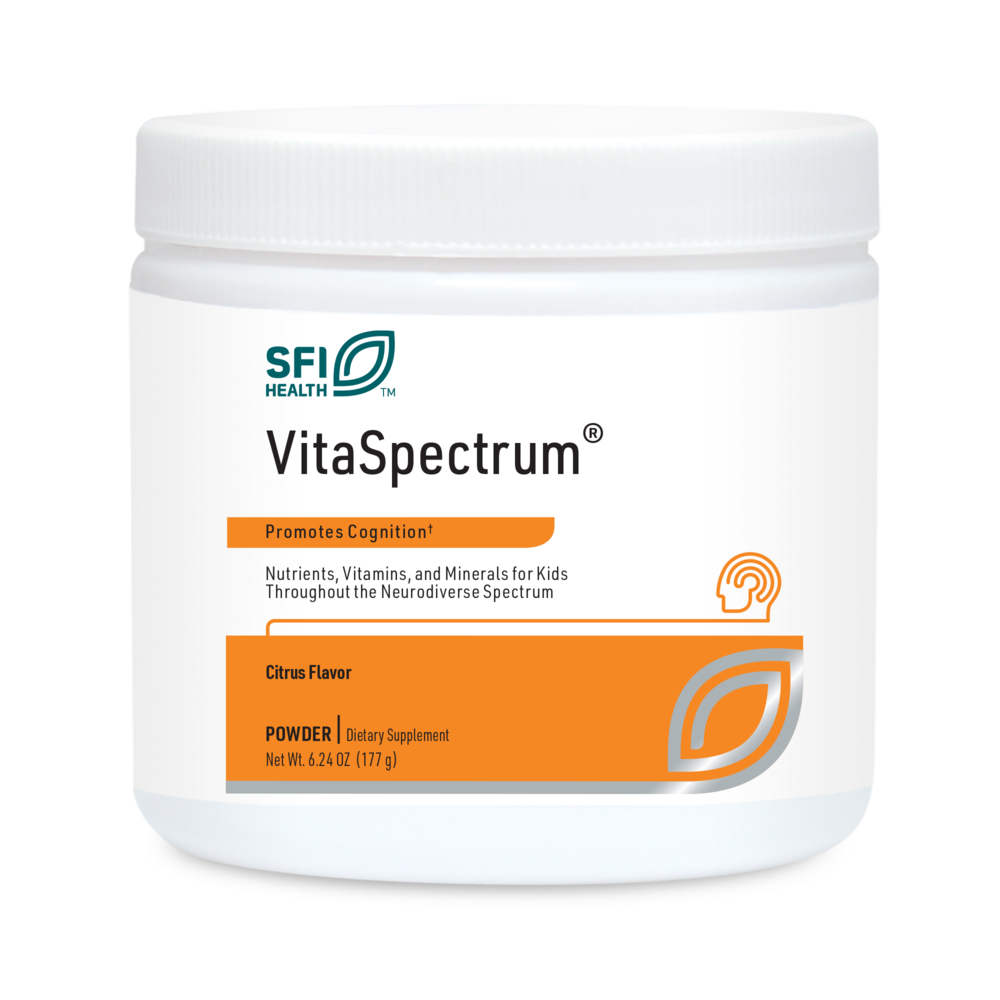 SKU: KL-KVTS
Powdered multiple vitamin/mineral supplement for children on the spectrum†
This comprehensive multiple vitamin/ mineral supplement contains 28 highly bioavailable essential nutrients in amounts and ratios designed to address nutritional imbalances commonly observed in children on the spectrum. Gastrointestinal function, including transit time and absorption issues, affects a significant percentage of individuals on the spectrum and contributes to altered nutritional requirements. Food elimination diets and a tendency to be highly selective eaters further narrow dietary sources of essential nutrients. VitaSpectrum® addresses these inadequacies by supplying balanced amounts of vitamins, minerals, and trace elements in forms that are typically well tolerated by those on the spectrum. Bioactive forms of folate, B12, and B6 are included along with naturally sourced carotenes, vitamin E, and D for optimal nutrient absorption and utilization. Iron and copper, often contraindicated in those on the spectrum, are excluded. VitaSpectrum® is free of common allergens, including milk/casein, fish, shellfish, tree nuts, peanuts, wheat/ gluten, and yeast. No starch, maltodextrin, stearates, artificial sweeteners, colors, flavors, or preservatives are used. VitaSpectrum® formulas comply with Gluten-Free/Casein-Free (GFCF) diets. For maximum tolerance and versatility as a foundational nutritional program, herbal ingredients are avoided. The pleasant, natural berry-pomegranate or citrus flavored powder formulas dissolve easily in liquids or can be mixed in foods. A convenient measuring scoop is provided for accurate dosing.
Suggested Use:
Adults or Children 4 or more years of age: 1 rounded scoop daily with food. Children under 4 years of age: As directed by a healthcare professional.
Serving Size:
Rounded Scoop (Appx 1 ½ teaspoon or 5.68 grams)
Amount Per Serving
Vitamin A ... 1,650mcg RAE
(as natural carotenes (beta-carotene, alpha-carotene and beta-cryptoxanthin) from D. salina)
Vitamin C ... 500mg
(as L-ascorbic acid)
Vitamin D3 ... 25mcg
(as cholecalciferol)
Vitamin E ... 97mg
(83% as RRR-alpha-tocopherol acid succinate, 17% RRR-alpha-tocopherol)
Vitamin K1 ... 60mcg
(as phytonadione)
Thiamine ... 25mg
(as thiamine mononitrate)
Riboflavin ... 15mg
Niacin ... 60mg
(67% as niacinamide, 33% as niacin)
Vitamin B6 ... 15mg
(67% as pyridoxine HCl and 33% as pyridoxal 5' phosphate)
Folate ... 680mcg DFE
(as Metafolin®‡ L-5-methyltetrahydrofolate)
Vitamin B12 ... 50mcg
(as methylcobalamin)
Biotin ... 300mcg
(D-biotin)
Pantothenic Acid ... 50mg
(as calcium D-pantothenate)
Choline ... 75mg
(as choline bitartrate)
Calcium ... 300mg
(as calcium citrate-malate complex)
Iodine ... 150mcg
(from potassium iodide)
Magnesium ... 300mg
(as TRAACS® magnesium bisglycinate chelate, magnesium oxide‡‡)
Zinc ... 15mg
(as TRAACS zinc bisglycinate chelate‡‡)
Selenium ... 100mcg
(as Se-methylseleno-L-cysteine)
Manganese ... 2mg
(as TRAACS manganese bisglycinate chelate‡‡)
Chromium ... 150mcg
(as TRAACS chromium nicotinate glycinate chelate‡‡)
Molybdenum ... 100mcg
(as TRAACS molybdenum glycinate chelate‡‡)
Potassium ... 100mg
(as potassium chloride)
Boron ... 2mg
(as boron glycinate complex‡‡)
Vanadium ... 50mcg
(as bisglycinato oxovanadium)(BGOV)
Inositol ... 25mg
Citrus Bioflavonoids ... 100mg
(85 mg as citrus bioflavonoid extract (Citrus aurantium)(fruit/peel), (standardized to 50% hesperidin bioflavonoids) , and 15 mg as hesperidin methyl chalcone (derived from Citrus aurantium extract)(fruit)
Natural Mixed Tocopherols ... 4mg
(RRR-beta, RRR-delta, RRR-gamma)
Natural Mixed Carotenoids ... 35mcg
(lutein and zeaxanthin from D. salina)

Other Ingredients: Natural citrus flavor.
This product is free of the following common allergens: Milk/casein, eggs, fish, shellfish, tree nuts, peanuts, wheat, gluten. Contains no artificial colors, flavors, or preservatives.
‡Metafolin® is a registered trademark of Merck KGaA, Darmstadt, Germany.
‡‡Albion® Laboratories.
Caution: If you are pregnant, nursing, have a medical condition, or taking prescription drugs, consult your healthcare professional before using this product. Keep out of reach of children.