Womens Formula Iron Free
Priority One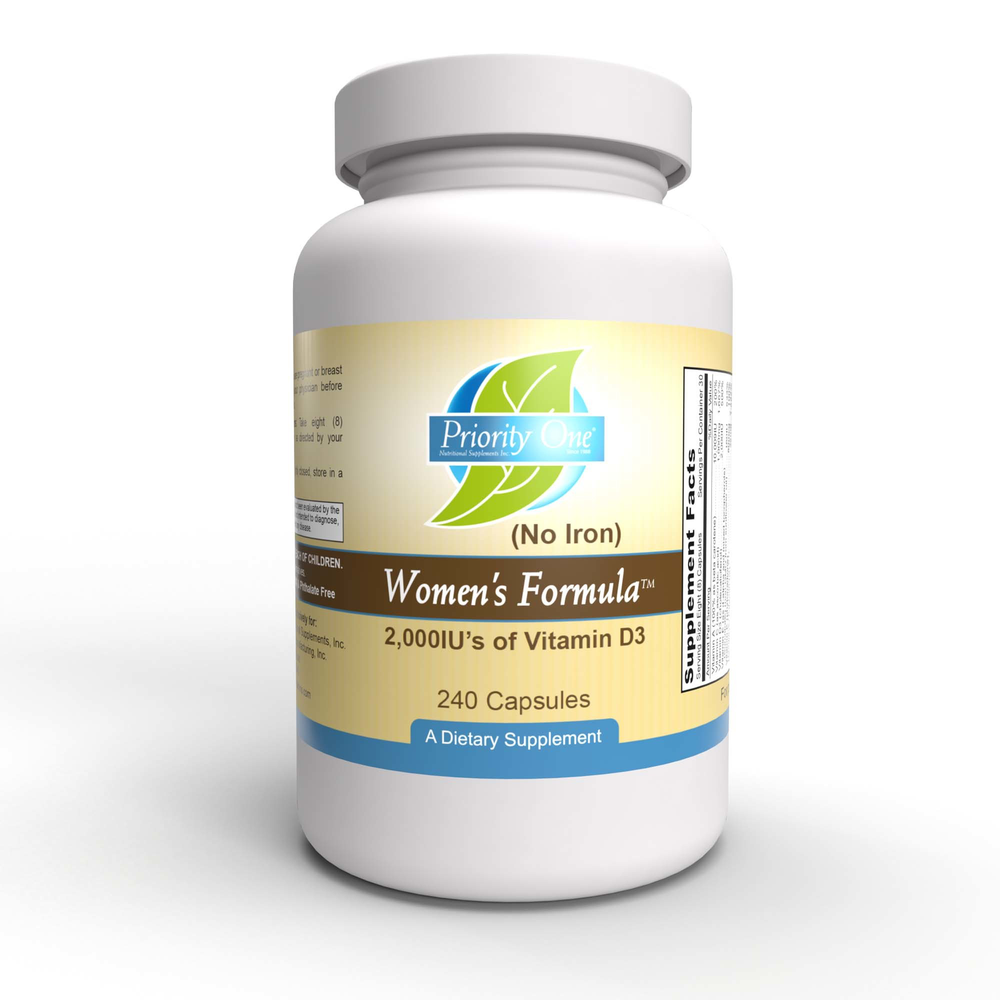 SKU: PR7-1074
NUTRITIONAL BENEFITS
A broad-spectrum, multi vitamin and mineral supplement for women.
MAY BE HELPFUL FOR
Providing nutritional support for overall health in the female system.
Recommendations: Take two (2) capsules four(4) times daily or as directed by your physician.
Serving Size: Eight (8) Capsules
Amount Per Serving
Vitamin A ... 10,009 IU
(100% as beta carotene)
Vitamin C ... 1, 000mg
(as ascorbic acid)
Vitamin D3 ... 2000 IU
(Cholecalciferol)
Vitamin E ... 160 IU
(d-alpha and mixed tocopherols)(Sunvitol®)(non-GMO from sunflower oil)
Vitamin K ... 80mcg
(Phytonadione)
Thiamine HCI ... 32mg
(vitamin b1)
Riboflavin ... 32mg
(vitamin b2)
Niacin ... 32mg
(as niacinamide)
Vitamin B-6 ... 104mg
(as pyridoxine hcl)
Folate ... 800mcg
(as [6S]-5-methyltetrahydrofolic acid)
(equivalent to 1482mcg of [6S]-5-methyltetrahydrofolic acid, glucosamine salt)(Quatrefolic®)
Vitamin B-12 ... 256mcg
(as methylcobalamin)
Biotin ...304mcg
Pantothenic Acid ... 80mg
Calcium ... 500mg
(as calcium citrate hydroxide carbonate)
Iodine ... 150mcg
(as potassium iodide)
Magnesium ... 373mg
(as magnesium citrate oxide)
Zinc ... 15mg
(as zinc citrate oxide)
Selenium ... 70mcg
(as sodium selenite asparate)
Copper ... 2mg
(as copper citrate hydroxide)
Manganese ... 1.6mg
(as manganese citrate carbonate)
Chromium ... 120mcg
(as chromium polynicotinate)(ChromeMate®)
Potassium ... 17mg
(as potassium gluconate carbonate)

Para-Aminonenzioc acid (PABA) ... 80mg
Choline ... 32mg
(bitartrate)
Inositol ... 32mg
Boron ... 150mcg
(as boron citrate)
Soy Lecithin ... 152mg
Palm-leaf Raspberry ... 56mg
(fruit)(extract 10:1)(Rubus spp.)
Ginger ... 200mg
(root)(extract 4:1)(Zingiber officinale roscoe)
Bioflavonoids 25% ... 200mg
(from bitter orange (fruit))
Hesperidin Complex 98% ... 24mg
(from bitter orange (fruit))
Rutin 95% ... 24mg
(from japanese sophora (flower))
L-Glutamic Acid ... 152mg
Pancreatin 8x ... 168mg

Lipase ... 5444 USP
Amylase ... 33600 USP
Protease ... 33600 USP
Other Ingredients: Gluten free maltodextrin, silicon dioxide, dicalcium phosphate, tapioca, rice (hull, protein), gum arabic, sucrose, starch, tocopherol, tri calcium phosphate, dextrin, vegetarian capsule (hypromellose, purified water)

Contains: Soy (lecithin)
KEEP CONTAINER TIGHTLY CLOSED. STORE IN A COOL, DRY TEMPERATURE.
KEEP OUT OF REACH OF CHILDREN.
If you are pregnant or breast feeding, consult your physician before using this product.